Paul Behan | Staff Writer
After the continued success of their Dublin Shakespeare Festival, DU Players have set themselves a new challenge: MythFest. With Aoife Leonard at the helm, MythFest is a platform for the "reimagining of Ireland's unique and incredibly vibrant allegorical history". I popped along today to a couple of shows to see if the festival's success extended beyond its acclaimed headline show, The Sorrows, which is running in the purpose-built rose garden auditorium until Saturday.
Magic and Myth (4pm, 3rd to 7th June, Summer House in St. Stephen's Green)
Jonathan Shanahan and Katherine Murphy bring us Magic and Myth, a pithy retelling of four iconic Irish myths. We're brought Balor of the Evil Eye, the Salmon of Knowledge, Morrigan and Máel Dúin by a four-piece ensemble. The theme is minimalist and the group's main tool is themselves. When horses trot they act it out and when fire burns they crackle. One by one, one of our four players narrates a tale while the other three act it out – and it works.
ADVERTISEMENT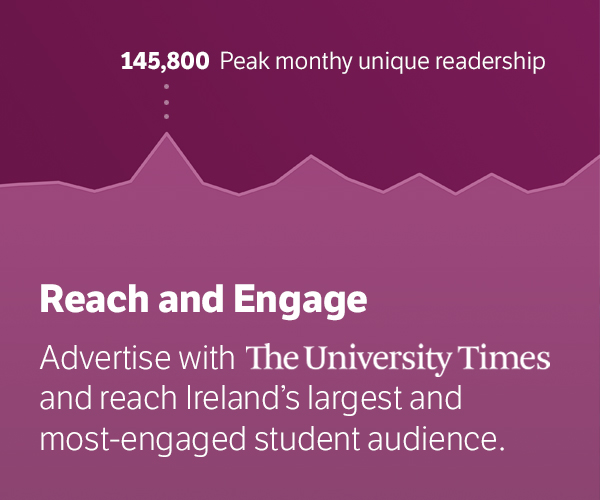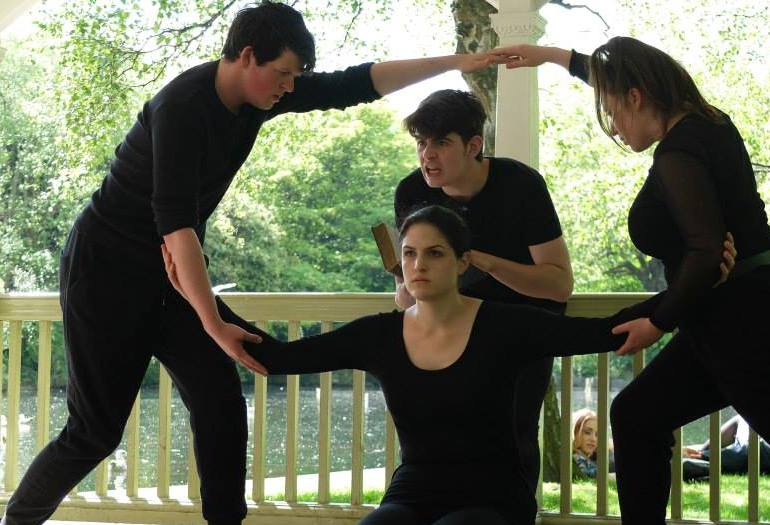 Magic and Myth at St. Stephen's Green
MythFest Photo
The physical element is dominant and effective, we get as much from the movement as we do from the narration. The outdoor environment is a busy one but the play builds up momentum and attracts a crowd as it goes on. The only thing that seemed absent was the beat of the drum/bodhrán that seemed seconds away for the entire foot-stamping, tin-whistling show.
The entire cast is great but the standout performance is without a doubt Paul Miller in the Salmon of Knowledge. He grabs the audience without saying a word and he keeps them without ever needing to. He edges out an infectiously funny Luke Casserly and really brings the show to life. A nice addition to a sunny afternoon in the park, not one to be Myth'd.
Deconstructing Dracula (6pm, 4th June only, Players Theatre TCD)
Deconstructing Dracula is a meta-theatre project written and performed by students of the Rehabilitive Training Centre at the Central Remedial Clinic (CRC). The CRC is a non-residential national centre for the care, treatment and development of children and adults with physical disabilities. The piece contains elements of lecturing, performance and photography and is based on Bram Stoker's infamous Count Dracula. In putting on meta-theatre, the group don't just want to show us the face of their interpretation. The audience is invited to peek behind the eyes and under the skin, to see each muscle strain to form the smile. Our guide is group director, Cormac Walsh, who shows us the group's progression from day one right through to performance. The more we gain an appreciation for the purpose behind each light change or the presence of a sound or how the actors act, the more we gain an appreciation for what parts of the story each little piece tells us. We're not taken to another world but rather we get to see one built around us.
This is a piece by people with disabilities and we're not limited to Dracula. The audience gets to see a glimpse of their lives and they get to showcase their talents in a way we don't see in traditional theatre. The play within the piece was wonderful. This isn't a dark Dracula: it's fun, it's light and it made everyone smile. The group deliberately play on their comedic charm and quick smiles. Conor Hughes was a standout performer with his hilarious one-line contributions and the dynamic between the brides of Dracula and Eimear Burns as Jonathan Harker was a pleasure to watch. There were a number of technical difficulties during the performance but the cast weren't fazed and the performance continued unhampered.
One thing Walsh didn't shy away from mentioning was the recent CRC governance scandals. This had a huge impact on Irish charities with many large charities reporting a 40 per cent drop in donations and a Wheel's survey of 150 Irish charities showing that 97 per cent believed the CRC affair had damaged public trust in charities. It would be uncontroversial to say the CRC has been seriously damaged and that it has lost public faith. Seeing this play reminded me of the amazing work the CRC does for people with disabilities and why deplorable governance shouldn't make us lose faith in Irish charities. If you see this play or another one like it and you see these actors shining like stars, I think you'll be reminded too. It's more than a play.
---
Paul Behan is the incoming Societies Editor for the 2014/15 academic year.
For more information on MythFest, visit their website.