In the aftermath of the first televised debate between party leaders yesterday evening, discussion and analysis is plentiful as the nation tries to make sense of the whirlwind of campaign slogans and vitriol that characterise such events.
However, the issue of education was notably absent from the debate yesterday evening. Not a single reference was made to student fees, university funding nor the quality of education more generally. An Taoiseach Enda Kenny, Tánaiste Joan Burton, Fianna Fáil leader Micheál Martin and Sinn Féin leader Gerry Adams discussed numerous topics ranging from the economy and the much disputed "recovery" to crime and abortion rights over the course of a 90 minute programme. However the prospective taoisigh got no closer to issues affecting the almost 200,000 students in full time third-level education than mentioning the housing crisis, a discussion which largely centred on the provision of social housing.
While the buzzwords of "recovery," "jobs" and "republic" were exchanged ad infinitum, no analysis whatsoever was given on the education that is so often a driving force behind the economy. All the debate revealed to the student electorate was their irrelevance in the eyes of the political spectrum and indeed the broadcast media.
ADVERTISEMENT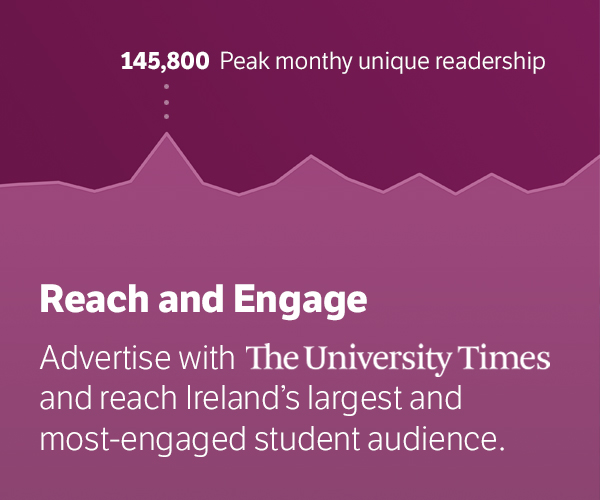 The profound lack of engagement demonstrated by the party leaders sadly comes as little surprise, with this gap in the political discourse being instantly recognisable not only in this campaign, but in many others previously. A cursory glance at the election literature from the 2011 campaign is far from instructive to the politically-curious student, with Sinn Féin's manifesto devoting only a few lines on maintaining free education (at the €1500 charge which was then in force). Fianna Fáil's plans for higher education in 2011 were expressed in similarly terse and underdeveloped in their manifesto. Admittedly, Fine Gael and Labour, the parties that eventually went into government, did talk a bit more about universities, with Ruairí Quinn signing that infamous pledge against increases in student fees and Fine Gael discussing plans for a graduate tax.
However, neither of the governing parties actually implemented the higher education policies which they discussed. Instead, the coalition oversaw an increase in the diplomatically named "student contribution" to €3000, an increase in student-staff ratios to 20:1 compared to an OECD average of 14:1, and a 25 per cent decrease in per capita funding since 2008.
A failure to engage also makes very cruel sense when one considers the electoral incentives facing parties, as such engagement directly concerns students. While this would allow political parties to attract a body of almost 200,000 votes, the difficulty is that being a student is a temporary condition. Parties simply cannot see a focus on higher education as impacting on their long-term voter base because they are under the impression that when those four years of lectures, projects and essays are finished, the student strips him or herself of any interest in higher education issues. Political parties can all too easily view addressing the problems in higher education as something which does not allow them to earn votes in the long term, but something which will only earn their support for those four years.
Furthermore, the immense difficulty that young people from disadvantaged backgrounds face in seeking a place in a third-level course, with the prohibitive costs involved, means that the parties of the growing political left find their core voter base more and more distanced from universities, further disincentivising engagement with the issue.
In addition, while it might be tempting to think that parents and the families of students are likely to base their voting decisions at least to some degree on higher education issues, the extent to which the established parties have continued to maintain the bulk of electoral support suggests otherwise. While parents are intimately involved in their children's education in primary and secondary school, during which they attend parent-teacher meetings, receive direct communication from school authorities and see their child coming to and from school every day, the reality is that their experience of higher education is less immediate and direct, and is much less likely to impact on their vote. This is the reason why parties, in their manifestos, consistently devote more space and detail to policies on primary and secondary education rather than third-level.
Even if the causes behind this political failure to address the crisis in higher education are easy enough to comprehend, the question remains: why is this so problematic? What makes it so problematic that higher education is not an issue?
Irrespective of the brevity of student life for the individual, the way in which over 200,000 people in this state live their lives, even temporarily, is important and worthy of discussion in this election campaign. Furthermore, there is a cohort of people permanently employed in third level institutions such as academic, library and support staff. Neglecting the issue of higher education neglects the more enduring interests of this sector of society.
In addition, and perhaps more significantly, there is a widespread recognition by the entire length of the political spectrum that there is something of a "recovery" to be either perpetuated or initiated, depending on which side of the house they have been sitting for the past five years. Much of this recovery for our small and open economy may need to come from foreign-direct investment, something we have attracted in the past with a highly educated and skilled workforce, and our leaders have been eager to advertise this abroad. It is disingenuous of any political grouping to preface our economic recovery on a competitive and skilled workforce while ignoring the crisis-ridden, underfunded education system that produces it.
The importance of higher education was simply not reflected in last night's debate and the prospective taoisigh ignore this at their own peril. Following the same-sex marriage referendum last May, politicians will come before an increasingly mobilised and politically engaged student electorate in two weeks' time. Established parties, based on their performance on higher education in the past, may see their support dissolve among this cohort. The leaders of the nation's principal political forces have until next Monday evening, at RTÉ's televised debate, to get their homework done on this issue.