All interviews start with practicalities – who to interview, where to meet, what time. So, on a cold December afternoon, an interview with leading Irish author Louise O'Neill was secured for 3pm in the beautiful setting of Dublin's Balfes Café. But having arranged it, I kept thinking, "How will she know it's me?"
Firstly, what is immediately striking about Louise O'Neill is her warmth and sense of humour. She stops by our table and laughs generously at the discreetly placed copy of Asking For It, left at the edge of the coffee table to signal the location of the interview. "Jeez, I thought that looked familiar", she laughs. Over cappuccinos and a strong lemon and ginger tea, we delve right into the big issues surrounding Asking For It, Only Ever Yours and the journey from the first draft to publication.
Success
In case you missed the frenzy of public interest that surrounded the publication of Only Ever Yours and Asking For It, 2015 marked the emergence of O'Neill as a game-changing author in the field of young adult fiction. With three major book awards under her belt, including "Newcomer of the Year" at the Irish Book awards, and a movie deal for her debut novel Only Ever Yours, it's clear to see that O'Neill's work has struck a chord with readers in Ireland and overseas. Her latest novel, Asking For It, has been described as "electrifying" by the Sunday Independent, while the Irish Times has called it "an important novel that tackles the complex topic of sexual consent fearlessly, at times relentlessly".
ADVERTISEMENT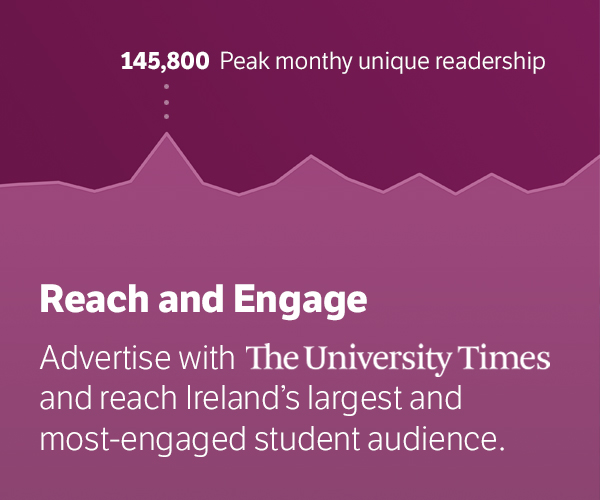 Asking For It details the horrific experience of Emma, a bright and beautiful 18-year-old student, after she is gang raped at a party by local parish heroes. The novel draws attention to some of the implicitly accepted norms Irish society has adopted in relation to victim shaming, consent and sexism. O'Neill is clearly passionate. Of particular importance to her are issues surrounding, "the role of women in society, the pressure on women to conform to a certain level of beauty, rape culture and the objectification of the female form". These are the issues that she lists as being the impetus for writing Only Ever Yours and Asking for It. Equally, she sees in the publication of her books the potential to raise her voice as an advocate for a more egalitarian society: "I wanted to use my voice as an author to bring those [feminist] issues to a wider audience."
"I wanted to use my voice as an author to bring feminist issues to a wider audience"
Consent – More than not saying no
In September 2015, the rights to a movie deal for Only Ever Yours were acquired by Killer Content. However, even amidst all this excitement, O'Neill feels that "the introduction of consent workshops in schools" would, for her at least, feel like more of a true measure of the success of her books. In late January, Trinity College Dublin Students' Union (TCDSU) passed a mandate whereby undergraduate residents of Trinity Hall will attend compulsory sexual consent workshops. This is the first move of its kind in an Irish university. In some respects, this is the product of O'Neill's direct advocacy work. Asking For It has shone light on the topics of sexual consent, victim-shaming and rape. Indeed, just yesterday, O'Neill herself helped launch TCDSU's latest video as part of the union's ongoing consent campaign on Trinity's campus.
Describing her work with other universities such as UCC and UCD, she reflects on how "Consent is about more than not saying no and should form an integral part of positive sexual education". In Asking For It, an interaction between Emma, the main character, and Paul, one of the gang rapists, captures this controversial ambiguity.
"Well you didn't say no"
"But I didn't say yes either"
O'Neill is committed to this message that consent requires more than the absence of no both in her book and in wider society. "It can't just be an absence of saying no. It has to be very firm, very obvious, very vocal", she says.
She is adamant about the need to account for the gender-based societal conditioning men and women face in this regard. She describes how the over-focus on rape prevention programmes for girls and the negation of safe sexual consent education for both genders is damaging. Why? Because an imbalance in social, personal and health education, born out of gender-based prejudice, is making it easier for girls to be victim-shamed. "Women tend to blame themselves, and… say 'Oh, I should have done something different. I was wearing a short skirt, I was drinking, I went back to his house.' That's the battle ground right there", says O'Neill. Other gender-based forms of societal conditioning noted by O'Neill include how "women have been socialised to pick up on nonverbal cues more than men and … to be very aware of other people's feelings, in a way that men haven't". Of course, these are collective tendencies and are not exact reflections of any individual whether they are male, female or otherwise.
"Consent is about more than not saying no and should form an integral part of positive sexual education"
Such societal imbalance is of course unacceptable, but not surprising considering how O'Neill reminds us that "rape prevention programmes have been so heavily focused upon teaching women to avoid being raped rather than teaching men not to rape".
The Mean Girl
Let's zoom in from the wide-angled societal lens and take a close look at the individual characters. How important is it for a character to be likeable? O'Neill's description of the main character Emma as "the very stereotypical mean girl" evokes clear images of the infamous Regina George types we all loved to hate at school. Thus, Emma is clearly far from likeable in the context of her rape and experience of victim shaming. O'Neill emphasises how important it was for Emma's character to be compelling rather than likeable.
Is she a bit of a bitch nonetheless? Turning the "b" word on its head, O'Neill disagrees: "She's just very insecure, she's been really taught that her only real worth is her beauty and that makes her very competitive." Ultimately, for O'Neill, the female "likeability" factor is associated with misogyny and the unfair expectations set upon women to be "nice", "ladylike" and "well behaved". While by contrast, the enshrinement of the male anti-hero in pop culture allows for men to be "messy and a bit of a rogue". "The idea of the male anti-hero is enshrined in pop culture in a way that it isn't with women", she notes.
When asked how misogyny might affect men, the Cork native is clear about her intent to avoid painting all men as monsters and women as victims: "Feminism is working to give men freedom as well." She acknowledges the grey area where young men simply don't know how to seek positive consent and acknowledges how the pressure to conform to "laddish culture" can hurt men as much as women. This makes it easier for young men to potentially "make a mistake, push a girl further than they want, or think she can be persuaded".
Ultimately, O'Neill feels men are hurt by an immense pop-cultural expectation to "want and have sex all the time" while girls are hurt by "the pressure to withhold, to be the gatekeepers and hold the moral high ground". Neither stereotype is healthy or realistic and ultimately acts as a barrier in personal relations and the establishment of true intimacy.
The Writing Process
O'Neill could be described as a method writer, retreating to her home in Clonakilty to be exclusively alone with her story as she develops and writes it. Speaking of the process of writing her two books she says: "It was just me and the story … I had the luxury of really locking myself away – being a hermit, not having any other voices." As an advocate for feminism, there is a clear tension in her writing between research and creativity. The dystopian Only Ever Yours is very much drawn from her experience of the New York fashion industry and a Twitter feed full of inspiration from the major feminist publications – Jezabelle, XOJ, The Everyday Sexism Project.
In contrast, Asking For It involved an extensive research process – interviews with rape victims, barristers and solicitors, visits to the Rape Crisis Centre, and reading first person accounts of sexual violence.
"Women tend to blame themselves, and… say 'Oh, I should have done something different. I was wearing a short skirt, I was drinking, I went back to his house.' That's the battle ground right there"
So what can we expect from any future publications? With the added responsibility of promotional duties and book signings, O'Neill predicts some considerable extra effort will be needed to balance the demands of the outside world with her needs as a "method writer" tucked away at home. "I have to learn how to balance everything and that's going to be a big part of the learning curve", she explains.
Tips for Emerging Writers
Whether it's for the purpose of mindfulness, procrastination or bread-winning, more and more of us are engaged in journaling and creative writing than ever before. So what are O'Neill's top tips for the budding writers among us, visualising their novel on the shelves of Hodges Figgis? Firstly, O'Neill says one must "shut down the inner critic – that nagging voice in your head that wants to jump 3 steps ahead and extinguish your ideas". Secondly, it's about "taking it day by day – 1000 words at a time. Even if you have 100,000 words at the end and you feel it's utter rubbish, it's better than having a blank page, simply because you can't edit a blank page. From draft one, you can edit, re-edit and shape the piece into a publishable piece of work". Finally, O'Neill believes budding writers must "find an editor, someone to review your work. Editors are the unsung heroes of the publishing industry because I hate reviewing my own work. Get the first draft written and then find an editor".
With a single-honours degree in English, did life as an author really feel like a distinct possibility upon graduation? Amidst positive memories of Trinity, O'Neill admits she did "really struggle at Trinity". Describing the experience as "completely out of my comfort zone", she recalls feeling uncomfortable expressing her opinion at lectures, and avoiding attendance. At the end of Junior Sophister year she was hospitalised with anorexia and took a year from her studies to recover. However, it all turned around and by final year she was attending all her lectures, describing the year as "fantastic".
"Rape prevention programmes have been so heavily focused upon teaching women to avoid being raped rather than teaching men not to rape"
Still, at times the life of a student studying English felt far-removed from that as a writer. She was dismayed by the academic demands of her course, striving for a more creative flair: "I think I felt I wasn't as good as a lot of people in my class who really excelled at that sort of [academic] writing. It took me a few years to regain that confidence".
Repealing the 8th Amendment
In response to the TCDSU's mandate to campaign for a repeal of the eighth amendment, O'Neill's support is unequivocal. "I am a complete advocate for repealing the eighth amendment and I think it's very important that students' unions stand up for the rights of students", she says. "I think that it is the right of every student and every female student to have the right to choose and to have autonomy over their own body and over their own reproductive destiny. I've been on marches and am a huge supporter", she finishes simply.
Critical of societal stigma and the typical narrative that having an abortion is traumatic, O'Neill states her admiration of women such as Róisín Ingle, who spoke out about having an abortion, and describes the allowance of Irish women to travel to England every day for abortions as "hypocritical". She maintains that "abortion happens … women have abortions so I think we should make them as safe as possible".
Solution Selling
According to O'Neill, no single solution can truly guarantee a patriarchy-free society. Rather key changes need to happen in law, politics and the workplace. In the instance of rape cases, the author believes it should not be permissible for a woman's sexual history to be brought up in court when she is bringing a charge of rape against someone. In politics, she strongly supports the introduction of gender quotas, believing that there are unique obstacles continuously holding women back. "I 100 per cent agree with gender quotas. It's such bullshit that it should be based on merit … There are obstacles holding women back that will never affect men", she states.
Moving forward from a stellar 2015, O'Neill is open to writing in new genres. As she watches her movie deal unfold, she remains utterly modest about her lifestyle. "I still have to do my shopping in Dunnes every week. From the outside looking in, it probably looks more surreal but on the inside I don't feel much different", she notes. "You do get a certain thrill from certain events or interviews but… a lot of that can be so external." She points out that the glamour of fame is fleeting, saying: "You have to be happy with who you are right here in this moment."