For anyone interested in fashion, the bi-annual London Fashion Weeks are the high points of the calendar year. It's a spectacle. A truly amazing experience. Although the negative and superficial aspects of the fashion industry are abundantly clear, even from an outsider's perspective, it is perhaps the only opportunity the average person has to gain insight into the industry first hand and not through a filtered screen or glossy magazine. Even walking through London's cobbled streets, there is an energy of excitement and a feeling that the capital city has been engulfed by something extraordinary. It is the rare occasion where people can express themselves as outlandishly as they wish. The world's most noteworthy trendsetters, fashion creators and commentators are in one place for one reason: to enjoy fashion. And what ensues is essentially a celebration of all things daring and diverse.
Traditionally, London Fashion Week is set in Somerset House. However, this year it was relocated to the grimmer and less-accommodating Brewer Street Car Park. London Fashion Week kicked off on February 8th for the Autumn-Winter collections. London continues on from the New York shows and takes place before Milan, finishing off with the event in Paris, the fashion capital of the world. There are two seasons every year. While Autumn-Winter takes place in February or March, Spring-Summer is held in September. At each season, designers from around the world present their designs and showcase what they think will be "in" to wear for the titled season, which is around six months from the event itself. This gives the buyers a chance to decide what they would like to stock and for the designers time to produce the clothes.
"The world's most noteworthy trendsetters, fashion creators and commentators are in one place for one reason: to enjoy fashion"

ADVERTISEMENT
Over the course of the trip, we found ourselves at the presentation of fellow Dubliner Danielle Romeril. Romeril is now an established designer label and continuously occupies a place on the London Fashion Week schedule. Her clothes are vibrant and experimental yet relaxed in design, featuring lots of layering and draping. Romeril's work is beautifully crafted and based on concepts rather than trends. They are personal, and reflect a certain amount of self-expression. Presentations, unlike catwalks, offer an opportunity to get a closer inspection of the clothes and allow more engagement with the show in a personable way. The presentation space felt like a modern art museum where the models are the frames and the clothes are the paintings. Buyers, bloggers, photographers and enthusiasts alike all gather in the presentation space and chat among themselves, although there are quite clearly unwritten rules of conduct and a hierarchy of who's who. People take photographs of the pieces from all angles, some in the pursuit of purchasing, while others are thinking about their next Instagram post. The models' faces shift immediately and naturally to a sultry pose for the photograph and many thank the models afterwards for doing so. At the presentation I was one of the enthusiasts and I got chatting to model and fashion journalist Kelly Horrigan. Horrigan was animated and seemed at home in a place where I felt like an intruder. She had a pleasant, characteristically Irish humbleness about her. Horrigan was over in London for the week reporting for Exposé Magazine. Since meeting, we chatted again about the Danielle Romeril presentation, home-grown Irish talent and the fashion industry at large, when she was able to fit me into her busy schedule.
Horrigan was familiar with Romeril and her designs, having met her various times before through her modelling, and refers to her affectionately as a "treasure to Irish design". This season, she had been behind the scenes in the designer's studio in the days leading up to the live showing, and so was able to offer an insight into the inspirations for the collection, which she talked me through. The collection can be described as eclectic in every sense of the word and while the designs are sporty and modern they have a regal quality and a nod to periods of history. The fabrics are almost futuristic and made from Irish linen that showcase strong colour blocking and provide a canvas on which to display intricate hand and machine embroidery with lots of surface detail. "We saw the football scarf and cycling jerseys paired with sporty details like graphic zips and drawstrings", Horrigan explained. Romeril was inspired by King Philip II of Spain, and this theme is seen again with the Elizabethan-style sleeves. Dutch Paradiso nightclubs are also apparent in harmony with psychedelic prints. Each description seems almost like an oxymoron, yet they work. Her clothes represent innovation of contemporary design rather than following the mainstream trajectory. The Danielle Romeril girl appreciates quality, she doesn't mind making a statement and enjoys the comfort and practicality of clothing. Horrigan reflects on the collections as a whole and comments that Romeril "presented precision while keeping the refreshing edginess that she's known for."
"Perhaps it is this fresh innovation and edgy style that has helped the Irish designer to create a niche in fashion and a marketability in the industry"
Perhaps it is this fresh innovation and edgy style that has helped the Irish designer to create a niche in fashion and a marketability in the industry. Her success is both impressive and yet understandable. She began her career in fashion in the most unusual place, starting off her third-level education within the cement blocks of the UCD Arts Block, where she studied Psychology, Politics and Art History, only to leave after one year. She went on to pursue a degree in fashion design from Limerick School of Art and Design and then attained a masters degree from the Royal College of Art and Design in London. Since then she has worked with designers like Sharon Wauchob, Sinha-Stanic and Alberta Ferretti. There, she gathered experience and developed her skill and launched her own self-titled label Danielle Romeril in time for Spring-Summer 2013. She opened with a showroom in Somerset house, then central location for London Fashion week. She has numerous awards to her name, the most distinguished of which is the NEWGEN sponsorship from the British Fashion Council, in conjunction with support provided by the international mega-store Topshop. Previous recipients of this achievement have been esteemed designers such as Alexander McQueen, Christopher Kane, JW Anderson and Simone Rocha. Danielle Romeril, however, remains a small brand supplying ten countries around the world, these include London's Dover Street Market and Hong Kong. The only place to stock the designer label in Ireland is Clodagh Shorten's boutique, Samui. The boutique is attracted to Romeril's designs as "she won the NEWGEN award so…she stood out as completely different on the Irish scene", a member of staff explains. The Samui staff were surprised to discover that Romeril's clothing attracted an older demographic, rather than the younger crowd: "You would think it would be younger but it's generally 30-year-olds and upwards". She then quipped "not that 30 is old".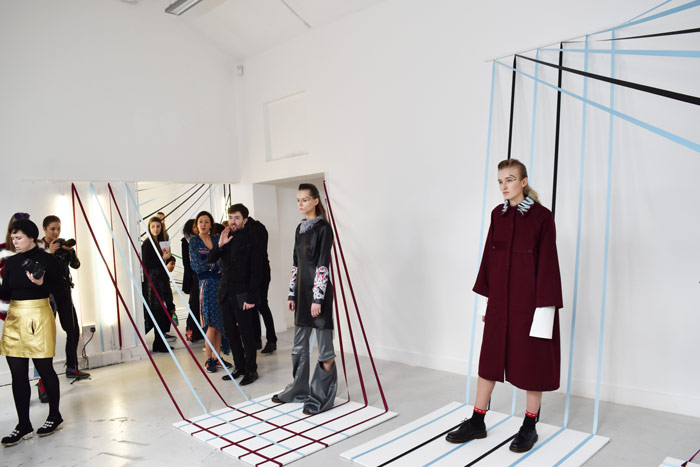 One of Romeril's sales representatives spoke briefly with the The University Times Magazine. While informing us that Romeril was at Paris Fashion Week, she provided some insight into the realities of being a designer in the industry right now. She explained how, with every new season, Romeril gains more interest and increasing numbers of requests from buyers. The clothes are made to order and so, once they get the purchases, they must begin the process of manufacturing the clothes in time to be shipped out for the August deadline. Her sales representative explains the work involved for a small supplier to keep up with requests in such a competitive market, when the fashion powerhouses have more money and resources to supply the high demand. She anticipates a change in the way the industry works over the coming months as Burberry now offer an immediate supply of the newest designs seen on the runway to buyers, something that was previously unheard of. This creates a situation where, in order to remain competitive, designers will have to imitate this, thus making it increasingly difficult for the smaller designer labels. This will disturb the present step-by-step system of creating and shipping clothes from show to shop, which takes months. For those concerned with our eco footprint, it may also add to the unused output of the industry. When clothes are not made to order there is the possibility of the production an excess of garments and huge waste. This appears to be a business ploy by Burberry in an attempt to enhance their sales which have been depreciating in recent months. One report from October 2015 found that sales had fallen 8.2 per cent due to low demand and depleting sales in Asia, causing them to cut their bonuses and share payouts by £30 million. Karl Lagerfeld, the head designer and creative director of Chanel has since denounced the idea, which many designers agree with.
The fashion industry is a competitive market and can put great strain on designers. Romeril, however, does not seem to be concerned with the business side of fashion and the celebrity endorsements do not interest her. Instead she takes it in her stride, seeing the demand as part of the fun of it. Whilst many up and coming fashion designers and entrepreneurs find joy in being able to grow their brand at a faster rate, Romeril is just the opposite. Some of these people enjoy the idea that they can hire small business accountants, like those at BrooksCity, to help them with their finances so they can focus on the other day-to-day runnings of their business, enhancing their growth. But designers like Romeril are in no rush to set them apart from the rest. With increased interest and pressure she challenges herself and demands more from her creativity. Horrigan and I discuss the market for Irish talent in London and abroad. It is often expressed that Ireland does not have the facilities to nurture our home grown talent. We have a long history of emigration for many professions, and for the creative arts this is a big concern. Actors, models and designers inevitably have to cross the pond to London to pursue any career aspirations. This is probably the reason why so many Irish people are claimed by the British as being one of theirs. Horrigan, with her experience in the fashion industry feels that this remains to be true, our neighbouring countries still have more to offer. She says "the commercial opportunities are certainly growing in the international market for emerging [Irish] designers". She calls for "promoting our own fashion industry" here in Ireland as a solution to this. "More and more young designers are studying abroad so they're using it as a springboard to launch their international careers".
"It's inspiring to reflect on how someone can start an arts degree in UCD and then change paths completely, establishing themselves as a well respected designer at London Fashion Week"
However, she adds that there are more Irish people in fashion than we think, naming Orla Kiely, Natalie B, Paul Costello and Simone Rocha as examples. It can be difficult for Irish people to get recognition because our industry is so small and underdeveloped. This is why sponsorship and incentive programmes like the British Fashion Council's NEWGEN can be so crucial for up-and-coming Irish designers. Horrigan cites the rise in prevalence of social media and the rapid increase in Irish talent for making the Irish fashion industry an increasingly attractive place for designers. We have a culture in Ireland of encouraging artists with tax breaks. Perhaps it is time that more was provided in order to expand and grow the Irish fashion industry.
We, as a nation, love to see our own succeed. The Oscars this year are a clear declaration of that. The Irish had a strong presence, with lots of buzz at home and abroad surrounding actors like Saoirse Ronan and Michael Fassbender for their blockbuster hits. Praise must also go to director Lenny Abrahamson for this film adaptation of Emma Donoghue's Room and short film Stutterer directed by Benjamin Cleary. It's nice to attend a presentation in London and meet fashion personalities like Kelly Horrigan and talk about Irish success stories. Romeril is one of those success stories, and what she has achieved is remarkable and inspirational to young Irish people. As students, we like to hear of them and it is comforting to know that someone can grow up in Ireland and go on to be so successful on the international stage. It's inspiring to reflect on how someone can start an arts degree in UCD and then change paths completely, establishing themselves as a well respected designer at London Fashion Week.