The publication this morning of the long-awaited Cassells report has been cautiously welcomed by many in the sector as an opportunity to highlight and address the ongoing higher education funding crisis. Despite a six-month delay, the report has now provides an opportunity for debate to begin on what is the best way to fund our higher education system.
The three options laid out by the report – the abolition of the student contribution and the creation of a predominantly state-funded system, the continuation of the current student contribution charge coupled with increased state investment, or the introduction of an income-contingent loan system – will now be considered by the Committee on Education and Skills in a process that may take over a year to be finalised.
Many were critical of the delay in publication. Speaking to The University Times, IMPACT Organiser, former President of the Union of Students in Ireland (USI) and a member of the Cassells working group, Joe O'Connor, described the "lengthy delay" as unhelpful.
ADVERTISEMENT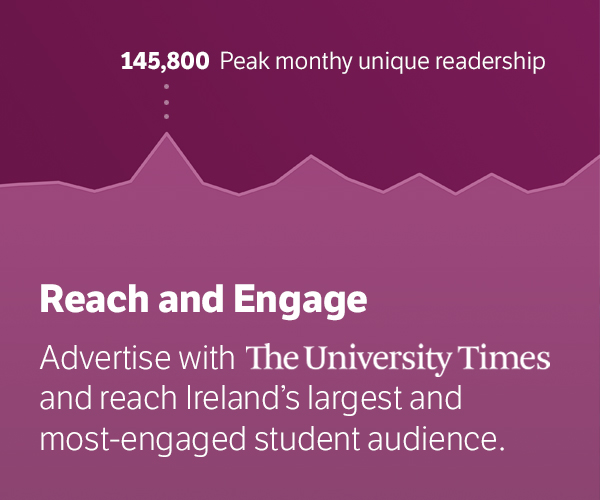 Concern was also expressed at the impact of a further year's delay on a sector that is already struggling. USI President, Annie Hoey, emphasised that there is only so much cost-cutting that universities can do in the interim, while the General Secretary of IFUT, Mike Jennings, said he was "horrified" by such a delay, saying: "The reality is that we simply cannot afford to wait another year to start making decisions about injecting finance into education."
He added: "I am very concerned about the political situation and the capacity of government, or the opposition, to take the decision to fund higher education".
Advocating for the value of a publicly-funded model for higher education, Hoey said that a "state-backed education that is funded by the exchequer, through the employer, through progressive taxation, is saying that we value the contribution that these people will make, that students will make in the future, to the state, to the economy, to economic growth, to the recovery".
O'Connor, who also supports a publicly funded model for higher education, emphasised that the report vindicates those who were told that such a model was not realistic: "It's up to us now to campaign for that and make the case for that, given that we've got clear figures now as to what that would cost, and a clear outline of what the benefits of that would be".
A meeting will take place this evening of all the presidents of the Irish student unions in Athone, where a post-Cassells strategy will be decided upon. Hoey expressed her hope that this would be a grassroots campaign with widespread student support: "The can of worms has officially been opened now, so it's up for the student movement to come together and not just leave it to those of us who are elected into USI. We need everyone to come together on this one".
Campaigning is going to be crucial if opposition to an income-contingent loan scheme is to be successful. Speaking to The University Times, Trinity College Dublin College Students' Union (TCDSU) President, Kieran McNulty, said: "The student movement, if anything, should be about this issue. There is no point to the student movement otherwise, and this is the biggest test we're going to face in several years".
"I met the Minister today and asked him to consult with us and he agreed, so we're going to follow up on that as soon as possible and really push what we see as the disadvantages of loans", McNulty said, citing the negative impact on part-time and mature students.
In this strategy, according to Hoey, "step two, three, four and five will inevitably end up with us outside Leinster House if that's where we need to be". As McNulty says, students must do "everything" they can, including marches and sit-ins if necessary, to prevent loans being implemented.
The important thing, says Hoey, is that there is a choice: "No decision has been made yet. The Education Committee has to be set up, they all have to come to a cross-party consensus. I think it's important to note that every party bar one had in their general election manifesto that they either wanted to freeze fees at the current rate or work towards reducing fees towards a publicly-funded model". For Hoey it is the role of USI to ensure "that those people who made those commitments in February when they were running for election are actually going to uphold them".
However, for parties like Fianna Fáil, a reversal on their promise to freeze the student contribution charge would be necessary if either option – a loan scheme, or a publicly-funded model – were to be implemented. Speaking to The University Times, Sinn Féin's education spokesperson and member of the Education and Skills Committee, Carol Nolan, encouraged parties that were committed to the status quo to reverse their commitments. "I hope that they will do a U-turn for the better of the country, and the better of our students and universities".
Emphasising Sinn Féin's commitment to a publicly funded education model, supported by tax reforms, she called on the other parties to "put the public interest first", adding that the introduction of an income-contingent loan scheme "would not address the immediate shortfall and would take a number of years to implement".
O'Connor was also adamant that the just-published report is not meant to be used as inspiration for a compromised solution that might "dilute" the three options outlined in the report. "I certainly would not like to see a scenario where the committee does the work of the expert group again. I don't think that's its role. I think it's role is to look at the options, assess them and make a choice", he says.
Ultimately, according to Jennings, "students in universities today are getting a compromised education compared to what they're entitled to". With the publication of the Cassells' report, there are at least a clear set of solutions for the government to choose from.