Official campaigning ahead of Trinity College Students' Union's (TCDSU) preferendum on Irish unification has gotten underway, with leaders of the "TCD for Unity" and "Neutrality for Trinity" both pleased at the initial response from students.
The preferendum, which will take place on March 14th and 15th, will not be binding on TCDSU, but if there is a clear preference for one position, it has the potential to lead to a binding referendum being held.
Speaking to The University Times, leading member of the "Trinity for Unity" campaign, Conall Moran, said that "it's definitely been a good start" and that they have seen many people come up to their stand in the Arts Block from various sides of the issue, including some who may disagree but "see where we're coming from". The campaign, wearing "Trinity 4 Unity" t-shirts, is trying to have "a very open and a very friendly discussion", according to Moran.
ADVERTISEMENT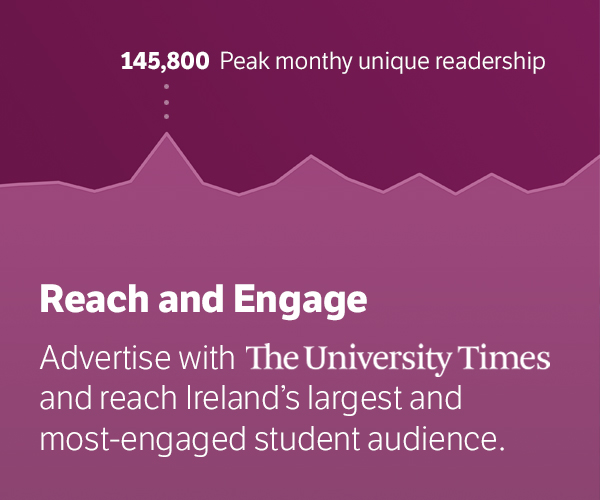 Moran, who brought the discussion item on unification to TCDSU council last month, said that while unification with the south is "up to the people of Northern Ireland", it would be a "massive thing" in his opinion to for Ireland to "stand there with open arms" and send a "message of support" by maintaining a pro-unification stance.
Speaking to The University Times, Samuel Jackson, a senior member of the "Neutrality for Trinity" campaign, also said that many people who had approached their stand today "understand where we're coming from" and that they had received "positive feedback" from the student body along with many of those people stating that they wanted to prevent the union from "taking a position that will alienate people".
On the message behind the campaign, Jackson stated that the campaign wants to maintain the College's "great environment" for all students regardless of political affiliation and that they would "hate for [a pro-unity stance] to to impact upon the college's reach" to Northern students across the political divide. According to Jackson, the campaign was "fundamentally" down to ensuring that "everybody is represented by the their students' union and not alienated".
Both NUI Galway Students' Union (NUIGSU) University College Cork Students' Union (UCCSU) are mandated to support Irish unity after recent votes. Results from University College Dublin Students' Union (UCDSU) referendum are due to be announced later today.
According to its manifesto, the "Unity for Trinity" campaign urges students to vote in favour of a pro-unification stance for a variety of reasons. They argue that a united Ireland would end "the sectarian culture of 'us' and 'them'" and lead to the expansion marriage equality to residents of Northern Ireland, along with allowing Northern Ireland "to remain in the EU".
The "Neutrality for Trinity" campaign's material makes reference to the public votes in both Northern Ireland and the Ireland in 1998 in favour of the Belfast Agreement, including the clause where a vote on Northern Ireland's place in the United Kingdom can only be called for "if there is a clear indication of public support for a united Ireland" and states that adopting a stance to campaign either for or against a united Ireland would be "in direct opposition" to those votes in 1998.
The Chair of the union's Electoral Commission, Jenna Clarke-Molloy confirmed to The University Times that there is no official campaign in favour of a stance against Irish unification.
Voting in the preferendum, which was called for after a vote at TCDSU Council in February, will take place next week, from March 14th to March 15th.