Towering 12m above Trinity's Front Square this May, Leah Kenny was hard to miss. The English student's portrait stood alongside that of Samuel Beckett, as part of a giant mural commissioned to promote Trinity's new philanthropic campaign, Inspiring Generations.
When I speak to her over the phone, I get the sense that her personality is as big as her mural makes it out to be, albeit with none of the pomp or grandeur one might expect from someone with a larger-than-life version of themselves positioned next to Beckett.
Despite Leah Kenny's grace and humility, it's clear that her unshakeable self-belief was the force that powered her through the gates of Trinity and, eventually, into the history books. "I was one of those children that knew exactly what they wanted to do from when I was very young", Kenny says. "Trinity was always the place for me."
ADVERTISEMENT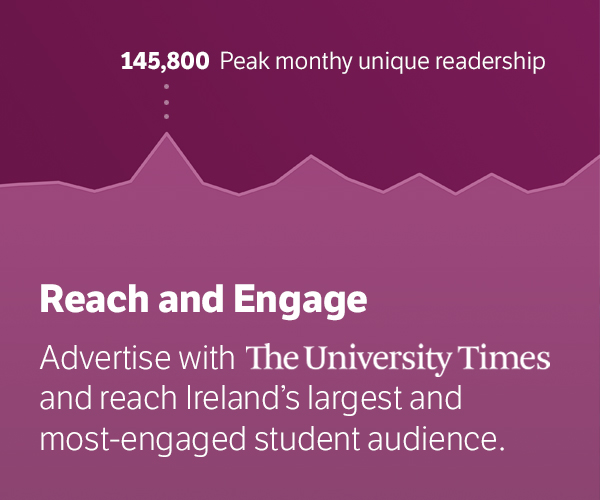 However, not everyone was so convinced. Laughing, Kenny candidly describes her mother's reaction to her wide-eyed, love-struck plans to study at Trinity, when she was only 15. She recounts the memory from her third year in school fondly: "When I said it to my mam she was kind of like, 'Yeah! You do what you want', but at the back of her head she was like no way am I going to get into Trinity."
Fast-forward almost 10 years and that same eager student's dissertation on women in Beckett's work and life was chosen to be the backdrop for Ireland's largest-ever philanthropic project.
At the back of her head she was like no way am I going to get into Trinity
But Kenny's path to such success was not straightforward. Having failed to obtain the necessary CAO points to study at Trinity, the "incredible" Trinity Access Programme (TAP) put her on course. Hailing it as a source of inspiration for students like her who didn't enter higher education through the "traditional" route, Kenny continues: "It gave me a more diverse view on the place – that there's more than just one kind of person that walks through Front Square and graduates and it's not just about who you are but it's about what you can achieve and what you can add to the campus as a whole."
While she may have been "ahead of the game a little bit" as a fresher, having already completed a year in Trinity through TAP, her first year in college was nevertheless still a struggle, much to her own surprise: "I thought I was going to go in and have everything done and it was going to be great and then first year actually ended up being quite difficult academically."
Kenny renders her "anti-climatic" freshers' week very honestly, a time that she insists isn't – and certainly wasn't for her – the "be-all-and-end-all" of one's college experience. Working part-time prevented her from attending the myriad of society events organised every evening, and she believes that "unless you're in Halls where there are events just forced on you, you kind of have to be extroverted to get absolutely everything out of it".
Kenny bemoans a "go-go-go attitude" that can leave students feeling "either awfully guilty because you haven't done anything or you're so knackered from trying to do everything that you're not even ready to start classes". Kenny urges incoming freshers to "just chill out a little bit and stop taking the first few weeks so seriously". The graduate reflected on just how overwhelming the first few weeks in college can be: "Be open to other things that are going to happen, because it's never going to go the way you think it's going to go."
Unless you're in Halls where there are events just forced on you, you kind of have to be extroverted to get absolutely everything out of it
She also laments the common misconception that as a university student, "you're now on your own" – a myth that causes many students to struggle with independent living and study, which culminates in increased mental health issues and a sense of disillusionment. Many students are unaware that a support-system exists at college, one of which Kenny herself regrets not availing more than she did in her first year: "I would've asked for help a bit more, I think. I don't think it's highlighted to freshers enough that your tutor is there and your lecturers and TAs want to help, and even your classmates."
How, then, can they seek support? "Stop getting so intimidated by the titles like 'lecturer' or 'TA', because at the end of the day, you're an adult and they're an adult and you're all in the same boat."
It is, then, not so much this idea of "sink or swim" but float along until "you find your own groove". University life presents many new challenges and there are times when students may feel that they're close to drowning. But, as Kenny advises, if you put the work and the time in, you will see for yourself how quickly the tide can turn: "Trust yourself, you know what you're talking about. Be the one to speak up in the tutorial, use your voice and say what you think. Be a bit braver and embrace it – not that much can go wrong in your first year."
As we say our goodbyes and I hang up the phone, I can't help but feel that while Beckett may have been an inspiration to her and many others, Kenny can stand tall in the knowledge that she too will now be an inspiration for generations of Trinity students to come.