Balancing the ethereal with the existential, the success of Dublin-based band The Magazine Club is one good thing to come out of the pits of a national lockdown. The dream-pop band topped Nialler9's best new Irish bands list, received national airplay and saw their most recent single reach 20,000 streams in a matter of days, all while settling into a distinctive niche from which their music blossoms.
With saccharine synths and perfect jangle-pop guitars, the band have formed a delicately dreamy sound that's anticipated to be the transition from the abrasion and noise synonymous with the Dublin underground. Serendipitous at best, it seems that the discovery of their sonic reverie is the natural conclusion to their musical dreams becoming reality.
Speaking with The University Times, frontwoman and guitarist Cath Leahy explains that The Magazine Club is the first band she has ever joined, after an adolescence spent yearning to be in one. Things only clicked when she met guitarist Shayne English and bassist Tom Crowe in 2018, both of whom had known each other for several years previous. Having connected through a "dating" app designed for finding band members, Leahy admits that this origin story is embarrassing but indicative of the lived reality of young creatives.
ADVERTISEMENT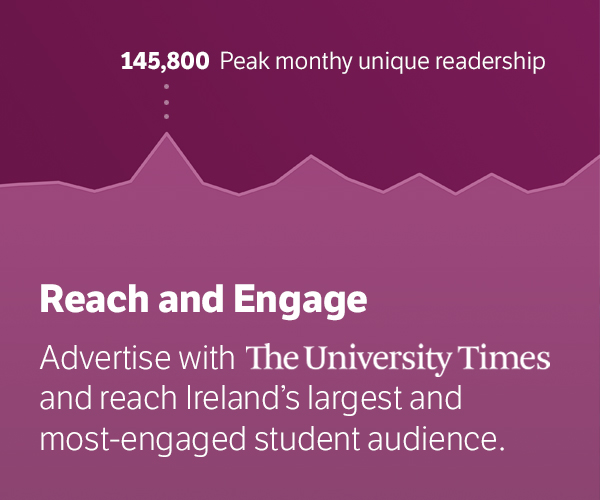 The band's influences aren't something they're shy about addressing, namely the lush sentimentality from the likes of The Cure and The Smashing Pumpkins and crucially, Wolf Alice's Alice Roswell proved to be a catalytic musical force for Leahy. Roswell has Leahy's best interests at heart: she too wants to find cohesion between rage, delicateness, and introspection. Yet the band takes pride in their credibility. "If we all loved The Cure the way I do, we would be a cover band", Leahy states.
In the wake of this, the band have formed their very own brand of what they call "hopeful melancholy" – something that can easily be used to gloss over the dream-pop boom of the last decade, but is also quintessential to their sound. However, they don't believe that this is intentional. "Authenticity is something we strive for. It just so happens that we like that dreamscape sound", Leahy explains, with Crowe's agreement. This appears to be the way forward for the Dublin scene at least, with bands like Milk. following their lead.
The band expresses a lingering feeling of shock following the sudden attention they have received during this lockdown-induced industry inertia. "We started gaining a bit of traction, literally out of thin air", Crowe says, referencing their audience, which had previously been made up of family and friends, gradually expanding over the last year. "Before lockdown we were fine with the situation, but it was only really during lockdown that we've gained any sort of 'traction', so I don't feel any different", Leahy affirms.
Having originated as a live band, the inability to celebrate their success with a gig has proved alienating. "It's a bit frustrating. It's a bit hard to imagine that we will have people at the gigs, based on what we've done before", English explains. "Like they [family and friends] could be all the streams – are they [the audience] real or paid actors?" he jokes, almost hiding his uncertainty. "If someone could tell me that in March live gigs will be 100 percent happening again then that's something tangible we can plan for", Leahy continues. "We're trying to take it in our stride – we're just writing all the time."
The band's recent single "Pink and Blue" is a piece of existential whimsy. Exploring no grey areas, it oscillates between pink and blue, appreciating the dreaminess that exists in between – a romantic fugue state. "I find it hard to talk about what songs are about – they just are", Leahy explains. With the song's core components written by Crowe, her lyrics are authentically adolescent, thematically driven by a dream of defying the odds.
"It's definitely very idealistic I think, looking back on a younger me", Leahy reflects. "It's not how I feel right now, but when I was 18/19, I always wanted to be in a band but it felt like something other people always did but I couldn't." She continues: "Doing things alone seemed more tangible, but eventually everything clicked."
There's a definite link between the themes of pipe dreams becoming reality, the band's ethereal sound and the band's lived reality – and thanks to the past 12 months, The Magazine Club's musically-constructed fantasy is no longer such.
"Pink and Blue" is available on all streaming platforms now.