At tonight's media hustings candidates were tasked with their toughest challenge of the campaign to date as neither the editor of The University Times or Trinity News went easy.
For the presidential race a lack of institutional knowledge left MacQuillan – and to a lesser degree Cummins – exposed against questions that required in-depth knowledge of policy specifics.
For the other races, with the campaign now firmly underway, candidates may have left tonight's hustings feeling as if something was left on the table as few did much to move the needle with most opting instead to play it safe.
ADVERTISEMENT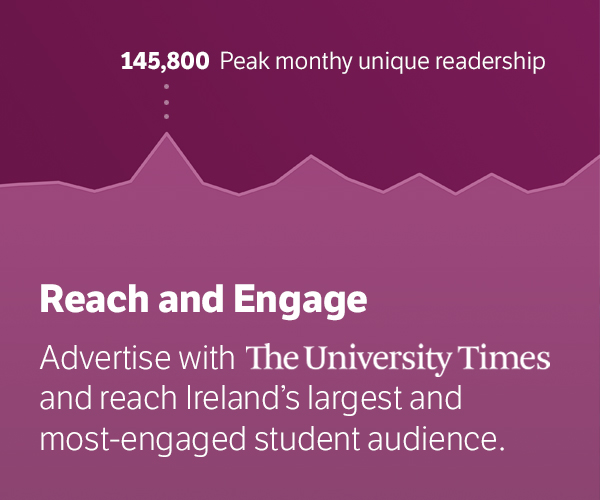 President
Leah Keogh tonight solidified her status as the most consistent and coherent candidate in the race to be the union's next president.
Once again, Leah Keogh relied on her previous union experience to answer the majority of questions in a satisfactory manner, prepared with specific points and figures to back up her suitability for the role.
On the perennial subject of whether the union should focus on local or national issues, Keogh acknowledged that "it's very difficult to evoke local change without national change", going on to reference the union's recent move to provide free period products in bathrooms as an example of local change preceding national change. Keogh's answer was of marked difference to her opponents who both vaguely maintained that there is time for the TCDSU president to give adequate focus to both.
Ben Cummins appeared more prepared for this particular hustings than he was for Tuesday's Council hustings. Touching specifically on his desire to improve mental health supports on campus, Cummins skilfully referenced plans to build on a UK campaign that is pushing for global university rankings to factor in mental health support as a criteria in their assessment.
This ambitious plan demonstrates his vision for the union as he also cited the need for a publication on all of the mental health services that Trinity has to offer. Yet Cummins faltered on the specifics, with any details of implementation seeming vague.
Luke MacQuillan – who previously gave confident performances – was the weakest of tonight's candidates. MacQuillan's major stumbling block came when asked about previous leadership positions he'd held and told the virtual audience of his previous leadership "on the rugby pitch" and how he was "voted head boy by my peers".
Although MacQuillan had previously drawn on his lack of union experience as an advantage, it became clear tonight that a lack of leadership experience will mean that this election may be an uphill battle going forward.
While Cummins was stronger tonight, Keogh has certainly shown herself to be the most capable of the three candidates. Whether this will translate into votes is yet to be seen.
Education
The flame of the education race intensified this evening, narrowing from a benign orange to a more fervent shade of blue, in a media hustings that was somewhat a marriage of policy-heavy queries and intense scrutiny of campaign promises.
Facing questions that acuminated on manifesto promises, both candidates relied on tentative answers to a number of the pressing questions they faced tonight.
It was on his proposed "Walk A Module In My Shoes" campaign – aimed at giving lecturers experience learning online – that candidate Daniel O'Reilly encountered most turbulence. Following a probing by Editor of Trinity News Lauren Boland on the feasibility of such a proposal, the candidate assured voters that "the interest is there. Not from all of them. Not even from most. But, there is a good number of lecturers that would be interested in this".
This policy, though alluring in theory, in practice is one that may face considerable resistance given the already exacerbated workload faced by staff members on account of the move to online learning.
For Genockey, the candidate found herself in deeper water when it came to the omnipresent point of union engagement – a point which has been a stalwart of her campaign. Yet despite some acute questioning, at no point did Genockey's head dip below the waterline, as she asserted: "We can't force people to fill out polls, but if we make it easy for them to do it, then perhaps they will."
While each candidate may have wooed the electorate with their well-formulated plans for their time in the role, it may well be Genockey who occupies a greater segment of voter-hearts tonight. Facing rigorous questioning with an ever-present modesty and humility, her level-headed approach certainly won't harm her chances of triumph at next week's elections.
Welfare
The extensive union experience of both Sierra Mueller-Owens and Dylan Krug really shone through tonight, with these hustings allowing both candidates to differentiate themselves on policy matters and show off their union know-how.
When asked about whether her plans for training lecturers in gender-inclusive language and pronoun usage would infringe on College's existing Gender Identity and Expression Policy, Mueller-Owens could assert from her experience as gender equality officer of TCDSU that although that policy is in place, it is "not always carried out in a successful manner".
Krug also showed his familiarity with College policy and bureaucracy when discussing the circulation of his "What Do I Do Now?" documents, and referenced his knowledge of recent accessibility funding received by the college, outlining his plans to ensure this goes towards the "resources students use the most", such as House Six.
Mueller-Owens and Krug both had practical knowledge in buckets but lacked specificity at times, with Krug habitually circling back to his 'What Do I Do Now?' documents and Mueller-Owens seeming unwilling to stray too far from the status quo and challenge current union structures.
Despite voicing their respective visions for the equality side of the role, the candidates fell somewhat short on engaging students from different socio-economic backgrounds. Both stressed the importance of publicising information to prospective students, while placing less emphasis on the struggles of those already enrolled.
With knowledge and experience aplenty in the race, it is hard to see who is going to come out on top. The race is very much in the lap of the online-voting Gods.
Communications and Marketing
Having had little opportunity to speak in depth about her campaign at Tuesday night's hustings, Aoife Cronin took advantage of increased questioning and produced arguably the strongest display of her campaign so far.
Quizzed about her manifesto points in much greater depth than previous hustings, Cronin passed with flying colours, once more showing her commitment to taking the uncontested race seriously.
The perennial question of ethical advertising reared its head at tonight's hustings. With Cronin offering an assured "student-first" approach, drawing the line between profitability and advertising that "betrays" student values wherever students are being most benefited.
Interestingly, she did not shy away from noting that the union is "inherently political" and that any advertising must reflect the political values that the union stands for. If elected, Cronin will be sure to face ethical dilemmas on whether to stick to this promise given the union's pandemic-induced economic pains.
On the potential for increased advertising through The University Times, Cronin says that she has spoken with this year's Communications Marketing officer, who said that they had found success this year with the paper in "mobilising ad space and sponsorship".
As Cronin spoke about graphic design, her passion for discipline was clear, at one point even stopping herself from going into too much depth with the apparent fear that it would bore the virtual audience.
When asked about how she would focus directly on engaging with STEM students, Cronin appeared slightly taken aback and repeated "STEM students" to herself as she took time to come up with an answer. Despite her initial surprise, she proceeded to deliver a strong response about connecting to students through the many science-related societies as well as through the schools.
Cronin was, once again, confident and self assured throughout the evening. Having not put a foot wrong so far, Cronin isn't giving the electorate any reason to vote RON when voting opens next Tuesday.
Ents
On balance, Greg Arrowsmith will probably come away from tonight's debate the happiest of the two candidates, having managed to stay on message, while his opponent, Antonia Brady, at times strayed into vagueness.
Divergence between the candidates emerged quickly, as the two clashed over support for two Trinity Ball events next year, proposed by Provostial candidate Prof Jane Ohlmeyer.
Brady firmly disagreed with the proposition, deeming it "nearing impossible" to organise. She said she'd rather commit to organising one Trinity Ball to the best of her ability, than plan two large events that may both fall through due to the continuing pandemic.
Arrowsmith on the other hand stated his strong support for a second Trinity Ball if "viable", saying he was "very confident" in his ability to organise a large-scale outdoor event following the cancellation of this year's Trinity Ball.
Arrowsmith is hopeful for both large-scale in-person events and trips abroad, while Brady was quick to bring the focus closer to home, saying: "We're not really looking at international trips or anything like that, because it's not accessible to every student."
Both candidates have continued to highlight their experience in organising society events. Brady promoted her year of organising online events for DU Players remarking on the "value in virtual events". Arrowsmith is keen to take a more hands-off approach and plans to focus on "getting the Pav back open".
Although Brady and Arrowsmith have different visions of what ents could look like if we are faced with another year of coronavirus restrictions and lockdown, they do agree big, impersonal virtual events will not form part of next year's ents, which Brady described as "lonely" and Arrowsmith simply stated "do not work".
The issue of Trinity Ball gave a glimpse into the kind of campaign each contestant is running with Brady appearing reluctant to make promises she cannot fulfil and Arrowsmith fueling his aspirations for the next year with confidence and experience. Ents tends to be one of the more boring races in the TCDSU election – but not this year.
Editor of The University Times
Tonight showed that Emer Moreau and Peter Caddle are in some ways running in different races, with Moreau focused heavily on policy and Caddle veering from policy entirely and only discussing ending print, while juggling questions on his background in the Burkean.
Moreau handled her questions with relative ease throughout the hustings, cementing her position as the clear favourite. However, when challenged on how she would fulfill her campaign pledge to host more social events for the paper next term if the pandemic is still a factor, she appeared somewhat unconvincing, saying the newspaper "can definitely utilise Zoom", and adding: "We can invite journalists from the UK or America or Europe. We can have online events."
Caddle stumbled when questioned about his plans for societies and sports clubs. After admitting he would need to rely on current members of staff on this matter, he proceeded to complain about not having access to "documents".
In response to a question sent in by a female staff member of The University Times expressing concerns about Caddle's previous articles in which he made insulting comments about women and members of the LGBTQ+ community, Caddle, rather predictably, refuted the question.
After confronting the moderator on this, Caddle asserted that the quotes read out to him were not an "honest representation" of his articles and failed to consider their "comedic tint".
Both candidates were asked about the constitutional validity of their proposals to cut the print given a clause which mandates at least one issue to be published per month. Caddle was familiar with the rule noting how it does not specify that the issue must be physical, suggesting a PDF version or publishing a single copy to get around this. Moreau said she will work with the ongoing constitutional review group to change the rule adding: "I don't imagine that a lot of people will have an issue with it."
While neither candidate flourished, Caddle's blunders gave Moreau the clear advantage and with the campaign now firmly underway, it's difficult to see her losing the race.
---
Cormac Watson, Aoife Kearins, Molly Furey, Emma Taggart, Emma Donohoe, Ella Connolly, Jessica Allen, Emer Tyrrell, Jody Druce, John Keenan, Mairead Maguire, Maitiú Charleton, Jane Cook, Gillian O'Neill, Charlie Moody-Stuart and Naoise D'Arcy also contributed reporting to this piece.