A year into the pandemic, one begins to wonder whether many of the rookie creative projects from 2020 are still coming into fruition, or whether they have been deserted indefinitely. While eulogising the lost pandemic screenplays and concept albums, however, it might be worth celebrating those who didn't succumb to Google Doc fatigue. Among these paladins is fledgling Trinity-based band Speakers.
Fronted by DU Music Chairperson Conor Kinsella, the band teeters between adolescent small-town-woes lyricism and an established sophistication. Despite the band being in their infancy, there is nothing novice about their sound, with each member having previous experience in the Dublin circuit. With music that embodies the golden age of 2010's indie rock, things are also looking golden for the band themselves.
Speaking with The University Times, Kinsella describes the formation of the group as "the most hectic coming-together of a band that [he has] ever been in". Speakers didn't form in a vacuum – the first iteration of the band included every current member apart from lead guitarist and fellow Trinity student Conor Leon. Kinsella and bassist Alex Cregan were working together for a number of years prior, before reaching out to drummer Joe Clarke in December, 2019, having written some new songs.
ADVERTISEMENT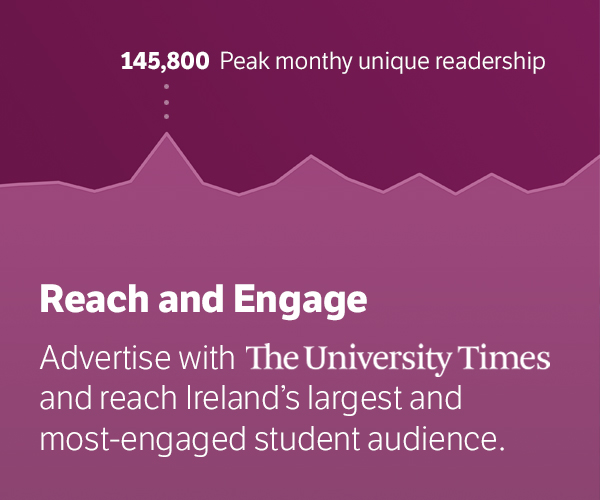 Come March, 2020, however, practice ended as quickly as it had commenced. Despite this, the band were quick to restart as soon as circumstances permitted, and once household visits became possible again, their plans finally began to take shape.
"This whole pandemic has made me more determined than ever that we're going to get through this as a band, and we're going to be so ready to start playing shows when it's safe", Kinsella asserts. "It gave us something to work towards and something to be working on." This sentiment of resilience in the face of adversity also comes through comments from the other band members. Leon emphasises the novelty of the first lockdown coinciding with many artists' creative peak, saying, "the only way is up, I think".
With their first gig most likely to happen after several single releases, Speakers is looking forward to the future of music promotion in a post-pandemic world where it seems space is being made for established traditions to be uprooted. Referring to pre-pandemic procedures, Leon explains that "you obviously gig for a while and then you try recording something – it is a bit odd in terms of the timeline."
In comparison, as a musician during the pandemic, Kinsella explains that "you're hoping that by putting out your work while in quarantine, that afterwards you will have some kind of following." As drummer Clarke apts puts it: "You're getting a foot in the door."
Analogous with the melting pot that is the sound of the Dublin scene, the band prioritised recording their first few singles, written by Kinsella, rather than taking the time to neatly curate their sound. "I'm always interested in hearing what people think it sounds like, because I'm not even sure", Clarke laughs. "It was a process of exploration rather than anything else."
The band's eventual emergence onto the Dublin gig scene is still being discussed, with Kinsella noting that "there is definitely a scene for every type of music in Dublin, but because of that variety, it's quite difficult to find artists that have the same vibe to you." For example, "If you're popular in 'Fibbers' you gain a reputation as a 'Fibbers' band, and that lends itself to a specific sound", Leon offers.
This serves as a reminder of how live performances can really shape a band's reputation. "Any of these artists that have come out of the pandemic – you have no clue how they're going to be live", Kinsella points out. "We haven't had that opportunity to spread our wings, I guess."
The band's single "Nothing to You" came about after a long period of sitting with the song, struggling to give it the treatment that it deserved. Written by Kinsella in 2019, it finally came to fruition with the help of his bandmates. The song was entirely self-produced and recorded in Kinsella's home. However, this DIY process was less romantic than it sounds. "You're sitting there for hours staring at your laptop trying to figure out what's bad and you don't know what it is!", Kinsella reflects with a laugh.
On the last day that household visits were permitted, the band spent time finalising the recording of the single. An act of catharsis, the song was written about cutting off a toxic yet influential figure in your life. "Those lyrics were coming from a very angry place", Kinsella explains. "It's about that experience of not caring about what is actually right in this situation", but only wanting other people "to see what you think is right". With the acknowledgement of this stubbornness comes personal growth, and in a year where we are all blossoming behind closed doors, the sentiment of the single hits closer to home than ever.
"Nothing to You" is available on all major streaming platforms now.