Professors and PhD students have expressed their displeasure with Ussher PhD positions offered for next year, arguing that the conditions attached – a €13,000 stipend with tuition paid for three out of four years – narrow the pool of potential candidates.
Speaking over Zoom to the University Times, the leader of the Ultramicroscopy Research Group Prof Lewys Jones, who said he could not speak on behalf of the School of Physics, said: "From the point of view of excellence, the stipend should be sufficient to not limit the selection pool to people living with their parents."
"As a research group leader, we are really only interested in one thing, which is attracting the top talent," he said. "That means we need to provide a rate which would allow someone to move from outside the M50."
ADVERTISEMENT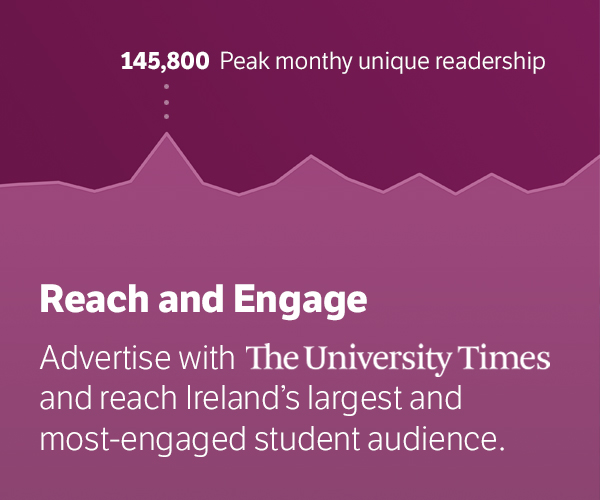 The official research group account wrote on Twitter: "'Funded' Ussher PhD places at @TCDFacultySTEM offered for Sept 2021 start. Fees +13k stipend paid for 3 out of 4 years. Applicants need a 1st class degree, personal statement, research proposal +2 references. Applications close in 3 days. Seem fair? @TCDdeanresearch @PhDRights"
Jones added that PhD candidates, who can be in their late 20s and early 30s, should also be provided with the freedom to choose to move out of their family homes. He pointed out that beyond basic financial needs, "people may want to date one another, may want to move in with one another".
However, he said that with the severe underfunding of the higher-education sector, tough decisions have to be made.
"Success might look like giving fewer people a chance to do a PhD," if it means paying them a living wage, he said.
"If you actually want a level playing field we should probably pay [PhD candidates] at least €10,000 more."
Jones believes that Provost-elect Linda Doyle, who is a former Dean of Research, will know that "a lot of the output of the college depends on this excellence," because "at the end of the day, it's mostly PhD students that actually do research".
In an email statement to the University Times, Director of the Centre for Research on Adaptive Nanostructures and Nanodevices (CRANN) Prof Stefano Sanvito called the funding "below the poverty threshold".
He said that while PhD scholarships are not employment and do not need to compete with regular jobs, "they do need to be good enough to allow the students to focus on their studies and not how to get to the end of the month".
Sanvito described what he calls "a race to the bottom" in Ireland where there has been "huge resistance to increase PhD scholarships over the years". He added that he believes a figure in the region of €20,000 to €22,000 "sounds [more] reasonable".
Jones also said that aside from the inequality of opportunity for students, the current system also leaves some less senior professors without the opportunity to provide their candidates with a fair income.
"More established professors can probably buffer the missing money", he said, describing a situation where larger research groups have more opportunities to make up deficiencies in stipends elsewhere.
Both Jones and Sanvito pointed to a recently developed scheme by the School of Physics to raise the minimum stipend value for all candidates to €18,000. Describing the school as "leaders in College", Jones praised the move and said the change had led to wage equity within his own group, where none had existed before.
In an email statement to The University Times, Catherine O'Mahony, a Trinity media relations officer, said: "In the Strategic Plan 2020-2025, Trinity has set out a plan to focus on enhancing the experience of our postgraduate students.
"We are aware that the discrepancies in the levels of funding associated with internal awards are something we need to attend to, and we aim to address this issue in the postgraduate renewal project."
She added: "The challenge is the difficult choice between providing very limited funding to a small number of students and providing more funding (i.e., larger stipends) to an even tinier number of students, given the constraints on funding streams available to us."
Speaking to the University Times on behalf of the TCD Postgraduate Workers' Alliance, PhD candidates Conor Reddy and Tom Dineen labelled the €13,000 stipend "an insult" and called for the recognition of postgraduates as workers as opposed to students who should be paid "a workers' living wage".
"€13,000 is nowhere near a living wage [in Dublin]," Dineen said. "Whoever allocated this funding is one of three things: ignorant, privileged or both."
In the absence of decisive action, Reddy added, "People from working-class backgrounds and other communities will be completely excluded from higher education".
"That has serious ramifications for the quality of research we get out of Irish universities", he said.
Reddy said that blame should not be put squarely on College, because the situation is "part of a larger picture of failure by the Irish government to invest in higher education".
"If they want to be serious about being a knowledge economy which is led by research, science, and innovation, they need to invest seriously in institutions like Trinity."
The TCD Postgraduate Workers' Alliance along with the Postgraduate Workers' Alliance of Ireland is currently in the process of unionising, with the goal of using an increased level of organisation to force the government and universities to "take us seriously".
"If we were to withdraw our labour tomorrow," Reddy said, "it would be a very stark reminder to College and to funding agencies that we are workers, not students – that we are essential to the functioning of the entire system".
The national campaign last weekend launched a petition calling for Minister for Higher Education Simon Harris to recognise postgraduate rights and ensure that pay is commensurate with the living wage in each city.
At the time of writing, the petition had 176 signatures.