Theatre has always been about bringing people together, but this academic year saw this concept challenged by the constraints of the coronavirus pandemic. With uncertainty hovering over their heads, a new generation of drama and theatre studies students began their journeys in Trinity last September. Now, as their first year comes to an end, four students – Conor Bustos, Seán Loughrey, Abi Ní Mhaolchatha, and Maureen Penrose – share their experiences of learning to make theatre in an estranged environment with The University Times.
The shift to online learning has been tough on all four. Despite their Theatre Laboratory module being held in person during Michaelmas Term and some students getting a chance to work on offline projects, these students took little comfort in their short time in the department building. "When you come to college, not only are you here for knowledge and connections", observes Loughrey, "but you also gain access to all of the spaces and people to work with". This year, having had far less access to these facilities "feels like a pretty raw deal", he adds, saying that he hasn't been able to push himself as much as he had wanted to.
Despite being proud of what they have created this year, there is a feeling of dissatisfaction among the students. Being a very "expressive person" and "physical actor", Bustos has found it hard to perform online. "Body movements and facial expressions do not translate best on camera" he says, lamenting the slowdown and delay in response often created by live online platforms.
ADVERTISEMENT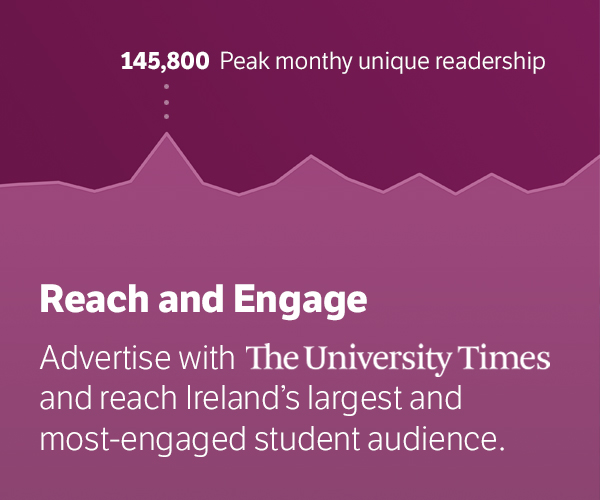 Ní Mhaolchatha also "feels lost in online space". Chiming in agreement with Bustos' references to technical difficulties, she mourns the fact that performers are "not sharing the same physical space" when they perform online, explaining that this sharing is what she thrives off artistically. Ní Mhaolchatha looks forward to being back in a physical space with other performers someday soon, where they can "feed from each other's energy".
A big fan of live entertainment, Bustos also notes that "a recorded live event doesn't feel right". "My connection to theatre has to do with energy", he continues. "I want to feel that I am here, I'm in the moment", which is significantly harder to do when watching or performing in an online show.
The students also speak about the limitations of online theatre as an audience member, where suddenly you can only see as much as you are allowed to see. "Everything is a choice" in live theatre, Loughrey explains. "Theatre is a big beautiful artistic machine with many nuts and bolts going in the background". He emphasises that there is a person and an intention behind every prop in live theatre, but that the limited camera angles in online theatre cut away at some of these choices, making a performance harder to analyse.
In terms of staging online productions, Loughrey and Ní Mhaolchatha both agree that one of the biggest challenges has been resisting the urge "to slip into film". Over the past year, they have both tried to incorporate various live elements into their work and strove to always think outside the box and their spatial limitations.
Despite all this, when I ask whether if, given the choice, these students would change their first year experience, all four respond with a "no". As a mature student, Penrose notes that she had "a softer introduction" to college this year than she would have had were her classes in person. Ní Mhaolchatha, in turn, observes that her year group have acquired skills this year that they "wouldn't have been able to learn in any other way".
The students also express appreciation for how the drama department adjusted their curriculum and remained supportive throughout the year. "If the world was falling apart, you could turn to anyone from the department", says Loughrey. In particular, Bustos and Ní Mhaolchatha recall their Theatre Laboratory module with Dr Sarah Jane Scaife and how she "did a great job introducing different things, encouraging [her students] to get the most out of online". They describe how "she went on Zoom herself and explored it" so that she could later teach the class "everything about how to employ the frame you are confined to, what you can do with your hands and body within this space".
"This will be known as the year of experimentation", Penrose concludes. Indeed, all four students agree that they have "learnt many new interchangeable skills that can translate across a range of art forms". They also emphasise the importance of their Performance and Technology module, and say that even when they return to in-person theatre, the incorporation of technology into new work is going to be massive.
Despite being confined to the digital world, the students used their circumstances to make as many connections as possible. "This year", says Bustos, "we are all in the same boat, united by the situation happening". Online work also makes it easier to engage with more productions, they explain, since you can join the meetings any time from anywhere. "I've done so many shows this year", Bustos exclaims, and the others agree. "In person, I don't know if I would have been brave enough to do it!"
In addition, the drama department and societies such as DU Players and Trinity Musical Theatre provided freshers with opportunities to work with and befriend students in other year groups. "We have our own mini industry here", beams Ní Mhaolchatha. She also comments on how tight-knit the theatre community in Dublin – especially within Trinity and the Lir – really is: "You know that the people you are studying with are those who you are going to be working with down the line."
Indeed, the strong connection between these Junior Fresh students was apparent even through our short interview over Zoom. "I love all of the faces on my computer", says Penrose with a warm smile. "These young people are fabulous – the world is safe! I've got renewed faith in the future because of my class!"