It's no secret by now that theatre companies have adapted quickly during the pandemic. One company in particular, Festival in a Van, has gone the extra mile to make theatre portable and safe by touring their productions around the country from the back of a van.
Speaking to The University Times over the phone, the company's producer Gemma Tipton described how it came into being. While writing an article about the closure of theatres for the Irish Times, Tipton came up with the idea for Festival in a Van as a way of making theatre portable and safe for live audiences. The response, she said, has been "unbelievably lovely".
The company's mission is to bring live performances back to audiences whose access to the arts has been cut off by the pandemic. With locations ranging from housing estates to town squares, their productions have helped a wide range of people including leaving certificate groups preparing for their English exams and nursing-home residents who have missed out on their usual doses of cultural life. "We're constantly thinking of who usually goes [to the theatre] but can't, and who's living in pods", she explained.
ADVERTISEMENT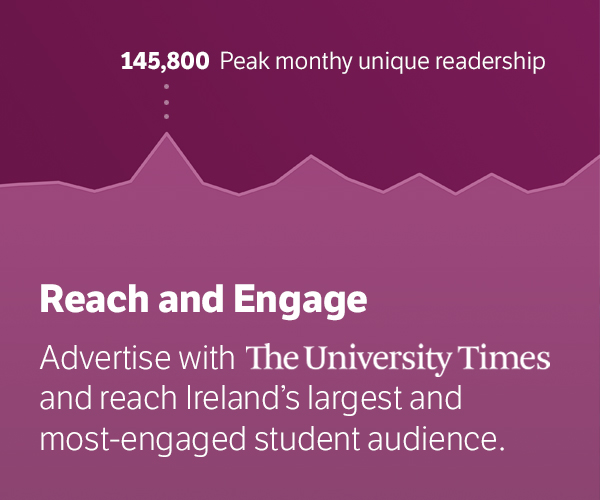 Tipton described the period between April and July 2020, when the company was applying for initial funding, as "really hard work", but added that despite this, the team were never deterred. "You're not really frightened because there's just nothing there", she laughed in reference to their quest for funding. In the end, the project was supported by Creative Ireland and a Bank of Ireland Business to Arts Begin Together grant.
The company's first "proper gig" was at a care home in Clifden as part of Galway 2020 European Capital of Culture. According to Tipton, there was also a primary school right across the road from the care home and it didn't take long for the pupils to start dancing along to their open air performance. "We felt that we had made it happen", she said. "It was really special."
With these highlights came inevitable challenges, though for Tipton each challenge made for a positive memory as each one was crucial to the company's journey. Such instances include the company's van breaking down in Monaghan or getting the measurements of an arch in Killarney House wrong so that the van couldn't fit underneath it. "Tech crews can solve any problem", she emphasised. "They're amazing."
Tipton's advice to artists with similar aspirations is: "If you have a mad idea, don't discount it."
She also stressed the importance of caution: "There should be no cutting corners, especially with COVID risks."
Tipton and her team worked extensively with public health experts to ensure the safety of their audiences. In her view, "it's not about how you get around the rules, it's about how you listen to them".
To learn more about the company's latest production, King Lear in a Van, I spoke to director Conor Hanratty over Zoom. An accomplished director in both Shakespearean theatre and opera, he was delighted to be approached by Tipton to direct the piece. Given also that King Lear was on the syllabus for this year's leaving certificate English examinations, the production found its perfect audience in students searching for a fun way to revise.
Before King Lear, Hanratty also directed Romeo and Juliet from the van, I'm told. The lead characters, for that production, were played by two actors from the same household, which allowed for the romantic moments to remain in the play. "At that point it was shocking to see two actors standing beside each other with their masks on", Hanratty recalled. "And then they kissed, which was unthinkable."
He described the process as "hacking the play to bits", but with a view to presenting it to teachers and students who were struggling to adapt to online learning. "Even the change of air", he hoped, "would be something".
Because both productions had been marketed towards school groups, the company aimed to keep the plays within one class period. This added a 30-minute time constraint to already difficult circumstances. "It took about three or four weeks of head banging, but we managed to do something – and that's how we did King Lear with three actors in the back of a van", he laughed.
Staging the production from a van also helped the company to ensure the safety of the cast and audience members, Hanratty explained. "There's a fold-down lip at the back of the van which became like a stage, and then we used the ground in front of it", he set out. "Our production managers and safety enforcers marked off a very clear amount of space at every venue", he said, so that "the students were two metres from the barrier – never mind the actors!".
Hanratty also worked closely with English teachers to ensure that the company was focusing on the scenes that were most likely to come up in the exam. "There's an immense power to this play", he said, but the fact that the performance took place in early May meant that the risk of losing the young audience's attention wasn't lost on them. "Chances are you need [the show] to be the bits that you need to hear."
Although the characters were simplified to fit the production's tight runtime, Hanratty emphasised that the performers did an exceptional job: "It became about them performing King Lear, and it was [equally] as much about their performance and their beautiful handling of the text", as it was about aiding the students' revision.
In essence, King Lear in a Van was about giving this year's leaving certificate students perhaps their first exposure to live Shakespearean theatre. To conclude our Zoom interview, Hanratty shared a heart-warming anecdote about one student who approached the cast after the show to tell them that they had just been accepted into Trinity to study drama. At this news, the cast were delighted to have given this student perhaps the first real glimpse into a potential future that they had had access to in recent months. "The vast majority of people in Irish theatre will have seen a show while they were in secondary school, and I would really think it a sad state of affairs if that didn't continue to be the case", Hanratty concluded.