Irish universities are unlikely to advocate for the abolition of the student contribution charge, after the head of the sector's lobby group signalled his opposition to the principle of free third-level education.
In an interview with The University Times, Jim Miley, the director general of the Irish Universities Association (IUA), said that "we have to recognise that there are individuals and families in the country who can afford to make the student contribution".
Miley said he does not believe that there is a "one-size-fits-all" solution.
ADVERTISEMENT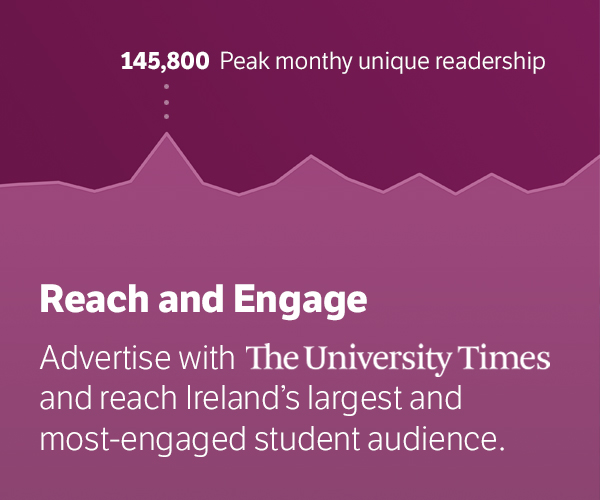 He said that "[some] families are putting their students through fee-paying second level schools, paying six, seven, eight, and in some cases 10 or 12 grand a year for them. I don't think you can legitimately say that those families suddenly can't afford three grand a year. So I don't think this can be a one-size-fits-all approach. I think that that would not be fair".
He added that students who need assistance are currently not being supported adequately.
Asked about whether a means-tested type of model for fees would suit as a replacement to a fixed fee, Miley said: "Well, essentially that's what happens at the moment – over half of students at the moment don't pay the contribution because it's funded through the SUSI, and then a number of those also get some maintenance costs applied."
"There's a review of that coming along with the funding reform – that has to be part of the solution", he said.
"And I think that's the only fair way to do this. I mean otherwise are we saying that the state should pay all the costs for the sons and daughters of millionaires? I think that's a ridiculous suggestion that I certainly wouldn't support."
He said there was a need for a "graduated solution" with "significantly expanded state funding for those who can't afford to pay".
The SUSI grant system has come under fire in recent years, with students arguing the stipend is too low and the process for calculating eligibility is unfit for purpose. The Union of Students in Ireland (USI) told this newspaper last month that students in receipt of the grant would particularly struggle this year, as the first payment is not due until October 8th. Most colleges return to lectures several weeks before that.
SUSI told this newspaper that the date was pushed back due to the later-than-normal return to college that arose as a result of the delayed publication of the leaving certificate results.
In an email statement to The University Times in August, the USI Vice-President for Welfare Somhairle Brennan said: "Starting college, or coming back to college, is an extremely expensive time. So much money is needed up front, especially for the larger cost items like rent and deposits for accommodation."
Brennan added that she believes the SUSI grant is "not even fit for purpose" as the cost of living has increased dramatically since it was last cut.
In March, the Department of Higher Education launched a public consultation reviewing SUSI. The terms of reference of the public consultation included reviewing SUSI eligibility criteria, reviewing income thresholds, review of the SUSI maintenance grant, comparison of student supports with other European countries, examination of costs for postgraduate students and determining the real cost of attending higher education in Ireland.
The student contribution has become quite a contentious issue among third-level stakeholders and students alike. Ireland has the second highest student contribution fees in Europe after the UK. It was €1,500 in 2011 and has stood at €3,000 since 2015.
A European Commission analysis of the Cassells report published in 2016 is expected to be released this autumn. In it, three options are proposed to address the lack of funding. The first option would see the student contribution abolished and replaced with a fully state-funded model. The second would see the student contribution retained but state funding would also be increased. The third – and most controversial – is a loan system.
On Cassells, Miley said: "It's well past time now for the government to respond … I think we are very encouraged by the fact that the minister and the government have clearly now put a stake in the ground and said that they will respond to the issue."
Last year's Programme for Government said that students should continue to be charged the current rate of fees and investment would increase. The Cassells report and student loans were not explicitly mentioned.
In May, Minister for Higher Education Simon Harris also voiced his opposition to loans when he responded to a question from Sinn Féin's Higher Education Spokesperson Rose Conway-Walsh on the "chronically underfunded" state of the higher-education sector.
In his response, Harris said: "As I have said before in this House, I do not believe in student loans. I believe they are a barrier to access."
"Many say they work on paper but I am yet to see where they work in practice."
He reiterated this when speaking at the Oireachtas Education Committee over the summer.
But Miley also said the government needed to clarify its plans for higher education for the future: "I think we've, we've had a lot of clarity from [the] government and from politicians about what they're not going to do … we're now waiting for what they are going to do, and it is very clear that whatever model or formula, they come up with. It has to have a significant increase in state funding for the sector."
He added: "The budget comes in six weeks time, and the department has had the EU report for a number of months now. We think it's time for them to respond to it, and to have Budget 2022 then, as the first instalment of a fulsome response to the funding crisis."
"There's been a very positive response to the COVID emergency where special funding had been put in place by governments for the sector. And that's hugely appreciated and allowed us to get over some really really difficult issues for both students where support [was] provided and for colleges."
"There's a review of national research strategy underway, and we need a funding programme to go alongside that because, again, just like our, our academic, the academic side of our institutions, the research side is underfunded as well compared with our European colleagues."
Last year, Harris said that registration fees for students are "too high".
Despite an increase in allocated funding to the Department of Further and Higher Education in Budget 2021, left third-level stakeholders were still left underwhelmed. Speaking to The University Times, Fitzpatrick of USI said that she was "disappointed" that the government had ignored a pre-budget submission to reduce the student contribution by €500.
"It would have been a commitment from [the] government to recognise the underlying problem which is that students are paying the highest fees in the EU", she said.
Miley described it as "a missed opportunity for real change" particularly given that "universities have clearly shown their capacity to support society during the Covid crisis. They are equally eager to support the National Recovery and the investment measures we proposed would have enabled this to a great extent".