Gisèle Scanlon has crunched the numbers on her time in Trinity's Graduate Students' Union (GSU): "I've put in over 20,000 hours, unpaid and paid."
Scanlon believes that she has contributed to "thousands" of decisions in that time – and this, she says, is why she's a good fit for the Seanad.
"I brought change. Sometimes bringing change is tough because there's resistance to change. I think that I can bring that out of Trinity and up to the Seanad to make life better for society."
ADVERTISEMENT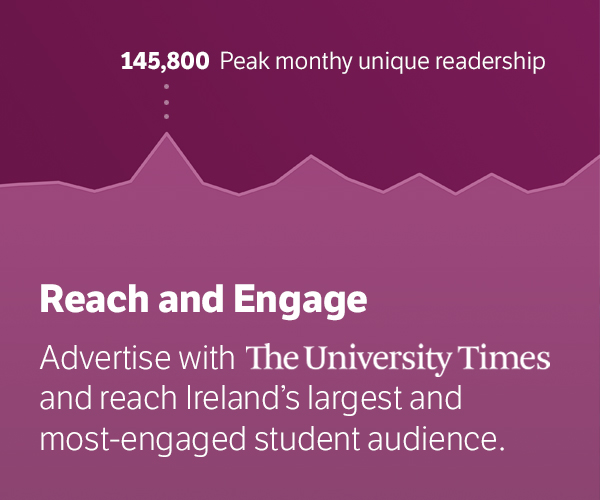 The author and three-time master's student is running once again on her I-CARE platform: innovation, community, accessibility, research and equality. Indeed, Scanlon has distinguished herself in her sophister year as president by publicising her care for all members of the Trinity community. From a petition to save College Park from being built on – which was ultimately successful – to lobbying on behalf of a subpopulation of birds in Trinity, no cohort seems to be outside Scanlon's remit.
But does her attention to niche issues and groups – she tells me in detail about an issue that Trinity's security guards had with their footwear – ever come at the expense of her mandate to lobby for postgraduate students?
I brought change. Sometimes bringing change is tough because there's resistance to change
She insists that many of her crusades are intertwined. "A lot of the Noonans [security guards] are post grads, but they're from other universities, like TUD … our post grads have jobs outside to exist because of funding", she says. "Non-EU students go out and try and get jobs and are impacted by all sorts of issues working in shops where they're making sandwiches and are being abused."
"Everyone brings value, everybody, brings it to me regarding understanding how society works, and how to make it better for everybody … an awful lot of our postgrads work as well as studying and they have to balance that and it's a lot of pressure."
She vows to maintain this cross-campus approach if elected. "I've stayed with the I-CARE [manifesto]. It has helped me in my previous iteration twice, in that it helps me to, I suppose, categorise the type of care and how I can enlist others to help with that."
"Collaboration is going to be huge for any candidate. Having the right people to work with … when we go into the Provost, we can basically talk about anything that hurts anybody."
Scanlon views her Seanad bid as a continuation of her efforts to fight for those with no voice at the table: from being a GSU class representative to sitting on College Board, Trinity's top decision-making body, she asserts that she has learned a "huge amount". She points to the Higher Education Authority Bill as another issue she has championed, and will continue to champion, if elected. "We need shouters and screamers up there to fight what's going to happen to us with that."
Collaboration is going to be huge for any candidate, having the right people to work with
She might not shout and scream herself at these meetings, but she is certainly known for her lengthy speeches on issues she feels are important. Indeed, over our hour-long conversation, she veers between topics with some impressive segways, answering several of my questions without having to be asked them.
Unsurprisingly, then, she describes the Seanad as a place where she can continue to use her "voice" for the cohorts she represents. While she concedes that the Upper House is in need of reform, she insists that the Seanad's function has always been to represent minorities. "These panels are set by the Constitution based on themes, you know, agriculture, culture, education, and I'd like graduates to have one vote and they could choose where they want to cast that vote, whether that be the vocational panels or expanded into higher education, and it gives the voter choice … and why not extend the Seanad franchise to residents in Northern Ireland, who are entitled to Irish citizenship and to certain Irish citizens overseas?"
It is this weaving between issues that seems to make Scanlon so popular among her supporters. A divisive figure on campus, she undoubtedly has a loyal following of postgraduates from her focus on casework. "I didn't take a holiday in my whole three years. I stayed at Christmas, because I realise[d] the diversity that we speak about in College. It not only involves people from different countries, but it also involves students that have hidden and physical disabilities."
"I suppose I'm always on the ground for them and everyday to me is a good day when someone gets help from us."
So, Scanlon's gusto is not to be sniffed at. One issue on which she speaks with surprising nuance, however, is the question of higher-education funding. While she asserts that "decisions have to be taken" by the government in the long aftermath of the Cassells report, she is conscious of the politicisation of the issue. "I think they're going to capitulate because what they're faced with is an opposition who's gaining a huge youth vote, and they're doing everything in their rhetoric to tell us as young people and as students that they're going to reduce fees if they get into office."
Why not extend the Seanad franchise to residents in Northern Ireland, who are entitled to Irish citizenship and to certain Irish citizens overseas?
"So we're looking at a political landscape, where the reduction of fees is actually a political football now, between those who are currently in power and those who wish to get into power."
She is in favour of a fee freeze or reduction, but seems to be singing from the same hymn sheet of fiscal prudence as Minister for Higher Education Simon Harris: "There's no point in reducing fees if there's no increase in core funding".
She may well carve out a niche as a true Trinity candidate in this election – while many of her opponents are at pains to demonstrate their links to the College, Scanlon herself has been at the coalface of Trinity ongoings for several years. She is particularly well versed on the controversial Higher Education Authority Bill, calling it "draconian": "When you really study it, and you see its real implications, it's [clearly] a step backwards, not a step forwards for us."
"We should be challenging this every step of the way to protect our autonomy. It's actually diluting our decision making, our funding."
Again, she laces her central point with asides, including about her erstwhile writing career – she has published two non-fiction books, The Goddess Guide and The Goddess Experience. "Our postgrads and our undergrads contribute heavily to the development of the economy. They fill jobs. The development of society in arts and culture is a big one because you know, I'm a writer and artists get left behind when you talk about education."
The reduction of fees is actually a political football now
She claims to have put the same amount of study into Ireland's housing crisis. "[I've] become so engrossed in housing policy. And I looked forensically at our housing system and whether it's cost rental or a different system. I want social housing to be responsive, currently it's not responsive to need and I'd like to see the supply of social housing to be more elastic."
"Currently there are three groups in Ireland that avail of housing – there's the group rich enough to afford the market, which is small. There's the group that qualify for social housing, which is under severe pressure … and there's everybody else."
Certainly, voters can be sure that if they elect Scanlon, she won't do things in the Seanad chamber by halves. Unsurprisingly, she skirts around her past controversies as GSU president. On the union's tattered relationship with the Postgraduate Workers' Alliance, she said: "I don't think it's part of a conversation about where I go as a candidate. I think I'm very much concentrating on the future. I'm very much concentrating on learning from anything that I've learned as the president and how we can put those to positive use."
On both violence against women and the environment, she returns to her track record of speaking up for the little guy: "I was in charge of the rosters [for postgraduates supervising student breakout spaces]. And at night time, I would [roster] girls together who lived really close to each other so that they would have each other going home, on the bus, or they would have each other going home on their bikes, or they would be walking home together, whatever."
She points to her contribution to a campaign to protect Trinity's swift population as an example of how those "who've historically had the least contribution to environmental degradation, are experiencing the very worst climate change".
"I, in my pillars, will be advocating for climate justice."
Few who've met Scanlon will doubt she's a colourful candidate. Fewer still will doubt that her heart is in the right place. But it remains to be seen if voters will be sold on her actual policies.