It's not always easy to find things to laugh about.
In recent days, most especially, this has been the case – there has been little to laugh about. Both within the walls of Trinity, and far across the continent of Europe, we are all in need of some lighthearted moments. Of some brief relief from the humdrum of our lives.
That, dear reader, is where The University Times so famously comes in.
ADVERTISEMENT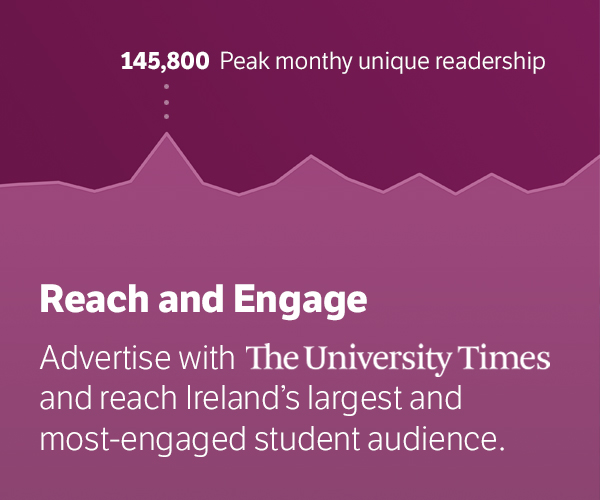 Now I know what you're thinking: really? You guys? You guys are going to actually make me laugh? But hey, this is election season – anything can happen. The rogue candidate could swoop in in the final minutes and steal the election away. A once-stoic contender could lose it all to a woeful hustings performance. And if you really do believe in miracles – The University Times could actually make you laugh.
This is a time we treasure dear to us here in the hovels of House Six. A time in which we writers get to sit back, observe and mercilessly judge others for doing something we would never be brave enough to do. It's tradition, ritualistic, symbolic. It's the bread and butter of our egoism.
So, like many years before, we hope to guide you in your journey to the (virtual) ballot box. Let us hold your hand as you scour the options for the one you wish to tick. If you still remain undecided as voting opens, pay no heed to hustings. Pish posh to policy. No need for nonsense nuptials of passion and personality. Be free of all notions of experience and skill – ask only what is important.
Are they a fire, earth, air or water sign?
Leo: Cúnla Morris, Chloe Staunton and Gabi Fullam
We here at The University Times believe in upstanding journalistic practice and fact checking. So based solely on the scriptures of astrology-zodiac-signs.com, we have compiled some cutting-edge analysis on the meaning behind these candidate's entire campaigns.
Battling it out for the role of Welfare and Equality Officer sees a meeting of two Leo minds – Cúnla Morris and Chloe Staunton. Like lions on the African plains, these Leos must skulk out their competitors for weaknesses in one another's campaign – slashing at the badges adorning each other's TCDSU saches.
In this bid to crown one candidate as Trinity's Official Empath Officer, these ferocious felines are sure to bank heavily on their innate tendency for passion, generosity and warm heartedness. So touched, are we, by these A-grade sensitive souls in their bid to wipe your waa waas away and nestle your worried head into the bosom of the welfare services.
As for Fullam, she can thank her Leo stars for her innate penchant for power. Like any good Leo, Fullam is self-confident and self-assured – de rigueur for any activist candidate who hopes to go up against the wrath of the union's yupcouncil hashtag.
Virgo: Julie Smirnova
When it comes to a Virgo, there is one thing you can be sure of: they're going to notice the little things. Be that the typography of their Instagram infographic, the cúpla focal in the TCDSU emails that they so kindly remember every fiftieth sentence, or throwing in that extra pack of Taytos to our Deal of the Week – being a Virgo is a trait most every candidate for Communications and Marketing Officer needs.
As a candidate of this very persuasion, Julie Smirnova is shaping up to be the cookie cutter Comms Officer we all know and love so well. Virgos are careful and methodical – so should any member of the student population receive one of Smirnova's promised retweets, they should know it's not your average prop up, but one methodically shared.
Luckily for this hopeful Virgo, her astrological ability to be the hardest working person in the room may come in handy. As a sabbatical officer, she will need to rely heavily on this for her four hours of work a week – these TikToks are not going to make themselves!
Libra: Max Lynch and Zöe Cummins
Two candidates, both alike in astrology, in fair Trinity where we lay our scene.
While in a certain sense, Max Lynch and Zöe Cummins may find themselves respectively gunning for the most and least exciting positions in the union – entertainment and education officer – their shared Libra persuasion makes these two candidates more alike than meets the eye.
With social skills and diplomacy being at the root of any good Libra, we can ascertain that both Cummins and Lynch will fit the bill for whatever their sabbatical position could have in store for them. With Cummins at the helm of the education brief, this could mean advocating for student's rights, meeting with College board members, or quelling academic queries.
For Lynch of course, this too could be used in a myriad of ways: such as mediating drunken arguments between Arts Block Hot Girls over whose fur coat is whose in smoking areas, or making sure there's enough bleach hairdye to go around for all in-house DJs.
Above all however, one must be wary of our loveable Libra's tendency to carry a grudge – so pay heed when it comes to the ballot box. As an astrophysics expert, Cummins' connection with the universe may mean the stars are in her favour, and – should things not go her way on election day – they may invariably not be in yours. And as DUDJ's greatest treasure, should you abstain from aligning with Lynch, you can bet your bottom dollar there's a techno diss track with your name on it.
Sagittarius: Nadia A
Curious and energetic – à propos de no personal bias whatsoever to this writer's own Sagittarian affiliation – these travellers of the zodiac are undeniably the most likeable and humble of the signs.
Sagittarians are idealistic, and while this may read as erring on naivety, it will stand by any candidate such as A who hopes to even suggest the promotion of any language other than Irish in a room full of googoo-for-Gaeilge union hacks.
Like the many Sagittarians that have come before her, A is both personable and good-natured – a trait well-needed for any hopeful female gunning to be Ents Officer in a college full of terrifyingly posh rugby boys.
Should she dawn the cloak of red of Ents Officer in the upcoming academic year, this sanguine Sagittarian may just have to bank on her curious nature. As the potential Tetrarch of Trinity Ball, A shall have her mind opened up to the true extremes of depravity that Trinity students can get up to in the portaloos of this coveted event.
Aquarius: Rebecca Kelly and Ross Donnelly
As an Aquarian, these hapless hopefuls must bear the brunt of being both incredibly progressive and simultaneously unique and original. So burdened are they, with their overwhelming propensity for philanthropy, that we wonder how such charitable candidates even find time to sleep between all their altruism.
For Kelly, of course, this can be recognised in the Law student's work with the access committee and as the gender equality officer. And for Donnelly – no less – in his selfless work as Trinity Sailing's ents officer, in ensuring that even sailors can manage to have some degree of fun.
Even still, caught up in their lust for virtue, our altruistic Aquarians may have trouble expressing their true feelings. While the public may see one side of these candidates, the true mind behind these air signs may be something entirely different. But luckily, for a pair who may someday carry the SU torch from sabbatical officer to charming politician, this very propensity for masking may be the ace up their sleeve.
Pisces: Mairead Maguire
Decidedly discernible in Maguire is Pisces' inherent selflessness, as exemplified by her dedication to The University Times. The current Deputy Editor has written over 150 articles for the paper in the past two years – the sort of commitment that most of us lousy non-news journalists can only dream of.
Pisces are intuitive by nature – a trait the Twitter commentoriart may be glad of when it comes to selecting which of our less popular Editorial Board articles gets published.
Of course, it may yet transpire that Maguire's uncontested editorial race is in fact being contested by a nameless rival, and that any assumption of victory be deemed hubristic. And as the stars decree that this candidate seeks to escape reality – following a campaign period not without it's notable lumps and bumps – Maguire may fit the bill for the perfect Pisces postulant.