Farming is woven into the fabric of Ireland. Families farm the same land for generations, or new owners take over, hoping to experience an Irish ideal. Through famines and wars, recessions and pandemics, somehow many farms, small and great, survived.
But in an ever-changing world, the challenge of survival is omnipresent – pressure to innovate plagues some and excites others. Young farmers are having to be earnest in their approach, looking at sentimentality versus feasibility and lifestyle versus business.
In 2022, only 30 per cent of Irish farms are financially viable. Knowledge passed from one generation to the next may not be enough anymore, and more and more young people are entering agricultural courses in an attempt to keep the tradition alive and the business afloat.
ADVERTISEMENT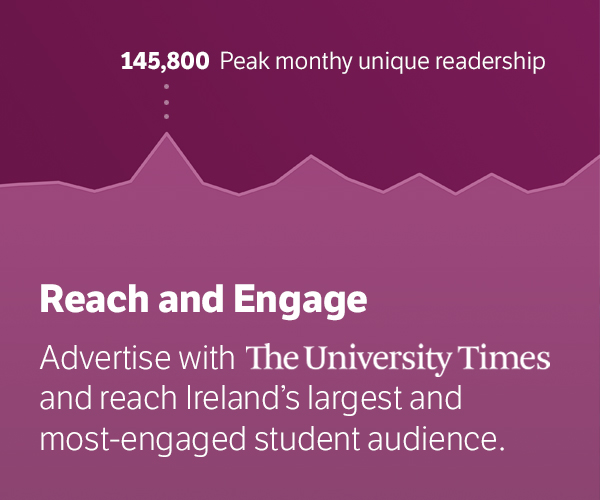 So where do we go from here? Can a new generation of farmers save one of the cornerstones of Irish society and economy? The University Times sat down with some young farmers to hear their views on agricultural education, environmentalism in farming and the future of an industry that appears to take nothing but hits.
Éimear Boyle grew up in south-west Donegal on her family's farm, where she had a hands-on role from a young age. She's now studying in Ballyhaise College to get the Horticultural Green Certificate or a "green cert" – a level-six degree which qualifies a person as a "trained farmer".
The green cert trains you up to be a young farmer
"Passion is a big part of it", she says, but "it's a job as well". Even throughout school, Boyle remained committed. "It had to be done. This was the main income for the house. This was our livelihood. When you have animals to look after you have to get up in the morning and do it before school and you have to come home in the evening and do it before you start your homework."
Her father worked in England for years before returning to Ireland and starting up his own farm in Ardara, learning as he went and not completing any formal agricultural training. Despite having a wealth of practical experience, Boyle felt there would be value in getting a qualification. "The green cert trains you up to be a young farmer. It teaches you how to do your finances so you don't have to be paying somebody to do that. It teaches you how to farm environmentally friendly, so you're not poisoning streams."
The financial benefits are not to be sniffed at either. The Targeted Agricultural Modernisation Scheme subsidises farm safety and infrastructure for young farmers. "Say if you built a shed for €40,000, you could get 60 per cent of that back if you are a young trained farmer by doing the green cert", Boyle explains. "It makes sense to do it."
So what's an average day in Ballyhaise? "Every aspect of farming is covered." Students take nine modules in the year and each day is split between lectures and practical classes – something Boyle says suits farmers "down to the ground". "Farmers like keeping busy and doing things with their hands, so you're out doing the practical end of things too for half of your day which is a big help." Students learn about grass production, soils in the environment and even how to drive a tractor. Boyle adds: "Farm safety and farm insurance, that would be a quite important one, because obviously there's a lot of farm-related deaths." She recommends the course to young farmers, saying that even those with very little farming experience would find it doable and valuable.
Every aspect of farming is covered
Part of the course is a placement opportunity. Boyle found herself on a substantial dairy and hen farm in Cavan – a far cry from her father's humble sheep and cattle farm, but a critical learning experience, she believes. "It was great to go out there and broaden my mind as to what I could go home and maybe interest Daddy in doing – that there's other ways of doing things and more efficient ways of doing things."
Karole Kissane, a member of the Irish Farmers' Association (IFA) regional executive, knows all too well the challenges facing farmers today. Speaking to The University Times, Kissane emphasises the importance of education and innovation.
Doing courses and acquiring certificates is not a new phenomenon, as Kissane explains, but they once were "just a box-ticking exercise". He says the next generation "will be a lot more aware of how they farm".
Where Kissane is based in Kerry, most younger farmers have already completed degrees, some agriculture related, some not. "They are taking their experience from off farm to run their farm more business-wise."
One such farmer is Nick Cotter who, at 21 years old, has already made waves in the agricultural sector, starting a now highly successful business when he was in his early teens. He's currently in his third year of a law and business degree in University College Cork (UCC) – subjects he says are highly relevant to the modern farmer.
Cotter plans to do the green cert once he's finished his degree and then run a sheep farm part time at home in west Limerick. While studying in Cork, Cotter has stayed connected with his farm through his family's many business ventures. When he was in his early teens, he and his brother started selling firewood door to door from their family's forestry. "Dad said: 'Sure look, what's the worst that can happen? If you don't sell anything, at least we have timber for ourselves.' I started off as a small business and today it's kind of scaled into being the main income on the farm where I'm paying eight people at this point."
Farming is changing rapidly and those who don't keep up will likely be left behind. The financial pressure has only grown, Boyle says. As food and fertiliser – the bread and butter of farming – continue to rise in price, keeping standards high is increasingly difficult. "The whole point of farming is trying to get your animals to eat as much grass as possible. That's the Irish way. That's what Bord Bia are trying to put across", she explains. "To get your fresh green grass, you have to put on fertiliser. If you have to pay that much to get your green grass, that's going to be eating into your pockets."
Boyle adds: "I think young farmers definitely have more to worry about in this day and age."
According to Boyle, dairy farming is much more steady than other types of farming. "Your money is in milk because you're getting out your milk cheque weekly. Beef farmers, sheep farmers, they can go months at a time without getting paid." This leaves sheep and beef farmers more reliant on government payments and schemes.
While government support can help alleviate some financial pressure, Cotter sees it more as a kickstarter than a crutch. "If you hold a [positive] view of innovation, I think it's a great thing … but in order to do it you need to have direct financial support in terms of subsidising the uptake of these technologies", he says. "These technologies are expensive, you're not going to be able to flick a switch and all of a sudden have everyone adopting it. So if you want to solve these problems quickly, you need to invest in solving them."
I think young farmers definitely have more to worry about in this day and age
In the past, the farm was passed from eldest son to eldest son, but Cotter believes that this is not the way forward. "[Succession] is going to be a big problem if you have older generations taking the view that the oldest son should be taking the farm who has absolutely no interest in farming, when there is someone else who genuinely does want to farm it, because it would be a [shame] to let these assets go to waste."
Cotter says there is a risk of "someone sitting on it for the sake of sitting on it and having something valuable in their hands that they have no intention of actually doing anything with".
"The other side of it is the corporate buying up of land. In Wales, in particular, there is your Nestlés and your Kelloggs and loads of other brands buying up big parcels of land, just outbidding farmers." It is a source of frustration for farmers like Cotter who are trying to farm more sustainably while corporations are buying land and "using that as a way to continue on with unsustainable practises and trying to justify their business".
"It's the absolute definition of greenwashing", he says.
Nicole Keohane McCarthy studied agricultural science in Waterford IT where she is now undertaking a PhD aimed at improving the udder health of cows.
While academia and farming are contrasting career choices, Keohane McCarthy finds they complement each other, and hopes to continue with both. "I put this much time into my education that I want to go forward with this. So that's just a way of me managing both … I'll never drop one for the other."
The environmental aspect of farming has been plunged to the fore, with climate-conscious producers becoming more important as the crisis worsens. Keohane McCarthy is an advocate for research, modernisation and "always trying to better ourselves". "This is something that if we don't prioritise, there won't be a future of farming. You know, look, it's been said and it's been correctly said that farmers are going to be the first to be affected by climate change. There's no shying away from the possibility, so it's up to us to invest our time and our money into research."
Cotter is passionate about the "contentious matter" of plant-based diets and agriculture. "I'm not necessarily pro or anti [veganism]", he says. "I'm anti people lying." He feels that farmers have been blamed disproportionately for the acceleration of climate change, and that it is "categorically untrue" that everyone adopting a vegan diet would solve the climate crisis. "I don't personally have a problem with the other types of food technologies but, at the end of the day, we're going to have about 10 billion people to feed in due course. We have to feed ourselves. The current projections are that farmers are going to have to produce 45 per cent for the same amount of land and achieve all these sustainability goals, which is no small ask."
I'm not necessarily pro or anti [veganism]. I'm anti people lying
Keohane McCarthy concurs with Cotter on the issue of veganism. "You know, a lot of people hear you're a farmer and they start spouting these facts at you about your own industry and your own career and the stuff they tell you sometimes can be incredibly wrong and misinformed, which is really disheartening to hear."
"If you're going to be vegetarian or vegan, you're doing that based on accurate, informed information", she says.
"Each person's own individual diet is [a decision] that they make on their own … I'm not going to force anyone to change their dietary habits. I just expect someone who's on a vegan or vegetarian diet, not to force that on me."
A common thread among the farmers who spoke to The University Times was an acute awareness of climate change and the part farming has played in it. But, as Kissane explains, there must be give and take. "There is an acceptance there that things are going to change from a climate point of view", but, whether it be lowering emissions or nurturing biodiversity, the government must recognise that "this is a public good being provided by farmers" and, when restrictions are imposed, the state must "fill the gaps" another way.
There is a sense of energy and urgency among young farmers that is not dampened by the harsher realities of a changing world. Whatever you think about climate, veganism or new technology, education, in its many forms, appears to be the way forward.