The light was kept out by red velvet curtains, and scarcely brought back in by dimly lit chandeliers. In this gloomy setting, the wide-eyed, eager audience waited with excitement for the show to start. 
Ireland Music Week (IMW) took place for its 21st year last week, from Wednesday through Friday. Since its beginning in 2003, this yearly festival is crucial for new up-and-coming artists to showcase their music, get noticed, and find new listeners. During the day, industry professionals go on and off stage for panels, workshops and masterclasses. At night, emerging artists get a chance to perform, and we, the audience, get the chance to see and hear it. It's an incredible opportunity for new artists to network and be discovered. Past successes include Fontaines D.C., as well as Hozier in 2013 — the biggest breakthrough act to date. 
'Artist' rhymes with… TikToker
ADVERTISEMENT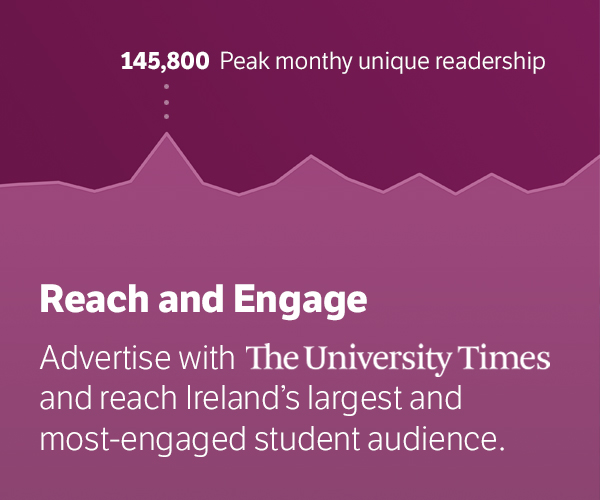 Picture this: you work hard on your new album and after months of long hours, headache-inducing songwriting sessions, recording and producing it is finally ready. Now, you need to work even harder to self-promote it, so that you might go "viral" on TikTok. 
There is no question that TikTok is a powerful tool for artists — it allows them to boost their career and build a fanbase. It was made evidently clear throughout the panels and the TikTok workshop that took place at IMW this year. On music discovery, artist manager Maya Petrovic and Ismay Bourke from Warner Music Ireland agreed that TikTok is an effort worth making. Darina Connolly, the head of label & artist partnerships at TikTok, insisted on the importance of experimenting, keeping the content rolling, and most of all, staying patient. 
Fans don't want good music, they want good music and an artist they can relate to — a friend, an everyday person, somebody that eats, sleeps, laughs, and cries, just like them. They want to know more and TikTok is just the place for artists to share more: what kind of cereal they had for breakfast, or what outfits they wore during the week. Rapper SELLÓ says he found navigating the platform difficult, admitting that he gets his little sister to help him with it. On getting over the "cringe"' of posting TikToks, he advised new artists to just keep posting: "the more you post, the less you care". One day, it works, and it makes it all worth it. 
So, what does work? How does one 'go viral' and 'blow up'? The answer is short and sweet: authenticity. Petrovic, Bourke and Connolly insisted on the importance of artists staying authentic and true to themselves. After the Instagram filters craze of the 2010s, we now want something real. The curated, heavily edited content that we were fed for many years is not satisfying us anymore. Ironically, we're hungry for less. Polished content is no longer desirable, but stripped back, funny, awkward, embarrassing and relatable content is guaranteed to find success. 
TikTok seemed to be at the centre of the panels I attended personally, but IMW covers other very important topics, such as the mental health of artists, climate consciousness in the industry, accessibility and gender roles. The talks are extremely valuable, not only for aspiring industry professionals, but for artists themselves. Imagine playing a sport without knowing the rules: just because you are excellent at kicking a ball, does not mean you are a pro at playing football. The guest speakers at the panels are artist managers, PR agents, sync agents, music supervisors — they are the people you, the artist, will work with. More importantly, they make up the world you choose to enter when embarking on a serious career as a musician. The world that you will work, evolve, grow, and succeed in. This world, like any world, has its own way of working, with its own rules and its structures. If you are an aspiring artist, I cannot urge you enough to also attend the conferences at IMW, and not just the showcases. 
Fresh sounds: Rachael Lavelle, Brad Heidi and Caleb Kunle
The showcases of IMW took place on six stages across four different venues. 50 new artists got ready to show everything they had been working on, while industry professionals, and a passionate audience, were ready to hear it. 
On the top floor of The Grand Social, the dream-pop sound of Rachael Lavelle echoed through the room. Her voice resonated like the haunting call of a siren, carried by waves of  dreamy electro synth, before finally breaking on shore with spoken word passages. In moments of silence, the floor vibrated with sounds from the showcase happening downstairs, begging to be heard. Dragging us, the audience, into the next world, until Lavelle brought us back. 
The Dublin born artist released her second single, 'Let Me Unlock Your Full Potential', four years after her first. However, she has made herself present on the music scene, performing with various bands, and featuring on Villagers' album, Fever Dreams. The captivating and unique sound of Rachael Lavelle is one to look out for. 
Downstairs, Brad Heidi and his band put on soulful pop. The upbeat melodic sound left the audience tapping their feet and bobbing their heads. All five members of the band squeezed together on the small stage while the heartfelt lyrics spilled into the room, underlined by a punchy bassline and nostalgic keys. Galway-based Brad Heidi has definitely broken through, opening for James Blunt, charting with his debut EP, and becoming the most followed Irish artist on TikTok in 2022. 
Onto the next stage, where Caleb Kunle offered a delicious blend of soul, jazz and folk, and a vibrating stage presence. Between each song, Kunle told inspiring stories, about how he recently became a father, about how he started busking on Grafton street — which made this evening "a beautiful homecoming". 
The singer-songwriter draws on both his Nigerian and Irish background to tell stories full of emotion and authenticity: the good and the bad, the light and the dark. His invigorating voice, accompanied by compelling instrumentals, brought the audience together in a celebration of what it means to be alive in the modern world. Kunle's name is definitely one to remember.