The atmosphere on site has been calm and peaceful. At a quarter to four, bells were rung by library staff to remind studying students that the facility would close in fifteen minutes. This was met with subdued cheers on the part of the protesting students.
The only aggravation faced by the students, dressed in matching yellow t-shirts emblazoned with the phrase "We love books", has been that of some library staff; but on the whole the protest has passed peacefully so far.
At four o' clock the last remaining students who were not involved in the sit-in filed out of the library and the library closed to students. Both security staff and library staff have remained in the lobby area while the students are inside.
ADVERTISEMENT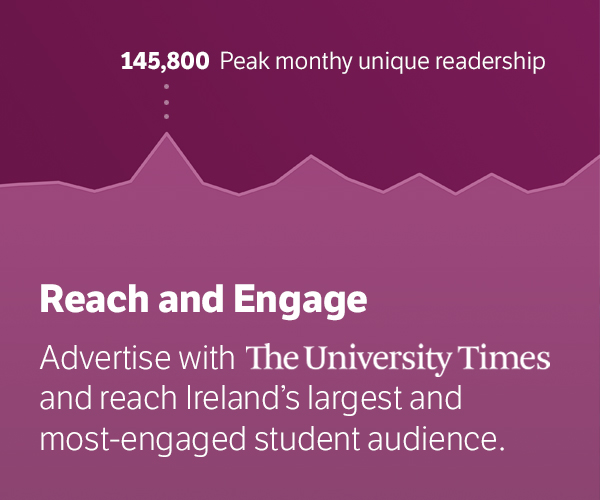 The sit-in has been well-organised on the part of the Students' Union leadership: inside there are first aid kits and enough food and water to last the fifty to sixty students at least a few days. As well as this, there are representatives who have volunteered to record the event (both with images and film).
Security have made enquiries with college authorities as to whether filming was permitted onsite, but so far no intervention has been made.
At approximately a quarter to five, Assistant Junior Dean Joe O'Gorman, met with Students' Union President, Cónán Ó Broin, at the entrance to the library. He confirmed that the Junior Dean of the college, Emma Stokes, was on her way to the site and would be arriving within a few minutes.
He stressed to Ó Broin that his first concern was safety, both of the security who were overseeing the event and of the students themselves. Ó Broin confirmed that the students were hoping that the sit-in would pass peacefully.
At five o' clock, the Junior Dean to the college met with the protesters. She said that she thought the strike was a good idea and that she would have preferred if the students had informed her of the sit-in, claiming that she would have supported it.
She also said it was not currently clear whether the Provost was anywhere in the vicinity of the college at the time, so she couldn't comment on the possibilty of his visiting with the students and discussing their demands.
The sit-in in Trinity Library will continue until tomorrow.