Rónán Burtenshaw
UT Deputy Editor Rónán Burtenshaw will be live blogging the national protest throughout the day on this page. Just refresh to see the most recent updates.
17:51 And with that the live-blog ends for this evening. Articles, quotes and pictures from the student protest to follow on UTOnline. Keep your eyes out…
ADVERTISEMENT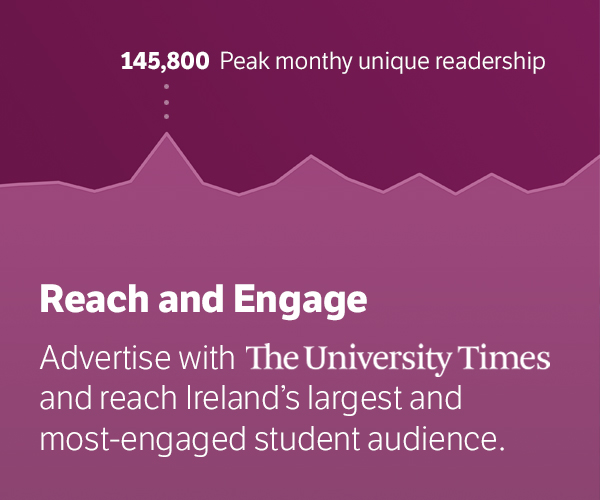 17:43 FEE block have now left the Arts Block, heading towards Westmoreland Street. Being prevented from re-entering by Gardaí.
17:41 Ronan Costello tweets picture of FEE block sitting in Arts Block.
17:38 News Editor Jack Leahy has put together some quotes from today's protest.
17:35 FEE group say that they intend on having a meeting, not occupying. Now having a sit-down in the Arts Block, in the middle of the floor on second floor, to discuss.
17:33 Student occupiers are leaving now. They've asked to use the GMB building which will house a debate by The Hist on student fees this evening at 19:30. One protestor suggested that they could exploit a loophole by just sitting outside, a few have their faces covered.
17:29 Occupiers have now been told that they are an insurance risk by the head of security. Editor Ronan Costello has been asked to delete photos taken of protestors by the protestors themselves.
17:28 TCDSU President Ryan Bartlett has arrived to talk to the occupiers, they have asked if it is possible to book the room.
17:27 TCDSU President Ryan Bartlett has been called over by Gardaí to speak with the student occupiers in room 3074.
17:23 Jack Leahy reports that FEE have occupied room 3074. Gardaí are asking to speak to a Trinity student but none is forthcoming, instead a non-Trinity student is trying to speak with them. Junior Dean has been called.
17:18 25 FEE members are being evicted from room 3074 of Trinity's Arts Block by Gardaí at present.
17:17 Garda who spoke to News Editor Leanna Byrne shortly before 5 o'clock confirmed that there had been no arrests made at today's protest.
17:15 Eight FEE members outside Douglas Hyde Gallery at the moment. 13 Gardaí. No confrontation or action underway. Appears to be dying out.
17:10 No word as of yet about whether FEE will be allowed into The USI's sleep-out outside the Department of Education on Marlborough Street or on how large that group sleeping out will be. UT Editor Ronan Costello on way over now.
17:08 Post on 'Come Here To Me' blog titled 'this is the reason the student movement is doomed' highlights Q-Nightclub using a 'Stop Fees, Save The Grant' poster to promote an event tonight.
17:07 College Tribune now reporting that FEE were trying to hold a meeting in the Edmund Burke Theatre in TCD's Arts Block but have now been removed.
17:06 Gardaí have assembled outside TCD front gates but appear to be leaving now. No comment or response to questions.
17:03 FEE block now on way to Trinity. As this happens read our interview with FEE organiser Aidan Rowe.
16:58 FEE are still being prevented from entering the area where the main protest is. Tom McD tweets another of his pictures from the main march here.
16:56 Sign from the protest tweeted by Tom McD, "pay my fees or pay my dole".
16:54 Minister for Education Ruairí Quinn will be on the Six-One news this evening, Bryan Dobson confirms on his Twitter account. It can be viewed online at 18:01 here.
16:53 TheJournal.ie has just posted an article about the student protests today…
16:51 Reports of a large Garda presence still in place around Kildare St., likely part of policy reported earlier to protect govt buildings.
16:49 "Dumbledore would never stand for this…" #studenthumour
16:48 Tom McD on Twitter tweets this picture of a sign reading 'no cash, no jobs, no hope'. Guy Fawkes face-mask, popularised for contemporary protests by the book and movie 'V for Vendetta' visible in foreground.
16:45 The Workers' Solidarity Movement, an anarchist political movement with ties to FEE, tweeted about the USI stewards stopping FEE rejoining the main protest. "Shame on the USI leadership".
16:43 Ruairí Quinn, Minister for Education, is on Matt Cooper's show on Today FM now.
16:40 Newly-elected Dublin West TD Patrick Nulty was marching with Labour Youth at the USI protest today, according to Labour Youth UCC's account.
16:39 Big Labour Youth presence on the march today and now Clare Labour TD Michael McNamara has issued a statement saying "access to third-level must be maintained for all."
16:36 USI members linking arms to stop FEE from rejoining march. Peter Hamilton of the College Tribune tweets a picture of Gardaí following FEE as they go back towards FG HQ.
16:34 Reports now coming in of fireworks being set off around mainstage area. No reports of injuries.
16:33 Reports that USI members have joined with Gardaí and security to stop FEE rejoining protest. FEE now on their way back down to FG HQ.
16:32 Handmade USI poster at Occupy Dame Street at Central Bank and this poster at FEE protest outside FG HQ.
16:30 A picture from Niall Heffernan of FEE protestors on way back to main march being blocked by Gardaí, security.
16:28 Now hearing that FEE members with their faces covered are trying to re-enter the main protest, past Garda/security blockade. WSM says that police preventing FEE members "regardless of what they are wearing".
16:24 Aidan Rowe of FEE has just tweeted that the black-clad security (who he calls "USI peace police") have, together with Gardaí, prevented FEE from rejoining the protest.
16:22 Latest report from FEE breakaway is that they have been unsuccessful occupying FG HQ because of Garda presence and locked doors. Now a FEE member is leading chanting at the HQ through a megaphone.
16:21 Some quotes from Gary Redmond, President of USI, speech at the mainstage: "We stand shoulder-to-shoulder, not only as students but as parents and families… We are sending out a message to our government: shame on you… Let me send a message to you Fine Gael, we will not let you destroy our country." He also read out a copy of the pledge Ruairí Quinn signed in TCD last year promising not to raise fees or cut the grant.
16:15 Niall Heffernan tweets this pic of the Occupy Dame Street poster outside FG HQ on Mount Street.
16:13 Editor Ronan Costello is at the FEE breakaway. He estimates 15 Gardaí, about 80 protestors. Occupying the road outside FG HQ but appear to be breaking up now. Large FEE banner as well as one from Occupy Dame Street.
16:09 Some quotes from the stage. Michael Gallagher, 3rd year social science student: "It has cost me €10,000 p/a for the last three years to go to college. I have had to work 30 hrs/ week as a waiter. Ireland should be a society based on our abilities, not on the size of our bank accounts." Gary Redmond up next.
16:06 Michael Gallagher, a UCD student whose parents emigrated now addressing the crowd.
16:04 FEE Ireland are reporting their breakaway on their Twitter account.
16:02 Sinn Féin leader and TD for Louth Gerry Adams is at the USI's stage.
15:58 FEE member Aidan Rowe tweets that they are currently "occupying the road". WSM Twitter account reporting that there are three vans of riot police on Setanta Place.
15:56 FEE block have broken away and are attempting to occupy Fine Gael HQ on Mount St. Mounted Gardaí present.
15:52 Bryan Dobson has just tweeted that the 3rd level fee protest will be on the Six-One news. He tweeted it out first, which may mean that it leads.
15:50 Crowds gathering now at Merrion Square stage, where some eggs have been thrown but no major incidents so far.
15:49 (Re:15:49) "Ruairí Quinn can suck my balls, not Enda's".
15:48 Picture comes in from Barry Egan on twitter of the protest on Nassau Street.
15:46 College Tribune journalist Peter Hamilton posts this picture of the march having reached the main stage.
15:42 Micheál Martin has just told Jack Leahy that "the difficulty is that people who are earning €70-80,000 are telling people on €30,000 that they have to pay fees".
15:40 Ronan Costello: "colourful NCAD crowd meet march at govt. buildings"
15:37 On Twitter @langobrien tweets about how the chants about Ruairí Quinn have become increasingly angry and expletive.
15:35 Leanna Byrne posts a picture of a crowd, signs and megaphone in hand.
15:32 As the march reaches Merrion Square, where there's music playing on the stage, Ronan Costello posts another pic of the crowd outside TCD.
15:30 Brief sit-down protest that took place outside TCD was broken up by The USI and Gardaí because it was "unannounced and unofficial".
15:28 Una Mullally also tweets this picture of a student carrying the pledge Ruairí Quinn signed in TCD last year. And a video of the protest at the end of O'Connell Street.
15:24 Jack Leahy reports that there are a few students who are visibly drunk at the back of the protest but that there aren't many and they are "not causing any trouble" at the moment.
15:23 Journalist Una Mullally posts a picture of a sit-down protest that just took place outside Trinity's main gate.
15:20 Chants outside Trinity now "no ifs, no buts, no education cuts". Gardaí have blocked off all roads around Leinster House to prevent any break-aways. We're also hearing that the USI's occupation is being moved for this evening from Molesworth Street to the Dept of Education on Marlborough Street.
15:18 The Workers' Solidarity Movement has just posted a tweet saying that marches are "not enough" and that it's time to "occupy the colleges".
15:15 … And a Claire Louise Cullen picture from the end of O'Connell Street.
15:13 Gabriel Beecham also posts a picture of the crowd passing College Street, partly obscured by trees.
15:12 As protest passes Trinity's front gates Ronan Costello sends us a picture of the crowd.
15:08 Picture of UT News Editor Leanna Byrne in interview with Joe Higgins TD earlier. Calling for national student strike.
15:06 Student protest can now be heard from UT offices in TCD. It's loud, lots of drums, whistles and chanting.
15:02 Fianna Fáil party member Ken Curtin posts this video of Eamon Gilmore talking about last year's student protests in the Dáil. "What a difference a year makes," he says.
14:59 Over at TheJournal.ie Ian Power argues that it's time to "end the stalemate" over third-level fees.
14:56 DCU FM are estimating a number between 8 and 10,000 as they post this picture of the crowd stalled outside 21s nightclub.
14:53 Jack Leahy: "Gardaí not issuing official estimate but one we spoke to just there said could be about 20,000." Dylan Haskin posts a picture of the full march, it's pretty enormous.
14:51 News Editor Leanna Byrne says that students wearing face-covering scarves have been asked to remove them by Gardaí. She also posts a picture of a student sign asking how much a flight to Oz.
14:49 Peter Hamilton posts this picture of the march approaching the end of O'Connell Street as it starts to get a bit darker out. Sign reads, "our parents aren't on your wage packet!"
14:47 As the march hits the bottom of O'Connell Street College Tribune are reporting that UCDSU President Pat de Brun think the march is "going well". He puts the number around 30,000.
14:45 March now extends from the Garden of Remembrance to the GPO. No official estimated offered yet by Gardaí or The USI.
14:42 He also sends on this video of a musical arrangement back at Parnell Square.
14:40 UT editor Ronan Costello says that the front of the march has just passed The Spire on O'Connell Street now.
He sends this picture of mounted Gardaí, saying that they are "ready for anything after last year."
14:38 College Tribune journalist Conor Fox posts this picture of the Free Education for Everyone (FEE) banner at the demo.
14:36 Deputy News Editor Jack Leahy: "Some flares have been lit in the middle of the march. Garda horse disturbed by them, nearly bolted."
14:35 Another picture from the march, "HiHoHiHo – It's on the dole I go"
14:32 WSM have tweeted that "about 12 black-clad private security men have joined the march". Speculate that they may have been hired by The USI. No confirmation of that, we'll follow it up.
News Editor Leanna Byrne reports that "a few eggs" have been thrown at Gardaí at the front of the protest. No one hurt, no one arrested.
14:30 Trinity student Gabriel Beecham posts a picture of a splinter group that have assembled outside TCD front gates, bypassing Parnell part of march.
Focus of the protest continues to point squarely at Ruairí Quinn, with 'Quinnochio' posters in hands of GMIT protestors.
14:28 Labour Youth National Executive have a letter in today's Irish Times opposing increases to fees or cuts to the grant.
14:27 Crowd now chanting "Ruairí Quinn, keep your promise" as the march begins.
Dylan Haskins tweets this picture of the front of the march as it begins, with UCDSU's 'We can't pay for Your mess' poster in view.
14:25 Claire Louise Cullen tweets a pictures of student sign. "We're here, we're queer, no to fees"
14:22 Reporters in the field say that march is still waiting on buses from UCD but that it is planning to start "in about five minutes".
14:20 USI President Gary Redmond has said that 103 students are emigrating every day. "We can't afford this."
14:18 Magazine Editor Tommy Gavin has been speaking to Will Shannon of IADT in the FEE block. He states their aims as "politicising the crowd and, ultimately, toppling the austerity government by direct action".
14:17 Around 200 students from St. Patrick's College have now joined the main protest, chanting "Oh when St. Pat's / Go marching in…"
14:16 The European Students' Union has released a statement on its website in support of today's march.
14:14 TCDSU Education Officer Rachel Barry tweets this picture of TCDSU and Graduate Students' Union uniting banners.
14:13 Deputy News Editor Jack Leahy has been speaking to students frustrated by the "weak" nature of student protests. "I don't condone all this pacifism, it's not going to get us anywhere."
14:12 Article in today's Irish Independent on Eamon Gilmore 'avoiding tuition fee quiz' and 'refusing to rule out increase in fees'.
14:11 False start. March moved forwards 50 yards to make more space and is now halted again.
14:10 Picture of USI banner at front of demo. "Keep your promises, stop fees, save the grant".
14:08 And that 'within half-an-hour' timeframe suddenly becomes right now. They're off.
14:05 March expected to start within the half-hour, to meet scheduled 14:30. USI Western Area Officer Breffni Gorman has said that they are expecting this year's march to be bigger than last year's. Many buses still expected from colleges in the east of Ireland and also UCD. Difficult to know objectively at this stage.
14:02 #GE11 candidate and Trinity student Dylan Haskins tweets a picture of the Ógra Shinn Féin group at the student march.
14:00 Donie O'Sullivan reporting Joe Higgins TD supporting the student protest but saying it "isn't enough". The prominent Socialist Party and United Left Alliance politician is calling for a national student strike.
13:58 WSM Twitter account reporting that another twenty members from FEE Galway have now joined the FEE block with a sound-system. No word on the music yet, taking odds on time of first play for Pink Floyd's 'Another Brick in the Wall'. FEE block should be about 100 now, though it's not possible to be certain.
13:54 David Lynch tweets a photo of the student protests. Sign reads '1916: Right to Freedom, 2011: Right to Education'.
13:52 FEE member Aidan Rowe reporting via his Twitter account that the FEE block has become split and is seeking to reform at the Ambassador Theatre.
13:51 College Tribune editor Donie O'Sullivan tweets a picture of Gardaí on horseback at the march.
13:50 Galway-Mayo I.T. sign keeping it simple: "Stop Fees".
13:47 Deputy News Editor Jack Leahy: USI President Gary Redmond quoting Labour Party leader and Tánaiste Eamon Gilmore as saying that "because of an agreement with the Troika student fees have to be increased".
13:43 Carlow I.T. SU President speaking to Leanna Byrne a few moments ago also directed his ire at Minister Quinn. "Not keeping your promises is not on".
13:41 Last year's Education Officer Jen Fox sends in this video of Trinity's contingent on the march making their way up O'Connell Street.
13:33 Students carrying 'RIP The Smart Economy' and 'RIP Recovery'  coffins.
13:30 Buses from Waterford, Galway and Cork now pulling into Parnell Square. Heavy traffic reported around the area – more buses expected.
13:28 UCD paper, The College Tribune, have just posted pictures of the Belfield contingent on their way to the march.
13:27 According to the Workers' Solidarity Movement's Twitter page Gardaí have prevented the FEE block from joining the middle of the TCD march, putting them to the back instead. Confusion surrounding this may be behind lack of clarity on what size that black actually is.
13:25 Jack Leahy has been gauging students' temperatures on Ruairí Quinn at Parnell Square. Cool, it seems. "Not one of the students we asked had sympathy for his position."
13:23 UT Editor and TCDSU Communications Officer Ronan Costello has pointed to the 5 lecture days that his union had to raise awareness of the protest as a reason for the low turnout. Trinity's reading week being last week, he said, was also a factor.
13:20 Magazine Editor Tommy Gavin put the number of FEE protestors closer to a hundred.
13:17 News Editor Leanna Byrne is at Parnell Square and says the numbers are 'way down' on last year. However, march organisers say that they are still waiting on a number of SUs to make an appearance.
13:10 UT Editor Ronan Costello is with the Free Education for Everyone (FEE) protest, which is joining the main protest at the Gate Theatre. From what he can see there are about 30 people there, with flags from the Socialist Workers' Party and Eirigi.
13:07 Student protest now targetting Minister for Education Ruairí Quinn with 'keep your pledge' chant.
13:05 Jack Leahy, speaking to student protestors on the march, says that the overwhelming consensus is opposition to upfront fees.
13:01 TCDSU have stopped the march at Jim Larkin statue to reorganise. Things got a bit disjointed crossing Liffey, back marching now.
13:00 More pictures of TCD Front Square a few moments ago… The crowd assembles. TCDSU President Ryan Bartlett on megaphone. Protest leaves front gate.
12:55 Picture of Trinity students on Westmoreland St., behind the TCDSU banner.
12:53 Trinity's contingent head out from Front Square, to the sound of whistles and chants. Looking at pictures of last year's crowd in TCD – it was probably twice the size.
12:50 UT Deputy News Editor Jack Leahy, who can be followed on Twitter here, informs us that a crowd of about 10,000 students have gathered in Parnell Square. Last year's march drew nearly four-times that many, but it's early days yet.

12:45 A crowd of about 1,000 students has assembled in Trinity College's Front Square. The USI's red-themed 'Stop Fees, Save The Grant' t-shirts are well distributed. TCDSU President Ryan Bartlett is now addressing the crowd through a megaphone, leading a chant of 'no more fees'.

12:40 Welcome to the UT live-blog of today's USI national march. UT issue 3 came out yesterday and included a fees and third-level education supplement. For background to today's protest here are a few of its articles.
Free Education for Everyone (FEE)'s Aidan Rowe talks to Fiona Dunkin about his organisation.
Deputy Opinion Editor Max Sullivan analyses the USI's campaign.
"The notion of free fees being an equalising initiative is a myth…" Lucy Byrne tackles some of the misconceptions about third-level fees.
Former DCU President Ferdinand von Prondzynski argues that we "need to decide what we want from third-level before we decide how to fund it."

Our full 'Third-level Education in Ireland' supplement can be viewed here.