Jane Fallon Griffin | Senior Staff Writer
W
hen you mention the Church of Scientology to the average Irish person, a pause generally ensues, while the person racks their brains in an attempt to assemble the snippets of information they have heard about the movement in recent years. Tom Cruise appears to be the most common reference point, demonstrating the feeling among Irish people that Scientology is something more at home among the boulevards of L.A. than on the streets of Dublin. However, the Church of Scientology has succeeded in extending its influence to Ireland. Here, however, it has the status of a mission, rather than that of a religion which it holds in America, Australia and Argentina. Abbey Street is home to the Irish branch of the church, with its office located above a hairdresser, flanked by a traditional Irish music shop and a travel agent. The attention received by Scientology in Ireland is very much confined to its testing in its Dublin headquarters and the protests of those who aim to restrict any further influence by the Scientologists: Anonymous Ireland.
Scientologists claim that "by taking the mystery out of human behaviour" every aspect of a person's life stands to benefit.

ADVERTISEMENT
The first Church of Scientology appeared in Los Angeles in 1954 following the success of its founder L. Ron Hubbard's popular book The Science of Survival. The church continued to attract members around the United States, with its influence later developing international reach. The core teachings of Scientology revolve around Dianetics, a set of ideas and practices based on the metaphysical relationship between mind and body. According to its website, the Church of Scientology has bases in 184 countries, with 11,000 churches. The website defines Scientology as the "Study of Knowledge" stressing its belief system as one in which the individual discovers him/herself. The ideology of the movement stresses the need for the individual to move beyond past painful experiences which are restraining them from reaching their full potential. The process by which these experiences are identified and combated is known as auditing and involves a second individual known as an auditor monitoring the reaction of the subject to past situations which can then be highlighted and targeted. Scientologists claim that "by taking the mystery out of human behaviour" every aspect of a person's life stands to benefit.
As the taxi pulled up to the house I would be staying in on Beacon Street while working in Boston last summer, the first thing I noticed was not my new dwelling but rather its neighbouring structure: a large sign stationed outside declared the building to be the Church of Scientology,  with an accompanying table offering free personality tests and information on the church. During my three months living next door to the church, there was a constant flurry of activity in the adjoining house. Curious, I often stood outside contemplating investigating this free personality test and the Dianetics book which was sold alongside the People and O magazines in our local newsagent.  I wanted to go in. My travel companions were vehemently against the mere thought of it.  I tried to counter their arguments with a "when in Rome" attitude declaring my maiden voyage to the States to be a prime opportunity to investigate what appeared to me to be a novel concept, but ultimately left the states without being any the wiser on the subject. Back in Dublin, walking down Abbey Street, a familiar symbol caught my eye: two triangles interlaced with a large letter S. The scientologists had been in Dublin all along.
Another disturbing question asked if I would "use corporal punishment on a child aged ten if it refused to obey" me.
I peered inside the glass panels of the entrance, but the place looked closed. The stand advertising the church's infamous "free personality test" was propped up against the inner wall. I pushed the door, but it didn't budge. The advertised opening hours seems to correspond with the time of my arrival. I thought perhaps the Irish branch had ended, but as I turned to leave I noticed a white bell and pressed it. There was a buzz as I heard the lock click open and I stepped forward through the open door. Whereas the building on Boston's Beacon Street was large and imposing, this narrow carpeted staircase didn't quite have the same impact. I felt no anxiety or fear as I ascended the staircase and came face to face with a man dressed in a white shirt and trousers who spoke as though English was not his first language. He introduced himself, and as confident as I had been on entering, my immediate response was to introduce myself under any other name than that of my own. I asked about the personality test and was directed towards two fitted desks reserved for the purpose of testing. While I waited to be presented with the 200-question test, the Scientologist asked me what I was doing. I answered I was a student but he proceeded to enquire about what job I had, which I found a little bit unusual. When it came to the test, some questions became more thought provoking and frankly somewhat disturbing. One asked if I saw an item mistakenly advertised as reduced in a window would I demand it at the lower price, which seemed as far removed from the concept of religion as I could imagine. Further questions asked me if I  considered the modern prisons without bars system "doomed to failure", and inquired into whether or not I had experienced muscle twitching for which there was "no logic".
I continued answering, encountering further questions which I found most peculiar: "If we invade a foreign country would you sympathise with the conscientious objectors?" Another disturbing question asked if I would "use corporal punishment on a child aged ten if it refused to obey" me.  Here were 200 questions requiring a positive addition sign, a negative minus sign or an M which indicated somewhere in between or undecided, which I was expected to answer. I began the questionnaire considering carefully each sentence. Yet, as I progressed through the sheet I found myself more uncomfortable. Following the test, I watched a Scientology video as I waited for my results in front of a large framed poster with the cover of the Dianetics book, while two shelves on either side of it held dozens of copies of the same book all with the same covers facing outwards towards the room.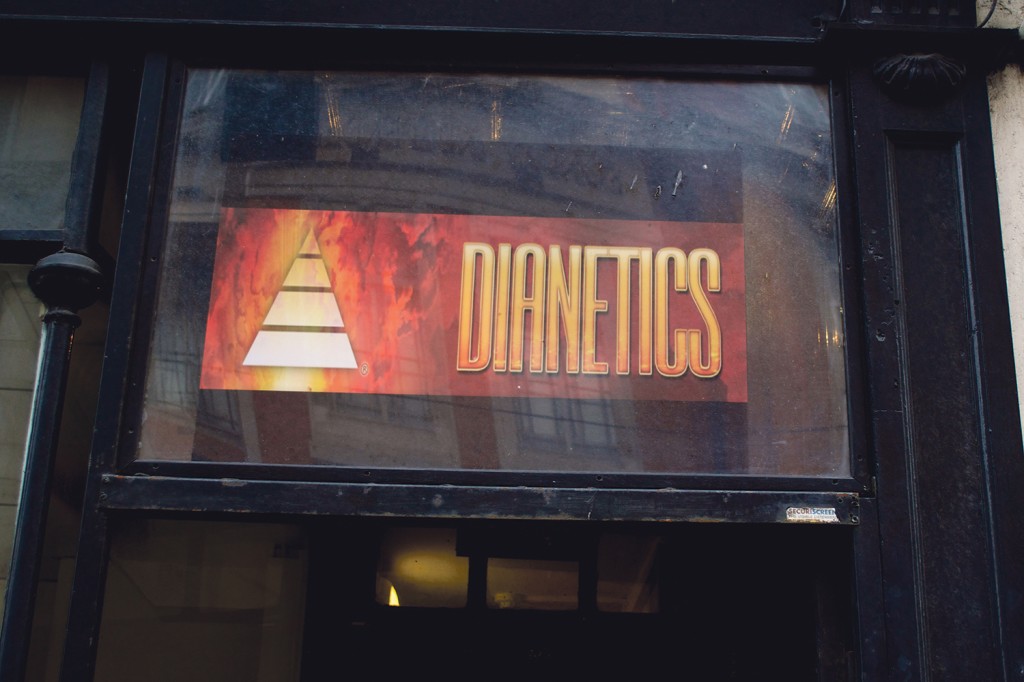 While the vast majority of the Irish population have little to say on the matter, for those that Scientology has affected, the impact has been massive in dividing families and draining resources. Anonymous Ireland aims to spread awareness of the dangers of Scientology and offer family members of current scientologists and ex-members an outlet in which to channel their anger towards the movement. I spoke to an Irish third-level student involved in anti-Scientology protests, who recounted his experiences of demonstrating with the group. He believes that the common perception of those who get involved with Scientology as foolish is unfair, stating that at low points in life what seems an opportunity for help can be later unveiled as something else. He recalled meeting people who had not seen their spouses in twenty years since they became deeply involved with the church, noting that Scientology appears more popular with those middle-aged or older. However, the student told me of one woman in her twenties he met at an Anonymous Ireland demonstration, who while doing a college project on new religions ended up among the scientologist population during her research into the organisation. This student was wary of the church, and although he was only involved with Anonymous Ireland on a minor level, felt he was at risk. He always wears a mask to conceal his identity from possible repercussions for his involvement in anti-scientology protests. He reported that having written online against Scientology using his real name, he received a call at three o'clock the same morning, and was threatened and accused of being a "hacker". While the student cannot prove that it was the scientologists who called, he is adamant that it was indeed them.
Many senior members of the Anonymous movement have themselves been directly affected by the movement both in Ireland and abroad. Ex-Scientologist Pete Griffiths, who once ran the Cumbria-based mission in England, told me of the effects the movement had on him: "Scientology took twenty-one years of my life. And in some ways I'm still being affected as I won't rest until the dangers posed by this crime syndicate are negated, once and for all." Speaking of the draw of the movement, he said that "scientology celebrities are shielded from the reality of the cult's fraud and abuse and are only shown happy smiling people." The church was engaged in some controversy recently following the announcement made by the leader in Clearwater, Florida at the Scientologists' New Year's Eve celebration. After declaring Dublin not to be safe from "the decaying values of the 21st Century" he continued to commend the Dublin representatives, stating that following the impact of Scientology Ireland had noted an 85% decrease in drug-related crime, yet that same year only a 7% decrease had been noted by Irish authorities. Furthermore, in the same video a Donegal radio station, Ocean FM, was shown as having presented an interview with an Irish Scientologist. The station has since denied all involvement stating the studio not to be that of the station nor the presenter to be a member of their staff despite the station's logo appearing on screen.
He recommended that I look for antidotes to my numerous and rather serious problems in the Dianetics book written by their founder.
To return to my personal experience, I was eventually invited into a small anteroom off the main office with two seats, a desk and a picture of L. Ron Hubbard. It was here that I would receive my test results. They were presented in the form of a graph. It seems that when it came to "activity", my level was satisfactory although unfortunately the same could not be said for my other attributes. In categories such as "happiness" I didn't fare well, nor in "organisation", nor "criticism", nor much else for that matter. In many of them I was below the dotted line which, according to the chart, indicated that my need for attention was "urgent". I looked at the sheet while he read out each individual result and couldn't help but think that this personality must belong to someone else. He stopped talking and asked me if I agreed. I tried to be polite, saying that there may have been a few inaccuracies, but on further prompting I told him I disagreed with most of it. He recommended that I look for antidotes to my numerous and rather serious problems in the Dianetics book written by their founder. At seventeen euro it was a bit out of my student budget, so I passed. Interesting as I found the experience, my gut feeling descending the stairs was not to attempt any further research into the next stages of membership. Leaving the office my phone buzzed, and taking it out I saw a message from a friend offering to accompany me on my visit unaware that I had already done so. I put my phone away but in hindsight had I received that message earlier, would it still have been a lone expedition? Absolutely not.
Photos by Sinéad Baker for The University Times