Jack Leahy | Contributing Editor
The Accommodation Office has warned students that 'hundreds' of students are on the waiting list for campus residences with fewer than fifteen places available following the first round of distribution.
The University Times learned this week that a number of students, when enquiring as to the progress of the second round of allocations, were advised to prepare to seek alternative living arrangements for the new academic year given the excess in demand.
ADVERTISEMENT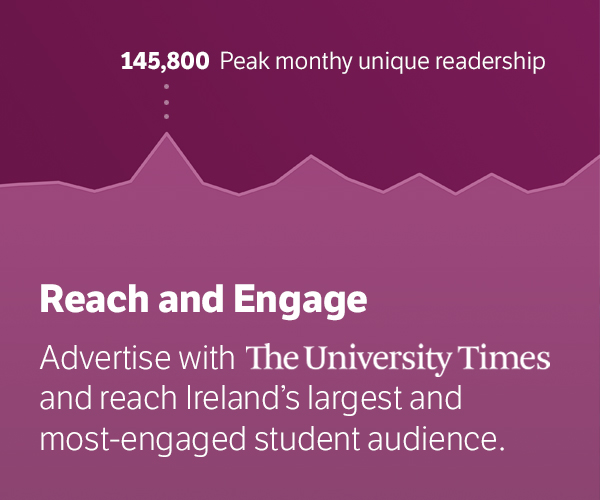 The second round of offers – not scheduled to be issued for another fortnight – redistributes available places offered to and rejected by applicants in June. The Accommodation Office assists the Registrar of Chambers, Dr Emma Stokes, in allocating rooms on campus on behalf of the Provost.
The application process opened in February in order to manage the expected increase in students seeking campus rooms.
With the Central Applications Office (CAO) first round of offers now only a month away, both current and prospective students are already encountering difficulties in sourcing accommodation.
An email sent by the Accommodation Office to students rejected in a round of offers for on-campus accommodation today includes a list of alternative halls of residences in Dublin. However, with the exception of the as-of-yet-unallocated Trinity Halls, all 3,000 places in purpose-built student accommodation in Dublin are filled, with the National College of Ireland (NCI) rooms having booked up within two hours of applications opening. The document contained in the email also lists twenty-four hostels. It is unclear whether the hostels are intended to be for temporary lodgings or for use during the whole academic term.
Speaking to The University Times, TCDSU Welfare Officer Ian Mooney advised students seeking accommodation to 'hope for the best, prepare for the worst' and expressed his concern at the condition of the market:
'With a very large number of applicants on the waiting list and relatively few places actually expected to be available, my advice for those waiting on second-round offers would simply be "hope for the best, prepare for the worst", as a large number of students will be disappointed not to receive an offer.
'This is a worrying time for anyone looking for accommodation in Dublin and it's only going to continue. Demand appears to be increasing as supply appears to be decreasing. We are quickly approach the time of CAO offers in mid-August and despite the SU's best efforts we are concerned that the rush for accommodation may become overwhelming.'
He added that the annual Accommodation Advisory Service, under his direction, would be hiring an additional staff member from a professional group to 'primarily work with finding accommodation for international students, as well as establishing an efficient network of landlords specifically for TCD students.
'That said, despite these new resources, still more are needed and we are hoping to work with the college for the benefit of everyone.'
Difficult Market
The news of massive over-demand in Trinity comes as the Union of Students in Ireland (USI) warns that a combination of the condition of the rental market and a lack of purpose-built student accommodation will 'inevitably lead to students being forced to drop out of College'.
'There is already growing evidence of students commuting daily to Dublin from extremely long distances', said Laura Harmon, President of USI.
'If you're fortunate enough to find somewhere to live, the likelihood is that it's costing significantly more, at a time when student finances are already past breaking point.
'Some opt to spend multiple nights sleeping on couches or in hostels every week, others aren't even able to attain that. There is now a real danger that this will start to impact on retention rates and it requires immediate attention from Government.'
Harmon issued the statement following a meeting with Senator Aideen Hayden, Labour's Seanad spokesperson for Housing, Children, and Youth Affairs. Hayden has raised the issue of student accommodation shortages in the Seanad on a number of occasions and also called upon new Minister for Education & Skills Jan O'Sullivan to 'Urgently review fee increases for on campus accommodation'. The imperative came after UCD announced its campus residency rates were to increase by 13%, Griffith College 9%, and Trinity by 4%.
In 2012, Daft.ie's Q2 rental report concluded that student renters 'may have to live further out than expected' owing to a combination of factors impacting their competitiveness in the market. The number of properties available for rental fell 42% between July 2010 and July 2012, while more families and young professionals opted to rent rather than buy.
It is understood that College is considering the construction of purpose-built student accommodation on the site of Oisín House, Pearse Street, which is currently occupied by the Department of Social Protection. The space is earmarked for a student residences project upon expiration of the department's ten-year lease at the end of the calendar year.
Scholars Challenge
Additionally, the 99 newly elected scholars are yet to be assigned rooms on campus or in Trinity Hall following a quasi-judicial challenge taken against the College by the Scholars Committee regarding the decision to house all newly elected scholars in Trinity Hall. Members of the College community have the statutory right to challenge decisions in College at a hearing presided over by the Chancellor of the University or a delegate pro-Chancellor and The University Times understands that this right was exercised by the scholars at the end of the academic term.
Update: July 25, 2014
Edited to clarify the reasons for the challenge taken by the Scholars' Committee.
---
Sinéad Baker contributed reporting to this piece.