When we arrived into Turkey, a country where 98 per cent of the population are Muslim, we had assumed that the western significance of October 31st would go unnoticed. However, as it grew dark on All Hallow's Eve, all sorts of costumes began to appear on the main streets of Istanbul. Alongside the hijabs and burkas were leather leggings with cat tails peaking out from under coats. We felt oddly welcomed by the monstrous masks and fake blood, making us feel more familiar with a culture we knew little about. It also proved an interesting insight into the unique culture of Turkey.
Geographically speaking, Turkey is in a gateway situation, bordering war-torn Syria and sharing some of its border with Iraq, while on the other side it shares its perimeter with Bulgaria, and is an associate member of the EU. Because of this, Turkish society has a unique mix of both western and Middle Eastern cultures.
On November 1st, at around 11 o'clock, we walked up the main shopping street of Istiklal Caddesi. Though Turkey technically has no state religion and is a secular society, Istanbul's skyline is scattered with mosques, and minaret towers protrude in every direction. Its main shopping street is equipped with speakers so that the population can hear the Muezzin's call to prayer five times a day. Turkey appears proud of its secularisation and of its more open attitude concerning religion. Though the crowds of Istanbul were sprinkled with hijabs of every colour, unveiled women could also be seen in every district. We also noticed that the street has its Christmas lights turned on already. At the top of Istiklal is Taksim Square which is known for its statue of Atatürk. It was ablaze with red and white and not a single inch was lacking a crescent moon and star. Turkey's Independence Day takes place on October 29th, and the country was still in a nationalistic mood.
ADVERTISEMENT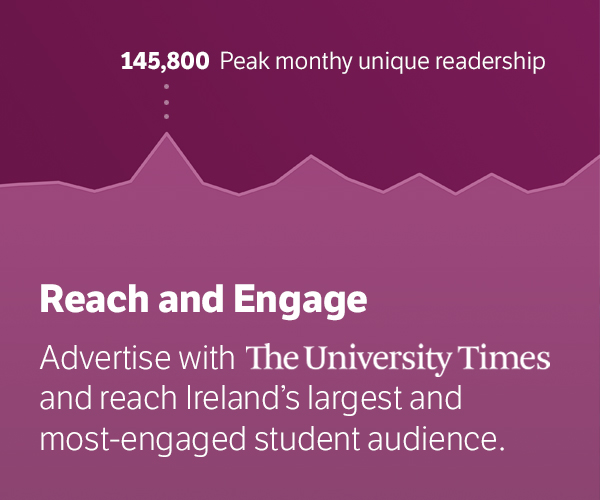 "I am a humanist and a proud Muslim. I have many friends, some of them follow Buddha, some are Jewish. But I do not like the Kurds."
Despite these reassuring sights of a multi-faceted society living in unsion, I am aware that the peaceful co-existence within this multi-cultural melting pot has recently been pushed to boiling point. As tensions between the East and West rise given the spread of Isis, Turkey may prove a crucial battle point in this new war on terror. In the months leading up to our trip to Istanbul, we were unsure as to whether we would be able to go, with the situation on the Turkish border getting worse day by day. We watched riots in Ankara and Istanbul turn violent, and watched a country that is a popular travel destination for westerners become more and more involved, whether willingly or not, with a war that could threaten the stability of not just the Middle east, but the entire Western World.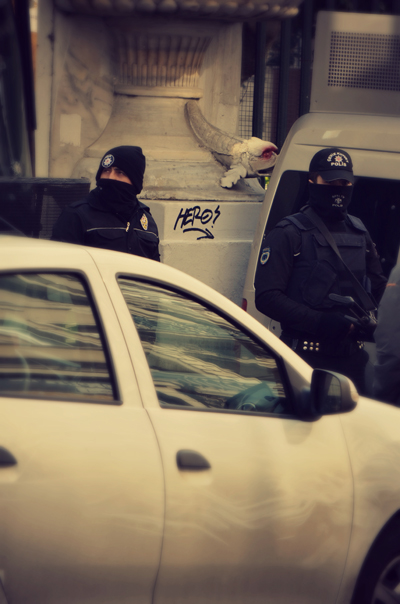 But this is a city and a country that will never be finished partaking in the creation of history. The situation that Turkey is in now is surely the making of history as we know it. The Syrian war rages and Turkey stands as a neighbour willing to help, in many aspects. Turkey has spent €2.4 billion assisting Syrian refugees since the beginning of the crisis. But when it comes to the town of Kobani, Turkey appears less than sympathetic.
While Turkey is safe for the moment, the siege of the town of Kobani has raised some difficult questions. Suddenly with the involvement of Turkey and its government in the crisis, the war in the Middle East has become a little too close for comfort for many westerners. Do the people of Turkey allow their Kurdish minority to help the people of Kobani, thus actively involving Turkey in the war? Or do they ignore this minorities' wishes, appearing as cruel and unwilling to help? Turkey is in an extremely complex situation with pressure coming from many world powers, including the US, to make a decision and take a stance. But which is the right one?
"I think we have to help Kobani. We are neighbours, we are people first. We have to protest everybody from ISIS."
This is one question the people of Istanbul have been battling over in recent weeks, as the city's Kurdish population lead many violent protests, quickly repressed by the government's increasingly brutal riot police. This morning, after another night of civil unrest, the police, armed with intimidating rifles, were starting to fill the square alongside tired looking cameramen and news reporters. As we walked back down Istiklal, more and more police filled the streets and small groups of them strode in and out of the small carpet shops and local tea shops to litter the main street. One of the universities on the main shopping boulevard could barely be seen due to the presence of police riot vans. There were around seven of these massive vehicles, which were half truck, half tank in our eyes, and each was accompanied by well-equipped policemen – many wearing riot uniforms with only their eyes showing. At the bottom of Galata, the area we stayed in, there were more police on the edge of the bridge, which connects the old city to the new city. On approaching these less intimidating policemen (only men) they explained that there were "some problems, little problems". When asked what kind of problems, they replied that there were some problems with people but again emphasising that they were only little problems and that we were safe. Judging from the enormous riot shields they had against the wall behind them, it looked as though their job was to keep the tourists calm.
When we reached the old town, a district called Sultanahmet, we sat in a tourist restaurant and had lunch. The sound of police helicopters blended with the sound of the Muezzin's call. We got chatting to the waiter who spoke a little English and asked if he knew what was going on in Taksim Square. He shrugged and motioned for us to wait a moment and went to speak to the manager. The manager proceeded to produce three freshly sharpened knives from a small orange box that had just been delivered to him and walked over to us, making us slightly nervous. "There are always police in Taksim", he explained, and reiterated what the police had said earlier. There was a little problem. At this point, he held up the knives and chuckled to himself – asking us if we wanted the knives to help us. We laughed along, half joking, half terrified. We quickly gathered our things and left.
Slightly unsettled, we were still determined to look around the city centre, and ventured into a jeans shop. There we met the manager called Yusef, who was seemingly very helpful and conscientious. Seeing as there were no knives in sight, we decided to ask more about the protest.
"Can I ask you a question?"
"You want to ask me out, yes?"
Yusef Kasar is a 26-year-old Turk who studied retail management, and has being working in retail since he was nine years old. He seemed quite surprised when I said I knew about Kobani, but was more than willing to explain his opinion on the matter.
"I am a humanist, I have many friends, some of them follow Buddha, some are Jewish, some believe in Jesus and others in Muhammed. I am a Muslim, not a very good one because I drink. I can enjoy St. Patrick's day [or green day as he had called it previously]. But I am still Muslim. A proud Muslim. But I do not like the Kurds."
"Their attitude is a bad one. I had to close my doors for four hours yesterday (during protests) and lose out on business because they decided to go out, and shout their leaders' names pretending they want peace." He spoke about the PKK (the Kurdistan Workers' Party, who are recognised as a terrorist organisation by the US and other western countries) do not want "Kurdistan". All they really want is to fight. The PKK want peace but only through war according to Yusef.
It struck me as a sad paradigm on the situation for the Kurds of Kobani, they are left, sacrificed even, to fight one of the world's most brutal terrorist groups in recent history, and yet, rather than fleeing and abandoning their post, they choose to keep fighting alone.
"It was just an excuse to endorse the names of their leaders and to be disruptive. Their leaders wanted everyone out on the streets on November 1st in Kiev, Istanbul, everywhere. Do you feel safe? How would you think of Turkey if you had been caught up in a protest of 10,000 people that had turned violent?", he said, as many of the protests in Ankara, the political capital, had. "These are not our people. I do not really like Turkish people, but I definitely do not like them," Yusef Kasar concluded.
Despite these extreme views, Yusef claims many other Turks agree with him.
Sadly, given the actions of the government, at least so far, this may be true. There are approximately 14 million Kurds in Turkey, making up around 18 per cent of the Turkish population. But in the eyes of the Turkish government, the fight in Kobani is one group of terrorists versus another, neither deserving a helping hand.
After exploring Istanbul and growing used to a culture that sells guns alongside juice bars in the underground passage to the tram, we began to comprehend how many protests turned violent. There were flick knives being inspected by male youths at the Grand Bazaar and it felt as though you were safe until the police arrived (as another tourist said on our third day, "it feels completely safe… except for the police"). It became easier to realise how 19 people have been killed in protests over Kobani in a number of months.
Trying to find people to talk to was more difficult than I had anticipated due to the obvious tension surrounding the city, but also being female did not help my cause.
But on the last night of our trip to Istanbul, as we witnessed a man being chased by police for putting up a poster (presumably political) in shop windows outside the university, we met with a man collecting for charity. His name was Kenan, he was a university student, and was asking if we would donate to help children with disabilities. He explained that there were 600 university students out that night collecting, because, in his own words, "this f**king government does nothing for them".
From Byzantium to Constantinople to Istanbul, this is a city and a country that will never be finished partaking in the creation of history
When we questioned Kenan about his opinion of the treatment of the Kurds in Kobani, we found a completely different perspective to everything we'd experienced so far
"I think we have to help Kobani, we are neighbours, we are people first".
He continued, "our neighbours are in a bad place and Turkey will not open their eyes to the plight of the Kurdish people in Kobani, but yet we have opened our doors to countless numbers of Syrians without question. Turkey opened their borders to Syria in a way that many other countries did not. I feel proud of Turkey for aiding the people of Syria but why are we not doing the same for Kobani which is poor and in dire need of help."
He criticized Isis, saying they "believe themselves to be Muslim and they promote themselves under the banner of Islam, but they are not fundamentally Muslim if they are killing people. They are really terrible people. If they try to kill us, we have to kill them too. They try to kill all the people. If they don't kill the first person they see, they kill the second. That could be you."
"We have to protect everybody from these kinds of people". His emphasis on the word everybody made it clear that he meant the Kurdish minority, not just the Turks and Syrians. "The PKK and ISIS are killing people from everywhere, from Turkey, Syria and Iraq to Britain and the US, who knows where next?" Kenan put it bluntly by saying that their message is to everyone: "Oh you have to do that, if you don't do that I will kill your people". His belief that Turkey needs to stretch out a helping hand to the town of Kobani was clear. It is not until we are parting that Kenan happens to mention that he himself is Kurdish. This struck me as very bittersweet – here was this kind and forgiving young man out collecting for people more vulnerable than himself, and yet he was vilified by a large majority of the society he was so charitable toward. It struck me as a sad paradigm on the situation for the Kurds of Kobani: they are left, sacrificed even, to fight one of the world's most brutal terrorist groups in recent history, and yet, rather than fleeing and abandoning their post, they choose to keep fighting alone.
Turkey is clearly in social and political distress over the situation in Kobani and the wider crisis concerning Isis in Syria and Iraq, but while this continues to be a divisive issue on the streets of Istanbul, on November 5th, we saw Istanbul play host to a different kind of protest. "Palestinian freedom" are the words on everyone's lips at the moment and Turkey's cultural capital is clearly no exception to the debate. Groups of men with torches and flags began to assemble at the bottom of Istiklal Caddesi. Flag sellers appeared around the same time as the police vans.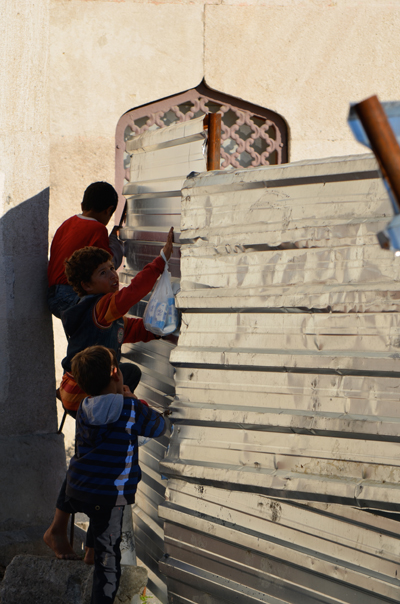 "Do you know what this is about?", a man observing the protest beside us inquired. We explained that it was about Palestinian freedom. He asked my mother what she thought about that and she replied "I think freedom is a good thing, for anyone". He raised his eyebrows and explained that he was in fact Palestinian. "I have been living in Canada for the past ten years but I still feel extremely patriotic." We explained that Dublin had seen marches for Palestinian freedom over the past few years and that much of Ireland stood by Palestine in their fight for freedom. "Palestine appreciates Ireland's solidarity and we feel that we share many things with Ireland. Palestine is misrepresented in the news in the US and Britain and it is distressing for Palestinians, particularly those of us living abroad. My home was on the West Bank and there is nothing left. It has been destroyed. I have nothing to return to there." He spoke of how even though he is a Canadian citizen with a Canadian passport, he is still not allowed to go to Jerusalem due to his being born Palestinian. "The last time I was in Jerusalem was 21 years ago." We talked about how Palestine has shrunk over the years and if you look at a map, the shape of Palestine it had changed completely to which he said very plainly 'there is no map anymore'.
The crowds grew and the protest moved off. We encountered it again in the middle of the main boulevard of Istanbul. The sheer amount of people was impressive and the noise they made was even more so. While Turkey now stands in the middle of an increasingly tense divide between the Middle East and West, as tensions over decades of war, occupation and terror are coming to a fore, the people of Istanbul are far from quiet. Unafraid to speak their mind, or protest against a suppressive government, it is clear the people of Istanbul want to play an active role in the defining and controversial events happening around them, just like their ancestors. Istanbul has always been a history-making place, and its transformation over the various millennia from Byzantium to Constantinople to Istanbul cannot be forgotten. This is a city and a country that will never be finished partaking in the creation of history. Turkey's next step, be it intervening with the Kurdish people and Kobani, or influencing the Israeli suppression of the Palestinian people, will define yet another layer of history as we know it.
---
Photos by Anna Moran of The University Times