Rachel Lavin| Magazine Editor
Okay, Okay, invisible audience that hang on my every word in this monthly editorial (*imaginary), you know the drill.  But just in case, in the small off chance (*in all likelihood), you have just picked this up for the first time now, as you pull it from down the back of an arts block couch or are using it to clean up a spill on your kitchen floor, let me catch you up. I complain about Trinity a lot, okay? I'm the old skeptical fogey who's been here too long and I like to talk about my disillusionment with student politics and my skepticism about the elite culture that pervades here, that we're too harsh, that we're too fake, that, wah, wah, wah.
ADVERTISEMENT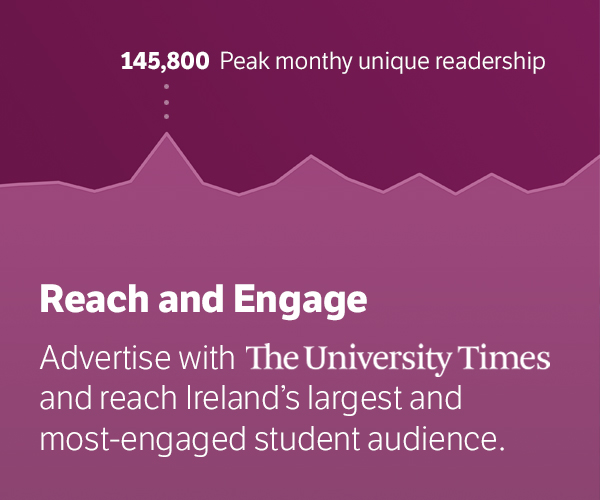 Being the disgruntled skeptical older student gets a bit challenging though. Especially as I reach that phase of college where we are expected to look back on our four years here and don rose-tinted glasses and say it's the best place in the world, and I had the bestest best time and I just want to hug the campanile and kiss all the lovely people. And I'm going to steal a sprig of cherry blossom and grow it in my back garden and when it's fully-grown I'll stare out the window of my house, older and more wrinkled, and say 'Ohhh Trinity, those were the days'. And then I'll send my children here and the fairy tale will continue.
I'm not going to lie and say all that, though. Sure, it was the best of times. In first year I met all these fabulous brilliant interesting people. I'd never felt so loved! I was challenged too, in ways I never thought I needed to be and I've become a better person, in some ways almost unrecognizable to whom I was in those first wide-eyed days of Fresher's week. But to quote Dickens (that English degree wasn't completely wasted, eh?) it was the worst of times too. Some challenges were too big with too little support to face them. I struggled with my identity and my aspirations in life. My confidence was dented so that I was unrecognizable to my once vivacious first year self and after dropping out due to illness I was forced to re-build everything from my friend group, to my own confidence and my view of the world and my place in it. I'd never felt so alone. So as everyone waxes lyrical about what their time in Trinity did for them, I can't help but feel a little shortchanged.  Am I the only one who didn't have that wonderful 'student experience' that everyone keeps harping on about?
There was one quote amidst all the chaos of my college years that helped to ground me and feel less alone. It's Samuel Beckett speaking about his time here as a student and lecturer. He says "Trinity, as much as I loathe thee, the misery and solitude and apathy and the sneers that are nothing more than an index of superiority, at least I am home. A lingering dissolution.' The dissolution has lingered with me too for the past two years and yet it's also brought me a lot of joy. Despite all the hard times, and my often conflicted feelings toward the place, Trinity has ultimately shaped the person I have become in the past four years, in a large part, for the better. With a tougher skin and a more open mind, I can't help but be grateful for that. Love it or loathe it, it is, and always will be, in some small part, my home.
So as I move on, beyond these hallowed walls and into the big bad world in just a few short weeks, I will do so with, not a heavy heart, but a happy one. I am grateful to those people that I met here, who inspired me and pushed me to be better, to name a few: former magazine editor Tommy Gavin, student journalists Tom Lowe, Ronan Burtenshaw and Max Sullivan and the women who inspired me, Jeanne Sutton, Cara Sanquest, Sally Rooney and Catherine Healy.  More importantly though, my good friends Deirdre, Riona, Laura, Gareth, Robyn, Elizabeth, Miho, Millie and Rebecca. Those I worked with on the magazine this past year, Caelen Rushe, Benedict Shegog and Sam Riggs, and to those I pass it on to, Carla King Molina who co-edited this Ball Guide with me, Jane Fallon Griffin who was a wonderful and very tolerant (!) deputy editor and all the younger feature and culture writers, photographers and sub-editors who continued to wow and excite me with their content and ideas throughout the year. Also, special thanks to Grace Nuttall who powered through the layout of this very issue from her sickbed. Thank you all so very much.
Moving on, I will spend these last few weeks before I walk out under Front arch as a student for the very last time, celebrating the end of this era that has so defined me. And leading into the theme of this issue (ever so smoothly) what better way to do so than in proper Trinity style: the Trinity Ball. It epitomizes all the best things about Trinity, including the limitless pursuit of the best of the best and the drive to live life most fully. This final issue of my beloved UTzine is dedicated to celebrating the ball this year, a celebration for me at least that will mark my gratitude for the best, and worst, times that I spent here.Big love Trinity, I'm sure I'll see you round.