Dominic McGrath | Senior Staff Writer
Edmund Heaphy, the first independently elected Editor of The University Times, has appointed Sinéad Baker, the newspaper's current Editor-at-Large and Assistant Editor, as Deputy Editor for the coming volume.
Baker, who has served as Editor-at-Large since last July and as Assistant Editor since December, recently won the Journalist of the Year award at the Student Achievement Awards. Commenting on her appointment, Heaphy said: "Sinéad is one of The University Times's most talented journalists, and was by far the most capable candidate for the position. As an editor, she always has extremely strong instincts, and has extraordinarily good judgement, as well as the right mix of knowledge about journalism, Trinity as an institution, and the students' union."
ADVERTISEMENT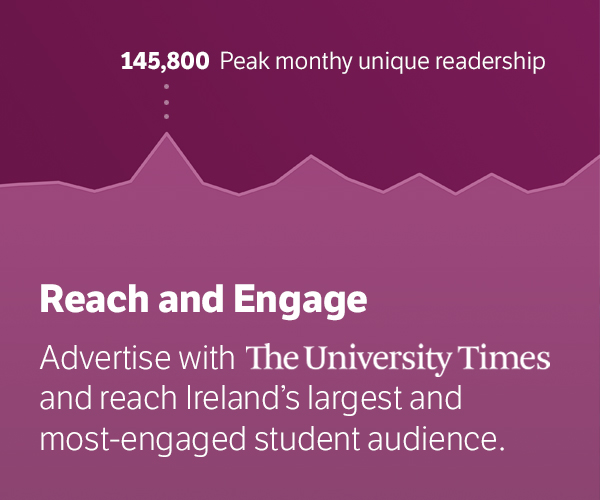 Heaphy, who has served as Acting Editor since March, will take over as Editor on Saturday. He is the newspaper's current Deputy Editor.
Other appointments to the masthead – the thirteen most senior editors who lead the 42-strong team – include Daniel O'Brien, the newspaper's current Opinion Editor, who has been promoted to Assistant Editor. Baker, a TSM English and Philosophy student, and O'Brien, a BESS student, are both going into fourth year.
Paul Glynn, one of the newspaper's most senior staff writers, has been appointed News Editor, and will lead the five-person section that now includes a Deputy News Editor and three Assistant News Editors. Charlotte Ryan, the current Deputy Features Editor, has been appointed Features Editor, a newly expanded position that will have a role in managing features across all of the newspaper's sections, including the magazine and supplements.
Aisling Curtis, a psychology student going into fourth year, will serve as Opinion Editor. Curtis was the winner of Journalist of the Year award last year, meaning that two recipients of the award will now serve on the masthead. Currently a Senior Staff Writer, Curtis has established herself as a popular columnist within the paper, addressing issues such as the the students' union's gender balance and the nature of mental illness.
Sarah Ledden, another of the newspaper's Senior Staff Writers, has been appointed Sports Editor by Heaphy. Commenting on her appointment, he said: "Sarah – a journalist with an incredibly wide range of skills and writing styles – has first-hand knowledge of Trinity's sporting world, and I have every confidence that she's the one to expand and improve the newspaper's sports section."
In charge of The University Times Magazine next year will be Jane Fallon Griffin, who currently serves as the magazine's deputy editor. Fallon Griffin is known for expansive and immersive features, such as her investigative piece on Scientology, which went viral.
One of the major promises of Heaphy's election campaign was his commitment to create a new section of The University Times, dedicated to covering all society and cultural events in and around Trinity and Dublin's city centre. This new section, Radius, will be led by Carla King-Molina, a second-year BESS student. Heaphy expressed full confidence in the new team: "Radius is The University Times's new Trinity and Dublin city society, events and culture supplement which will launch online in the first week of September, and in print with our first issue in Freshers' Week. We've assembled a really strong team – and I'm really excited for Radius to become a central part of The University Times in the coming year".
The position of Editor-at-Large will be filled by Tom Myatt, last year's Supplements Editor, who has worked with newspaper since 2012.
Following his election commitments, Heaphy has expanded the Irish Language section of the newspaper, with a correspondent position now becoming a team of two editors, led by Colm O'Neill, who will also serve on the masthead.
A new editorial position of Special Projects Editor has also been created with Sinéad Loftus appointed to the position. She will be responsible for special supplements that will feature in the newspaper over the course of the year, as well as long-term projects and online series. She also serves on the masthead.
Kieran McNulty, the former chair of Trinity College Dublin Students' Union's student council, will chair the newspaper's Editorial Board, with responsibility for the newspaper's weekly editorials, and will also serve on the masthead.
Jack O'Kennedy has been appointed Podcast Editor of The University Times. O'Kennedy is the former Film Editor of The University Times, and the former Editor of the Trinity Film Review (TFR). Commenting on the new dedicated podcast team, Heaphy said: "A podcast is a new venture for The University Times, and I'm absolutely thrilled that we have such a strong team. Because of the commitment involved in producing a regular podcast show, we've built a strong four-person team that is dedicated to podcast work". The Podcast Editor will report directly to Heaphy, though will not serve on the masthead.
Additional staff appointed by Heaphy include the new Photo Editor, Anna Moran, while the new Illustrations Editor will be Laura Finnegan. The Deputy News Editor will be Dominic McGrath, with Sophie Jane Andrews-McCarroll filling the role of Deputy Features Editor. James Shaw and Ross Mullen will deputise the Opinion and Sports sections respectively. Conor O'Meara will serve as Advertising & Business Director of the newspaper, in a position with no editorial responsibilities.
Heaphy also praised some long-serving members of The University Times team. Describing Conor Murphy, the outgoing Features Editor who previously served as both Online and Deputy Opinion Editor, Heaphy said: "Conor is one of the longest-serving staff members in the newspaper's history, and played a significant role in the impetus of moving us from a newspaper seemingly solely focused on our print edition, to a newspaper that operates in an 'online-first' mode – as a year-round newspaper. As Features Editor the past year, he brought the section back to its basics – producing journalism about Trinity and student issues that was actually of interest to our readers, focusing on what The University Times does best."
Jack Leahy, the outgoing News Editor, will be "sorely missed", according to Heaphy. Leahy, previously described as an "outstanding journalist" by Heaphy, has served two terms as News Editor, and previously was Sports Editor. On Wednesday, he took office as Vice President for Academic Affairs and Quality Assurance of the Union of Students in Ireland (USI). "We wish him the best of luck in his new role", said Heaphy.
Rachel Lavin, outgoing Magazine Editor, received similar praise: "Rachel, too, is a long-serving member of The University Times staff. An extremely talented investigative journalist, she has really been around the block – as a news writer, section editor, and then as editor of the magazine, she always put her own stamp on what she took her hand to."
Heaphy also appointed a further 25 people to deputise in other sections, as well as the editors of the newspaper's culture sections, which will now feature in both the magazine and Radius. New to the newspaper this year are the Theatre and Literature sections.
All those appointed will begin their year-long terms on Saturday, as Heaphy becomes Editor formally.