It is hard to say whether Linda Hogan's relative anonymity among Trinity is a failure of students to familiarise themselves with elite members of college staff, or a product of the Vice-Provost's modest personality. When compared to the figure of the Provost or the friendly faces of the students' union's sabbatical officers, Hogan is a much more reserved figure. It can be certain, however, that her low profile is not due to a lacklustre career. Indeed, she is arguably one of the most accomplished and experienced members of college staff, with her time working for Trinity spanning multiple schools and varied disciplines.
Hogan was appointed the 71st Vice-Provost and Chief Academic Officer in 2011, taking over from Michael Marsh, when Patrick Prendergast became Provost. Speaking to The University Times, she recalls how the Provost approached her and asked if she would consider allowing her name to go forward to be considered by the Board. In a tone that soon becomes characteristic of her, Hogan humbly speaks of her surprise at the request, but was honoured to put her name forward. If she felt any hesitancy it would be warranted: the position is a daunting one.
According to the college website, the Vice-Provost has "overall responsibility for research and education in the university and with special responsibility in relation to academic staff matters." She also chairs such internal college groups as the Heads of School Committee and the Quality Committee. To balance the demands of such diverse faculties and academic disciplines requires superior understanding of national and international educational systems, of which Hogan has years.
ADVERTISEMENT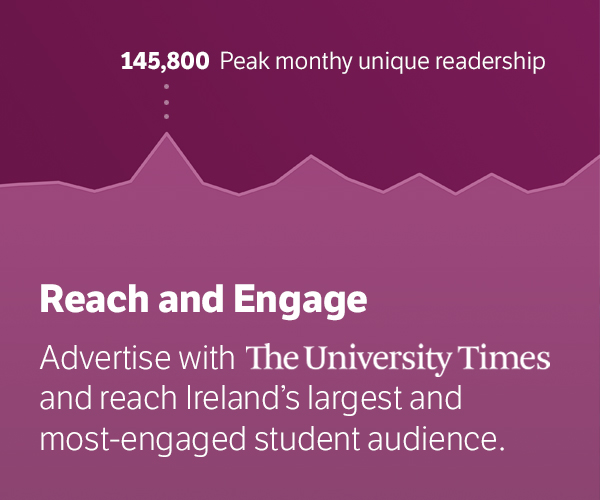 The Kilkenny native did her undergraduate degree in theology and history at the National University of Ireland Maynooth, now known as Maynooth University. Speaking of her student days, she doesn't credit a particularly religious upbringing to her decision to study theology at third level. Instead she cites "just interest". When pressed to elaborate she says: "The reason I'm so interested in theology and religion is because I think religions are such powerful influences in politics and our whole society and I'm really just fascinated by that."
Hogan's passion for education is clear in how she immediately followed her undergraduate degree with a two-year Masters. "I was very interested in Greek theological traditions up to the fifth century, particularly in the ethical writing of philosophers and theologians at the time." It wasn't until she pursued a PhD that Hogan came to Trinity in 1990. To hear her recount her research at the time is nothing short of astounding. By the time she came to Trinity, she had completed her language training in classical Greek to aid her comprehension of the texts she examined over her three-and-a-half years of PhD work. More than this, she says she worked as a library assistant in Maynooth "to keep myself busy and going". There are not many students who could match this level of academic excellence and personal exertion.
The reason I'm so interested in theology and religion is because I think religions are such powerful influences in politics and our whole society and I'm really just fascinated by that.
Despite this obvious talent, it was lack of employment that started Hogan on her expansive academic career in College. She speaks of how the university field was rather stagnant at the time of completing her PhD and so she chose to take as much part-time work as possible. This led her to gain experience in diverse areas of college – from teaching medical ethics in the School of Medicine to running courses on gender, religion and finally lecturing in theology in the Theology Department. Without knowing it at the time, it was this period that most likely gave Hogan her foundation for being future Vice-Provost.
However, the scarcity of jobs eventually forced Hogan to relocate to the University of Chester, where she worked for a year. In this short amount of time, Hogan managed to leave an indelible impression on her colleagues with her dynamic work ethic. In an email, Dr Kevin Ward of Theology and Religious Studies in the University of Chester remembers her as "a model of efficiency" and "a delightful colleague to work with." While her discipline is what set her apart, Ward also recalls her willingness to share workloads and act as a support for others in the college community. After her year in Chester, Hogan moved again to the University of Leeds. Her eight years with the college gave her invaluable teaching skills in what she calls a "very dynamic and absolutely brilliant religion department."
In 2001, she took up a position lecturing in the School of Ecumenics in Trinity – teaching ethics, political ethics, gender and religion, and human rights. She has remained since. If there is only one benefit to be gleaned from such a varied career, it is that Hogan learned to adapt to the varying workloads and respond in creative and productive ways. These are the subjects that remain close to her heart, and earned her a Trinity Fellowship in 2007 for her extensive research in these subjects. Not a stranger to hard work, Hogan has a library of works published. Her work as editor on Applied Ethics in a World Church, a collection of essays by moral theologians from across the world, led her to receiving the 2009 Catholic Book Award from the Catholic Press Association of Canada and the USA. Dr Kevin Ward was impressed at her writing which he says "has been a model of clarity and well formulated analysis, a delight to read".
The day to day management of an institution as renowned as Trinity can be seen as an intimidating task, yet Hogan manages it with aplomb. Her role varies as Vice-Provost, as does her work schedule from week to week. Days could be spent moving between internal and external meetings and writing and developing policy to to be brought to the different committees. Hogan's hectic schedule is self-evident – as her interview with The University Times was sandwiched between two meetings.
Yet from an external point of view, this wouldn't be suspected. At all times Hogan seems in charge of the situations both within and without the meeting room.
Indeed, her academic career has featured time as a PhD student mentor. Dr Anne Thurston, speaking to the PhD student testimonials, said that she felt empowered to do her work to the best of her ability "under the calm and assured supervision of Professor Linda Hogan". One of Hogan's most admirable traits that makes her suited to the role of Vice-Provost is that she is always approachable. "She was someone you could trust to talk to, and always ready to give helpful advice and to offer practical assistance. She was never remote or arrogant," recalls Dr Ward.
Despite her humility in her work, her career is persistently marked by a sense of ambition. In 2013, the Irish media was in a frenzy over the news that an Irish candidate was being considered for the role of first female cardinal. As eminent priest and religious writer Fr Tony Flannery told the Irish Independent at the time, this announcement was being made in 2013, a female cardinal would be "a very sensible way of going about giving women a bigger role in the church". Fr James Keenan, Professor of Moral Theology at Boston College – the man proposing these fundamental, structural changes to the Catholic Church – announced that Hogan would be top of his of contenders for the role.
In an email to The University Times, Fr Keenan elaborated on his opinion: "I suggest Hogan because by her work on conscience and human rights she is a major figure in the field of ethics. I think these are two of the most important foundations of ethics." Although issues of gender balance is one of Hogan's priorities, she has no ambitions of becoming the first female cardinal in the world. Despite being enormously honoured by the suggestion, she laughs off such ideas saying that it's just "one of those crazy media story's that's going to happen!"
I suggest Hogan because by her work on conscience and human rights she is a major figure in the field of ethics. I think these are two of the most important foundations of ethics.
Hogan, a self-declared perfectionist, admits to normally seeing what she could have done better rather than acknowledging her achievements. One of these achievements worthy of praise is bringing in the Athena SWAN award into Trinity. The award was established in 2005 to "encourage and recognise commitment to advancing the careers of women in science, technology, engineering, maths and medicine (STEMM) employment in higher education and research" according to the Equality Challenge Unit website. Trinity is the only college in Ireland to have received such an honour. The University of Limerick also received a bronze award for its college-wide gender equality.
Speaking on what the award represents, Hogan says: "I'm committed to the idea that we need gender equality because we need to ensure that the very best people are visible and in key roles. That's so important, not only at the level of staff or in leadership in the University but also important right across from our incoming students, how our departments support all of our students and especially in the STEM areas."
It is no accident that a woman who taught on women's studies has ushered in an era of enhanced equality in the College, just as her interaction with politicians and government officials will be informed by her academic grounding in politics. In examining the scope of Hogan's career, it would appear that each twist of her journey has occurred to bring her closer to her current position, and it is evident that she is thriving. With the experience under her belt and the great esteem held for her by colleagues and students alike, it is no wonder that Linda Hogan is most likely our next Provost – although she would never tell you that herself.