It must be quite the journey when your work as a journalist takes you halfway around the world, delving into diverse sectors of journalism and media, in two languages, before returning to your alma mater to take on a job that works off many of the skills of the seasoned reporter. Despite these apparent advantages, Thomas Molloy still faces the challenges of a job as impressive as the college that appointed him.
In his position as Director of Public Affairs and Communications of Trinity, Molloy will be tasked with maintenance of public relations, strategy and the continued development of the Trinity College brand. Indeed, considering the job at hand his appointment seems logical and the product of keen deliberation – a twenty-first century strategic plan calls for a worldly, market-conscious outlook. Who better to manage the public affairs and communication of Ireland's top university than a well-rounded journalist and press savant who just happens to already have a Trinity education to his name?
Molloy's work in this position began on August 26th. This will likely offer ample time between then and the start of the undergraduate academic year to get a feel for the Trinity landscape, how it has changed, and the issues the college is facing these days. He's aware of the modern stresses that are endemic to third-level education, yet affect Trinity in particular. Speaking to The University Times, he says that resources, funding, and the doubling of the student population since he was a student himself are some of the field's biggest challenges.
ADVERTISEMENT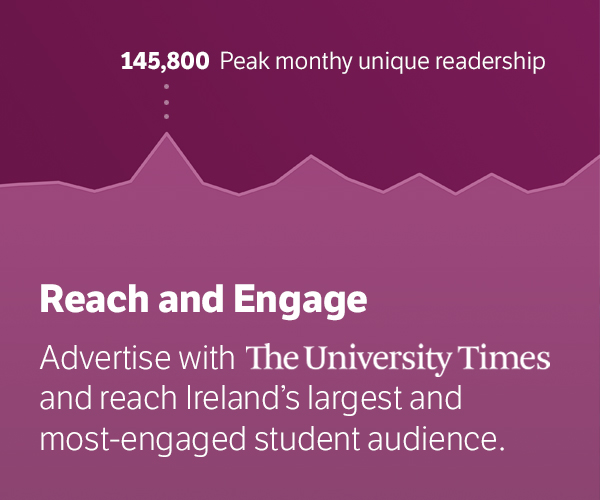 The Director of Public Affairs and Communications for the college is, according to a job spec published earlier in the year, a "newly restructured" position. Yet, there is, perhaps, strategic reluctance to describe the job as "new". Though College administration appears eager to stress the newness of this position, a great deal of the responsibilities and remit of the job recalls much of the work of the now defunct position of Director of Communications and Marketing, previously held by Bernard Mallee. Although the job will be less focused on presenting and marketing the "Trinity Brand", Molloy, in his new role, will still be serving as a "face of Trinity" in a somewhat smaller respect, to communicate the College's interests mainly in engagement with the press, the political establishment and political representatives.
Journalist and Dublin native Molloy is perhaps best known to his readers as the Group Business Editor at Independent News Media (INM) Group. Having served as an acting business editor for a few months beforehand, he was appointed to this position in November 2013, in the same breath as current editor of the Irish Independent Fionnan Sheahan's rise to the rank of Group Political Editor. Since then, Molloy has been the primary force behind the business content of the group's publications: the Irish Independent, the Sunday Independent and the Herald.
Despite a strong grounding in business, Molloy is a self-described "generalist by inclination". Five years as the Dublin Bureau Chief of Bloomberg News, from 1998 to 2003, stand out as particularly impressive. He also served as the editor of the perhaps more humbly situated Kilkenny People from 2002 to 2008.
Molloy jokes that his path after graduation was the opposite of what would be expected from a journalist, moving from international press agencies to a county-level weekly. "My career in journalism was almost a career in reverse. I started in a global news wire, and I worked in Washington, before I worked as a local reporter", he says, joking that one "should probably do that the other way around".
"What I learned at the Kilkenny People was how to manage things. As editor of a team of people, you learn how to take responsibility for things and then be able to go to bed at night".
If there's anyone in the world without a parochial point of view, it's Tom. He knows Trinity, but he's a man of the world.
"Ahead of his time" is how he is described by Sean Keane, the current Deputy Editor of the Kilkenny People, in an email to The University Times. "Not only did he foresee the crash of 2008 but advised me and others to be ready for it. He has a holistic approach to journalism and always managed to see past petty squabbles and see the big picture. He was never afraid to allow reporters to do a story that was controversial once it was fair and allowed me to take on vested interests with relish. He was a gentleman and was conscientious."
In London and Washington, D.C., Molloy was a correspondent for the major German news agency Deutsche Presse Agentur. Indeed, one of Tom's obvious selling points, particularly with today's pressures, is his worldliness. His work at Deutsche Presse Agentur, and his German-English bilingualism, thanks to a secondary education in Germany, attest to this.
"Third-level education in Ireland tends to think a bit parochially despite the globalised economy we live in today", says Dan O'Brien, Irish Independent columnist and Chief Economist at the Institute of International and European Affairs, in a phone conversation with The University Times. "We can't afford to think that way when recruiting talent and looking outwards. The cosmopolitan outlook that Tom has is a real asset to Trinity". While his experience at the Kilkenny People no doubt helps to give him a grounded and more locally relevant outlook on events, says O'Brien, there's another side: "If there's anyone in the world without a parochial point of view, it's Tom. He knows Trinity, but he's a man of the world."
As mentioned, Molloy's new position at Trinity will serve as a homecoming of sorts, with him having graduated from the college with a BA in History in 1991. It was the usual suit of attractions that helped guide Molloy to Trinity – the history and prestige of the campus, the social and student life, and the opportunity to study history as a single honours field. He then went on to complete a Masters of Philosophy in International Relations at the University of Cambridge in 1996.
Much of the same appeal brought him back: "I think the promise of interesting colleagues and an interesting institution gives me a great job and life satisfaction – and then, there's my belief that universities are one of several things that make a country like this worth working in", says Molloy.
Molloy also had a spell of involvement in student publication in his time, having served as the Editor of what he describes a short-lived, light-hearted magazine called The Precursor. "It was a much more whimsical publication" he admits, mainly crediting that to the tendencies of student journalism at the time. "There were more whimsical publications back then. I don't think we ever really saw anything in terms of generators of serious news".
Traces of his time here have no doubt been left in the newsrooms of his other home grounds – Sean Keane of the Kilkenny People notes in his email that while his main strength was in business, but he had "a great sense of humour". In an email to The University Times, Wendy Pestana, who worked with Molloy as part of the editorial team behind the scenes at the Irish Independent, lauds "his sometimes quirky and always incisive interviews and articles", adding that "he makes what many might perceive to be mundane subjects interesting – an innate skill that most journalists only wish they could learn".
It is hard to tell if this will mean sacrificing the more traditional journalistic pursuit of holding those at the top to account.
Indeed, many of his colleagues in business journalism have similar backgrounds starting in Trinity's campus, among them fellow Independent News Media colleague Nick Webb, who is a former editor of The Piranha.
Trinity business seemed to come back to Molloy in a particularly memorable feature penned by him on Provost Patrick Prendergast in June 2014. In the Irish Independent piece, Prendergast told of his aspirations for a new innovation-focused business school for the university, almost infamously announcing his ambitions to "turn every single Trinity student into an entrepreneur" through extra modules for all courses.
It's intriguing to consider to what extent Molloy might be on the other side of the debate as a college official – helping to parse and explain the rationale behind the college's executive decisions – considering that one of his tasks as director will be to "articulate the college's vision and viewpoints through the media and in various fora", as elaborated in the job spec.
The key areas where Molloy will have significant weight in decision-making are in political and public engagement, communications, and management. Certainly on the first count, Molloy is relatively well-versed: business journalism tends to segue easily into the political, as he has shown in analyses of IAG's Aer Lingus takeover bid from a Dáil perspective, and of course the developments on the Greek Euro bailout and the rise of Syriza.
His time at the helm of INM and the Kilkenny People in particular could be to thank for the management skills he will need to lead the different teams that will deliver Trinity's message – and product – to those who need to hear and engage with it.
"As with his writing, so with his leadership and interaction among his colleagues. Never condescending or arrogant, Tom listened to others' points of view and always acknowledged their strengths and experience in their own roles", writes Wendy Pestana. "He trusted them. He is decisive, ego-free, thirsty for knowledge that ranged from whatever his co-workers roles entailed to one on one conversations, and rates quality over quantity".
"Although as an external contributing columnist I didn't work with Tom directly or on a daily basis, I have no doubt about his leadership skills", says Dan O'Brien, adding: "He rose very rapidly at INM, before taking over, and I can only imagine that that was not by chance", crediting a wealth of experience in writing and leading.
The bigger question comes with Molloy the communicator. According to the job spec, within his remit lies the task to "further develop the awareness and reputation of Trinity College Dublin globally." It is hard to tell if this translates as having to run to Trinity's rescue if needed, and if so whether it will mean sacrificing the more traditional journalistic pursuit of holding those at the top to account.
In any case, Molloy's appointment shows an interesting, if perhaps only slight shift on the spectrum of media and public communication. Moving from the role of questioner to answerer, and the perspectives that change will bring, will surely re-energise Trinity's philosophy of public engagement and the way it sees itself in the context of the changing environment of third-level education. Nonetheless, it is an appointment that suits Molloy well, combining a clear passion and respect for Trinity with an impressive career in the media.
Correction: Sep 6, 2015
Due to a transcription error, an earlier version of this article incorrectly quoted Dan O'Brien as saying that he worked with Molloy "more grandiosely" because he was an external columnist rather than a member of the Irish Independent's editorial staff. In fact, O'Brien did not use this phrase in conversation with The University Times, and the article has been updated to reflect that.