Sarah Rafferty, in visiting Dublin University Law Society (Law Soc) yesterday, gave a compelling account of how entering acting through academia prepared her for her career, and how realistic representations of women on TV should not just be a niche.
Rafferty, who was awarded the Trinity Praeses Elit Award by Law Soc, is best known for playing the role of Donna on the hit legal drama, Suits.
After being welcomed by Auditor of Law Soc, Kean Kavanagh, who joked about Suits being the only thing keeping some people studying law, she began by giving a little bit of background about her life as a student. Although her experiences of learning "to speak convincingly as a 17th century bar wench" might be a little bit different from your average tutorial or seminar. She assured the huge crowd that she did in fact have a normal college experience and had in fact, done a keg stand. Rafferty was as gracious as ever thanking the audience for "letting [Suits] into your dorm rooms" and giving her the chance to do what she loves to do.
ADVERTISEMENT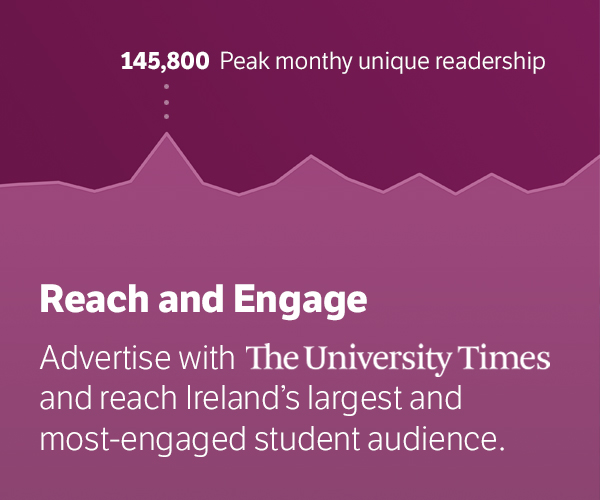 As many international guests who visit us here do, she briefly spoke about her Irish roots and although it was her first time in Ireland, her Dad (who has an Irish passport) had been pestering her to come "for the last 20 years." She was so excited about coming to Ireland that she contacted her 3 sisters to try to get her parents to come and they came along too. They were sitting next to me and seemed as excited as Rafferty was by the award and atmosphere, taking photos and looking immensely proud if ever so slightly jetlagged. Kean Kavanagh then asked her about her own impressive academic background, and whether having studied at Hamilton College, The University of Oxford and The Yale School of Drama had prepared her for the world of acting. She felt that these academic experiences had been a more comfortable route for her to enter acting and that academia provides you with world experience and empathy that's gained from reading books and studying history. The moment she realised she wanted to be an actress was in 6th grade, when she played Really Rosie. Met with silence from the audience she explained that it was an Annie-esque character, followed by a croon of "the sun will come out." After which laughter broke amongst the crowd.
She championed Ireland's tradition of theatre giving the Abbey as an example. When asked about nervousness, she admitted to feeling nervous before doing a play, stating that the "fake it till you make approach" can work wonders, and says that you can always rely on the energy of the room to bring you into the zone. She listed out Emma Thompson, Meryl Streep and Frances McDormand as people she would love to work with. Kean admitted to "creeping on" Rafferty's instagram to which she replied "I'll creep you right back" which queued laughter from the crowds. She was then asked about a constant theme on her Instagram, fighting for girls education, after which she stated that it's a cause so close to her heart primarily because of her two daughters but also "because investing in girls might be the way to solve all the world's problems."
Shortly after the floor was opened to questions where everything from the infamous can opener to the strength of the female characters in Suits was discussed. Rafferty stressed the point that strong women aren't the only women to have value on TV, ultimately realistic women are just as important and quoting Cate Blanchett she aptly stated that "women's stories should not be considered a niche." When asked about what she thought Donna's catchphrase would be she answered "I'm not apologising for who I am." A DCU student surreptitiously hid amongst the crowds and asked her if she had the opportunity to practise law for a day if she would take it, to which she answered she would, although she didn't know who would take her. He assured her that FLAC DCU would be more than happy to. On her favourite scene, she says she loves all the flashback episodes but especially the fourth episode of the first season. She started describing the scene but stopped mid groans from people who hadn't been caught up.

The last question was a request for a photo which Rafferty charmingly accepted, after the photo Rafferty took a selfie with the crowd and was reminded by Kean of the audiences promise to sing Happy Birthday to her parents, Mimi and Mike. She thanked the audience once more and endured standing for more photos, with a smile, of course.