Bitch Falcon are a rock band based in Dublin who have been making a big mark on the music scene of late. Making a name for themselves with their dynamic live shows and unique style that infuses rock, grunge, and pop, our Greg Mangan sat down with them for a cup of tea and a chat about live shows, recording, pints, and plumage.
I ask them to describe a Bitch Falcon gig: "Loud…" – "Really Loud" – "Yeah, very… loud." Guitarist and vocalist Lizzie Fitzpatrick and bassist Naomi McLeod clearly agree.
For the unacquainted, Bitch Falcon are a Dublin band known for killer riffs, raging vocals and their altogether full-throttle approach to rock. They are easily one of the most exciting acts to emerge from the capital in the last year. After some recent reshuffling, the band is now settled as a three-piece act, with drummer Nigel Kenny completing the lineup.
ADVERTISEMENT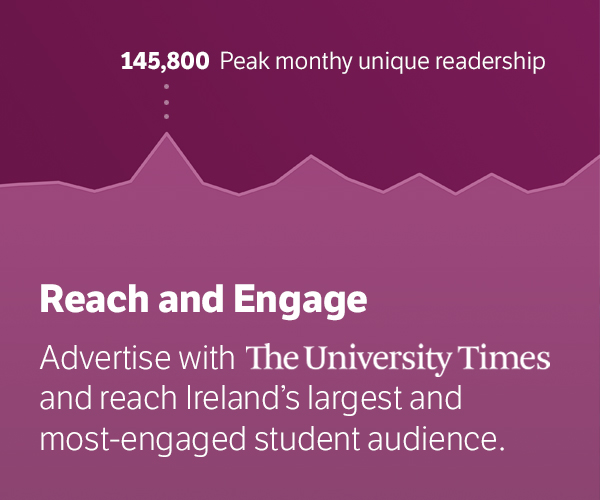 For Bitch Falcon, the focus is quite decidedly on the live shows. "The singles are there to get people to come to the shows, to see us live," Lizzie explains, "Because that's what we do the best, I think anyway." The band make sure that a Bitch Falcon show is never short of energy and adrenaline: "It's something you can really jump around to."
Still fairly fresh on the scene, the band's third and most recent single, "TMJ", came out in July, kicking up just as much of a storm as "Wolfstooth" and "Breed" did before it. As writing, developing, and touring are the main priorities for the band, "album number one" isn't really on the forefront of their minds: "We're very keen on writing more, but I'd say an EP before an album".
Listen to any Bitch Falcon song and the first thing you're likely to notice is an anthemic riff absolutely hopping out of the track. The writing process is very much centred around this: "The first thing is either a guitar line or a base line, it's a case of 'I have this riff, what do you think of it?" The band will sometimes write for each other. "Sometimes it happens where we think, 'that thing you did a week ago and this new riff work perfectly.'"
Dublin is lucky to play host to some killer live venues, in particular more intimate ones that work perfectly for band at Bitch Falcon's stage of development. "In terms of craic, Sweeney's is probably our favourite," according to Lizzie, "We played there at the end of May, and it was the first gig I let myself relax a bit and have a drink before playing".
Holding off on the pre-gig pints is generally a priority for the band. Lizzie states: "My hands go to shit like! If I was any way drunk I'd be sloppy. Some people say 'Oh I play better drunk.' No, you're sloppy. You feel better, yeah, but you're not playing better." She elaborates on the a fine line between tightness and sloppiness: "It's so easy to think you sound tight and to actually be all over the place." Naomi agrees: "My timing goes out the window, I can't keep time with drums. [Drinking] takes the edge off, which is great in some situations… not when you're in rhythm section!"
So what's on the horizon for Bitch Falcon? They had been looking forward to playing Hard Working Class Heroes and a gig in Belfast in early October, noting other shows "in Sin É on the 17th and one or two around the country in November." With those gigs behind them, the band will be shutting their doors for the winter to hibernate and focus on writing.
In their own words: "The falcon is going to bury her head in her plumage, get some new feathers, sharpen the talons!"