The Sports Pavilion Bar, better known among students, staff and alumni as "the Pav", first opened its doors on June 13th 1885. Since then, the bar has grown to become a feature of Trinity College Dublin, its sports clubs, and societies. Most Trinity students will have crossed its threshold at some point in their academic career with the steps, veranda and sun room being the location of many happy, and perhaps hazy, memories. The vivid red wall directly opposite the front doors is a physical reminder of the bar's bold presence on the campus.
The famous college bar originally began as a building containing dressing rooms and two bathrooms, with a room on the first floor for serving refreshments and hosting meetings. Improvements were made to the building throughout the 1920s and 1930s but it wasn't until 1960 when the possibility of opening a bar in the upper room of the pavilion was first brought to the table. The College Board approved DUCAC's proposal on the condition that no spirits to be sold and that licensing hours be restricted to 3.30pm to 6.45pm during term time and 3.30pm to 6.15pm outside of term. The licensing hours have since been extended, resulting in the bar's rise to prominence on campus.
Since June of last year, the Pav has been under the new management of Justin Parle. Sitting down with The University Times, Parle describes himself as a "rugby head" and a lover of sports. He is also deeply passionate about the mission statement of the Pav, which is that the profits of the bar all go back into the College's sports clubs. "That is the sole goal," he says, "every single penny spent in these walls, it is lovely that it all goes to the clubs. It's nice to walk up to somebody who's brought their own beer in and say, 'Sorry you're actually not harming our business, you're harming the College, and you're harming sports.'"
ADVERTISEMENT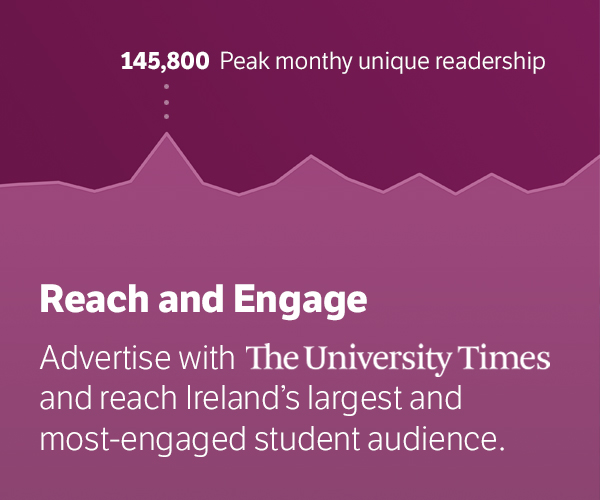 Parle speaks of how thorough DUCAC's organisation is and how Pav nights have been "fine-honed" after last year's success. There is a poster of upcoming events on the Pav's red wall and Parle often gestures enthusiastically to it when he speaks. He talks about the changes he has made since last year, recalling euphemistically how "the toilets were… refreshed" and that the notice board is now active, co-ordinating with Trinity's departments and sports clubs. The bar has also recruited a chef and the menu has subsequently been changed. Students away from home can avail of meals of a more "home fare" variety, such as lasagna and shepherds pie, no doubt a conscious move to help incoming students settle.
"You can't lose touch with a student once they've walked out the door, it's only just begun."
It can be hard to realise how active the Pav actually is until you sit down with Parle and hear him speak so excitedly about the venue. Indeed, there is a constant buzz of activity about the place. The sun room can be booked four times a day and can have many diverse events, from a Beckett reading to a set from DUDJ, Trinity's DJ society. Parle is only too happy to work with societies, declaring: "My phone is on 24/7. Anybody reading this will know I will always answer. And emails, I get a lot of emails, but I always get back".
A standout event for Parle also happens to be one that acutely demonstrates not only the fondness students have for their college pub, but also the standing of the Pav in Dublin's event scene. In celebration of its sixtieth anniversary, Lilliput Press relaunched The Ginger Man by JP Donleavy and chose the college bar as the all-important venue for the launch, "because JP loves the place", Parle says. Donleavy's novel is hailed as a modernist masterpiece set in post-war Dublin and recounts the time of Trinity law student Sebastian Dangerfield. The character was widely believed to be a product of Donleavy's contemporaries of Trinity College.
Trinity's alumni are a major part of the Pav and, although this may not immediately come to mind when one thinks of the venue, Parle is keen to talk about their role and significance to the bar. "You look at the demographics of the alumni, 21-25, 25-31, that's a lot of people that come in here that are working just outside these walls". Even Parle would appear to be impressed by the groups relying on the pub as a social base. He speaks about an evening event when 350 people from Yes Equality came to the Pav to eat near the end of the campaign. This significant event was set up through the connections of alumni "all connected through college, to us. You can't lose touch with a student once they've walked out the door, it's only just begun".
This is clearly a philosophy deeply held by Parle, one that is emphasised when he points out that, in Trinity: "You don't graduate, you have commencement". One anecdote of Parle's that captures the importance of the Pav to some graduates is what he refers to as the "Thesis in, I'm an alumni" moment. In this moment, an engineering student went directly to the Pav after handing in his thesis to take advantage of his new status and pass by the queue, a privilege awarded only to alumni – just in case any undergrad ever needs motivation to graduate.
The presence and competition of other pubs and bars in the bustling vicinity of Trinity's campus does not give Parle much cause for concern. He explains: "We're a clubhouse. We're not trying to take business from anybody or compete with anybody. I can't put it in a way that's not egotistical, but we're the clubhouse for Trinity." For Parle, this is what sets the Pav apart from other bars and pubs frequented by students.
Parle describes the network of clubs and societies as "a Swiss clock" and he believes that the main challenge of the Pav is to effectively work with each society and club in this system. "Students are going to be part of something. You couldn't find a better place". When asked, he remains coy about DUCAC and the future plans for the Pav, but admits: "We have a few developments up our sleeve that we're going to look after". What Parle cannot hide is his own ambition for the venue. When asked if his enthusiasm has waned over his time there he is quick to answer "God no!" before sitting forward to eagerly explain another feature of the bar.
Parle is also quick to praise the role played by current and previous Trinity Ents Officers Katie Cogan and Finn Murphy in relation to the Pav. He relates the process of planning for Freshers' Week, planning that begins months in advance, praising both for their plans for the bar, and crediting their driving force with its huge success.
Murphy is equally passionate about the Pav's role in Trinity and appreciates how the bar completes the college community. In a Facebook conversation with The University Times, Murphy says: "Having a dedicated student bar on campus really completes the idea that Trinity is its own community. If you really want to you could stay within its walls and have access to almost everything you might want. By giving students a focal point from which to socialise it adds to that community."
"We're not trying to take business from anybody or compete with anybody. I can't put it in a way that's not egotistical, but we're the clubhouse for Trinity."
He also notes that there aren't really any other dedicated student social spaces on campus and that this relays the importance of the Pav as a nucleus for Trinity activity. Murphy also recognises the special attraction of the Pav, like Parle, and doesn't feel it struggles to compete with other bars and pubs in the area: "While places like the Gingerman and the Longstone have their appeal, it's not quite the same as lying out on the grass with all your friends on campus".
This favoured past time of Trinity's students, lazing on the grass in front of the bar after class brings to mind one of the its challenges which Murphy acknowledges: the weather. "If it were blue skies and sunshine all year round the Pav would be the most profitable in Europe. So it's difficult to bring people down as the building is limited with indoor space." Despite this, the bar remains popular for events on campus throughout the year.
Murphy recalls this in his best memory of the bar: "On the second last day of term in first year, it was seriously hot and the sun was out all day which drew pretty much every student in Trinity down to the Pav" adding that "There was just a sea of people stretching from in front of the Usher Library tower down to the Pav".
The Pav is an alumni centre, a clubhouse and a nucleus of clubs, societies and student life in Trinity College Dublin, and it is clear that Parle is immensely proud of the function the bar plays in all of this. When asked if he ever doubts the position of the Pav in Trinity, he smiles: "At the end of the day 17,000 people can't really be wrong can they?"