On Monday, November 23rd, Söder & Ko opened its doors to a crowd of fashion followers for what it deemed "A fusion of children's fairy tales, mythical forests and urban grunge" – a theme celebrating the 150th anniversary of Lewis Carroll's Alice In Wonderland. The vision for the evening was to combine the adventure, mystery and nostalgia of childhood fairytales with a raw, urban note that is both contemporary and grown up.
LA Creative provided the models with subtle contouring, dewy skin and dusty pink/purple tones similar to those seen in the campaigns for Stella McCartney, Prada and Simone Rocha this winter, whilst David Marshall hairdressing used both backcombing, french braids and glitter to create a look that is both grungy and ethereal. Clothing came from The Vintage Shop in George's Street Arcade.
The show itself served to showcase a mix of both vintage and high street fashion, offering pieces from Tola vintage, The Loft Market, American Apparel and Topman and was presented by head stylists Erin Flynn and Niamh Ryan in seven chapters; opening on a soft note with 'Picnic in the park' and 'Rose Garden Fairies'. The opening look was an airy white skater dress combined with a satin red ribbon, followed by a red pinstripe suit jacket paired with retro white pants. These looks soon evolved into mauve and mustard tones with plaid dresses and scarves, a trend that has dominated recent catwalk shows, notably the Marc Jacobs A/W15 show, and continues to feature as a prominent staple in the winter wardrobes of many. The show then progressed with winter wools, with pastel and floral prints again reiterating the dreamy theme of the evening. Throughout the first half of the show, the men's fashion seemed quite prêt-à-porter with blazer jackets and graphic t-shirts paired with block colour pants, providing a wearable urban option, whilst ladies wear closed on a more dramatic note as the the models took to the runway wearing evening gowns of striking red silk and edgy chiffon skirts.
ADVERTISEMENT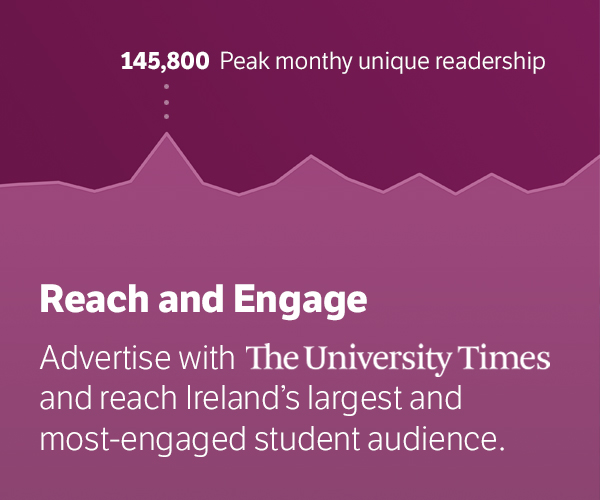 It was the second half however, that truly brought the audience adventuring into the woods. The naive and impish looks transcended into more mysterious and mischievous ensembles – feminine plunging necklines, sequins and flares contrasted against grungy androgynous colours and styles to reflect the weird and wonderful worlds we find in fairy tales. The excitement was only heightened by the unveiling of original designs by two talented designers and Trinity students; Aoife Gaffney and Dylan Kerr, who is also a part-time student of Grafton Academy of Fashion Design.
One of the most attractive qualities of fashion is that it can act as a medium for self-expression. Society is finally beginning to accept the idea of gender as a social construct and sexuality as something fluid, at last breaking free from the overly constrictive and simplistic boxes society has imposed on us as individuals for too long. This acceptance is reflected in the wider fashion sphere, with gender blurring making a big appearance on the runways this autumn. This fluidity was also represented in the Fashion Show on Monday. Head stylists Erin and Niamh nailed the gender blurring trend throughout the second half. Although it was mild and tame in comparison with the androgynous styling offered by Gucci's new creative director Alessandro Michele, I was glad to see it in the show. The strong inclusion of gender blurring looks was a simple nod of support to all students who were ever unfairly stigmatised or persecuted due to their sexual or gender identity.
With a production staged in a location as trendy as Söder & Ko and with guests appearing in even trendier black ensembles, it is easy to forget that you are at an event created not by professionals, but by students in order to raise both money and awareness for non-profit organisations. This year, the fashion show was held in aid of Medecins Sans Frontieres (MSF) and a raffle was held for the Berkeley Fund. MSF is a non-governmental organisation which aids the sick and injured in over 60 countries where people have been affected by war, neglect or any form of catastrophe. It holds the belief that medical care should not be hindered by borders of any kind, and is at present working on the humanitarian crisis by treating Syrian refugees across Lebanon, Iraq and Jordan. A worthy cause, and I think the Trinity Fashion Society too are worthy of praise for coordinating such a stylish, creative and enigmatic event.
Correction: 12:06, November 27, 2015
An earlier version of this article neglected to mention that clothing for the fashion show was provided by The Vintage Shop in George's Street Arcade.