Feminism is a hot-button topic nowadays. Beyonce dances on stages in front of the word in shining lights, the "Free The Nipple" campaign has gotten huge international traction, and Emma Watson's United Nations "He for She" speech has become one of the most watched videos on YouTube. Discussions about female rights and the inequalities they face are everywhere. However, seldom as they may appear, there are some areas in which men are firmly in the minority, and in which there is little being done to try and put them on a more equal footing. There are few areas in which this is more evident than the field of nursing.
It is unusual, considering the fact that nursing is generally considered a reasonably stable long-term job, that so few men are interested in pursuing it as a career. Traditionally, men strive for the stable, well-paying jobs in the civil service, large corporations, or within the legal or medical sphere. This being the case, one would assume that nursing would be a similarly popular career choice. However, male nurses make up just under 8 per cent of all registered nurses, according to figures from the Irish Nursing Board.
For many years it has been evident that numerous career paths feature a wide gender gap. To combat these inequalities, some organisations have been set up globally, specifically to encourage people to enter work in areas they might feel unsuitable for, or intimidated to enter, due to their gender.
ADVERTISEMENT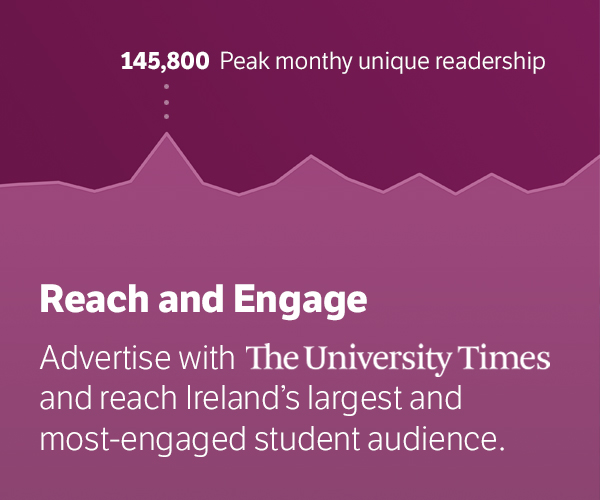 The Wise Campaign is a UK organisation founded in 1984 to encourage more women to pursue careers in STEM (science, technology, engineering and maths) fields, following a report that highlighted that there was a great need for a more diverse pool of engineers and scientists. According to their website, Wise inspires girls and women to study and build careers in the STEM – science, technology, engineering and maths – fields, as well as advising organisations on how they can create environments where those women can do their best work and thrive. Trinity has a similar programme, WiSER (Women in Science & Engineering Research) which aims to encourage women to go into STEM areas.
Despite this, men are firmly in the minority in nursing, as women are in STEM fields. Yet there is nothing resembling the proactivity seen in trying to bring women to work in STEM when it comes to men in nursing.
Speaking to The University Times via email, newly qualified nurse and former TCDSU Health Science Faculty Convenor Adam Miller says that the gender gap did not play a role in his decision to go into nursing, but he understands that it can be a daunting task: "My view is that nursing has been, and still is perceived as a feminine career choice and young men don't want this image to impact on their masculinity. It is also quite a common misconception that all men who are nurses are gay."
men are firmly in the minority in nursing, as women are in STEM fields, yet there is nothing resembling the proactivity seen in trying to bring women to work in STEM when it comes to men in nursing.
He feels that this misconception about masculinity and sexuality is affecting a lot of young men's choices, and deterring them from following nursing as a career choice. Once in the course, and subsequently working however, he has never been treated any differently. "I've personally never felt discouraged by anyone about my choice of career. Nursing is hard work. It's equal parts mental and physical and definitely not a feminine job. I have had nothing but support shown to me throughout my training by the people I have met."
On the subject of the gender gap, Miller feels more should be done to try and bridge the divide. "I think it is necessary to encourage more men here in Ireland. It is a case of needing to change the attitudes of the general public towards nursing, making them realise the exact job we as nurses do. Gender balance is always a good thing on the wards, as patients react differently to men and women."
Second-year nursing student Damian Boon initially found it difficult when people questioned his motivation behind choosing his course. "Personally I found when I told people I was considering studying nursing that they automatically questioned me on my sexuality as they seemed to have assumed that this profession would be only for females." He says that he found it difficult to continue with pursue this career as he felt justification was needed whenever college courses came up for discussion.
Speaking on how this perception could influence other aspiring male nurses, he says: "I think based on my own experience this could have an effect on the number of men considering this career due to the perceived femininity of this type of work." When on placement, according to Boon, gender bias is something male nurses encounter regularly. "During my work placement I witnessed bias first-hand from some female patients. I didn't take any offence and respected that they were not comfortable with a male nurse, so I would ask a female nurse to take care of them instead."
Speaking to The University Times, TCDSU Gender Equality Officer, Louise Mulrennan, expressed her frustration with the societal gender norms surrounding certain courses and careers, and what it means for those hoping to enter those career tracks: "I think a disproportionate number of males in certain courses and females in other courses has been an issue for a long time. I do not think it is good that it is mainly women who are being trained as nurses. Or men as computer scientists. No statistics show one sex as naturally superior to the other in terms of work. I think it is fair to say that most sectors benefit greatly from a diverse workforce, in terms of age, background and of course, gender. I think the gender gaps in these courses can often be down to the socialised 'norms' of 'women's work'."
Mulrennan believes that the first steps in bridging the gender gap is in acknowledging it, and realising that it is an issue, and from there we can formulate a plan to combat the inequalities. "I believe that college, and the SU, and society in general can break down these norms by dealing with everyday sexism, running gender identity and empowerment workshops and just even getting people to acknowledge that the divide is here in the first place. Women and men and other genders face daily pressures to live up to society's ideas of femininity, masculinity – you name it. And until we deal with this issue, going into a course which would begin to bridge the gender gap may seem an insurmountable and too daunting a task for many."
"No statistics show one sex as naturally superior to the other in terms of work."
TCDSU Health Science Faculty Convenor, Dale O'Faoilleachain, says that he notices the bias outside of nursing too. "Working particularly in amateur sports physiotherapy there can be hostility towards a male physiotherapist. I'm sure the same applies in nursing in regards to whether patients feel comfortable in having male nurses caring for them."
This in turn, O'Faoilleachain feels, has affected the interest of those going into health science. "I feel the culture around professions being associated with a particular gender has greatly influenced the patients' gender perceptions about the abilities of their health care profession. I think this has influenced those interested in gender-biased fields, whether beneficially or detrimentally".
Where the responsibility for trying to narrow the gender gap lies, or if it is anybody's responsibility at all remains to be seen. It is not an issue which comes under regular scrutiny, and is yet to be developed into a social movement to the extent that the promotion of women in science and engineering subjects has been. It is nevertheless an issue which should be brought to the attention of the wider public, in order to initiate a discussion as to potential solutions. Gender quotas would be a controversial option, and attempts to impose and enforce gender quotas in any field has proven difficult. Incentivisation similarly poses problems, as incentivising only male students would appear unfair to their female counterparts.
In any case, maintaining and promoting the nursing profession regardless of gender, becomes more and more crucial as our population ages. As with any profession, it can only be made more effective and versatile through a more diverse workforce. Presumably, efforts made on behalf of the universities would be a good place to start.