The President of Trinity College Dublin Students' Union (TCDSU), Lynn Ruane, is to run as an independent candidate in the University of Dublin constituency in the upcoming Seanad elections.
Speaking to The University Times, Ruane said that she wanted to give a voice to young people in the Seanad: "In terms of driving politics forward, and the agenda forward, I think it's time to let younger people that are closer to the ground, and that are ready to tackle new issues that haven't been tackled before, to have their say."
Ruane added that sometimes she feels "politics isn't representative of young people, of students, of the real issues that are happening on the ground, and I feel that's what I can bring".
ADVERTISEMENT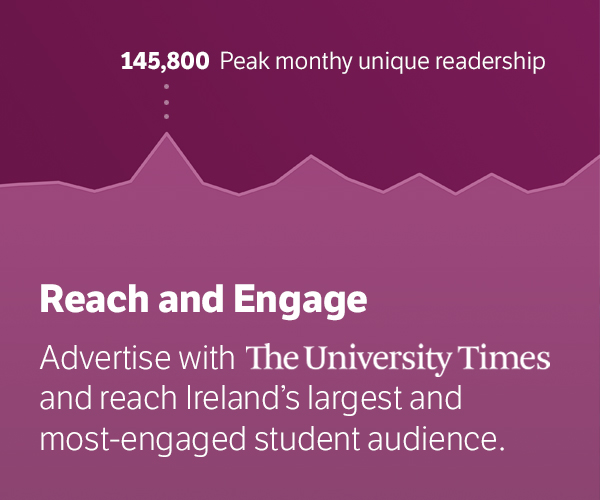 The Seanad elections must take place no later than 90 days after the Dáil is dissolved for a general election. With this widely expected to take place in January, such that the election would occur in February, the Seanad elections would most likely take place in mid-April, but could occur as late as mid-June. Ruane's term as President of TCDSU officially ends at the beginning of July.
Trinity graduates elect three members of the Seanad for the University of Dublin constituency. The three current University of Dublin representatives are Senator Ivana Bacik, Senator Sean Barrett and Senator David Norris. Norris is the longest-serving member of the Seanad in the constituency, having served since 1987, with Bacik and Barrett having served since 2007 and 2011 respectively. Bacik is a Senator with the Labour Party, while both Norris and Barrett are independents. All three are expected to rerun for their seats.
Commenting on how she feels competing with such high-profile names, Ruane said: "I think that's the problem with politics, that people get voted in time and time again because of their profile, or what they have done recently, and I think we need to start looking at politics in terms of the potential of what somebody else can bring".
Dr Sabina Brennan, Co-Director of the Neuro-Enhancement for Independent Lives (NEIL) research programme in Trinity's Institute of Neuroscience, has also announced that she will be running as a candidate. Brennan would "advocate for investment in education and health and for the reform necessary to embed equality and human rights in our constitution, our government, our legislation, our curricula, our policies, our practices and in our personal lives", according to a statement on her website.
Tom Clonan, the former press officer of the Defence Forces, has also announced his candidacy. He would "take the fight for equality to the Seanad on behalf of Trinity graduates and the people of Ireland". "The time has come to eliminate discrimination against people with disabilities to create a truly equal, modern Republic in which we can all take pride", according to a statement on his website.
Eoin Meehan, a computer scientist, has also announced his candidacy.
Ruane initially considered running in the Dublin South Central constituency in the upcoming Dáil elections. However, she stated that she decided to run for the Seanad when it became clear that running in the general election would not be consistent with her work with TCDSU.
Ruane stated that her involvement in education and in representing students had motivated her candidacy: "I would like, just for once, that the university panel actually had a person in there who was a representative for students, and a representative for education, and I feel that hasn't happened for a long time". She continued: "I believe in education, I believe in students, and I believe that we're getting a raw deal, year on year, in terms of the investment that goes into us."
In light of potential concern over the elections interfering with her term as President, Ruane stressed that campaigning for the Seanad is much more manageable than for a general election, with no door-to-door canvassing, and less need for "hectic" campaigning.
Graduates from the National University of Ireland and Trinity College elect three members of the Seanad each. For a candidate to be nominated, candidates must be nominated by two registered electors for the university, while eight other registered electors must agree to the nomination.
Ruane has currently received the two required nominations, with six others who have offered their consent. Speaking to The University Times, she stated that, when she was thinking of electors to support her, she "tried to think of people who come from career and professions that I care about, that I respect".
Prof Áine Hyland, an expert in higher education who is both a member of the TCDSU board of trustees and former Vice President of University College Cork, has provided Ruane with a nomination, as have Dr Austin O'Carroll and Dr Fiona O'Reilly, who both work in the addiction and homelessness sector.
College Board members Prof Brian Lucey and Dermot Frost have also provided Ruane with a nomination, as has Cliona Hannon, the director of the Trinity Access Programme (TAP).
In February 2015, Ruane, then a third-year philosophy, politics, economics and sociology (PPES) student, was elected President of TCDSU in February 2015 with 2,345 votes. Ruane ran on a platform of "Equality, Inclusion and Access", promising to "mobilise" students. Ruane was heavily critical of apathy within the College population towards issues like student charges. She officially began her term in July. If elected to the Seanad, Ruane will return to complete the final year of her degree, studying philosophy. She hopes to write a dissertation "in her spare time", she said.
Correction: 18:58, December 14, 2015
An earlier version of this piece referred incorrectly to one of Ruane's nominees. He is Dr Austin O'Carroll, not Dr Rosaleen O'Carroll.
Correction: 21:58, December 14, 2015
An earlier version of this piece incorrectly stated that Ruane was expected to formally submit her nomination this week. In fact, candidates cannot submit nominations until the Dáil has been dissolved.