Tomorrow, voters across the country will be deciding which party has earned their support in the general election. Many students may well be voting in an election for the very first time. Yet, for a small cohort of students, tomorrow will not just been about casting a ballot, but instead will be the culmination of weeks of campaigning and canvassing in constituencies across the country.
Despite an apparent and much-discussed apathy among students generally ahead of the election, this rare breed of student has been zealously knocking on doors, leafletting and, in some cases, managing campaigns for the last few months.
The surprising thing is that, for these students, this activism is normal. It fits snugly into their everyday life, between socialising and studying. While most of College was focused on the Trinity College Dublin Students' Union (TCDSU) elections, these Trinity students had, and continue to have, their eyes firmly set on the bigger picture.
ADVERTISEMENT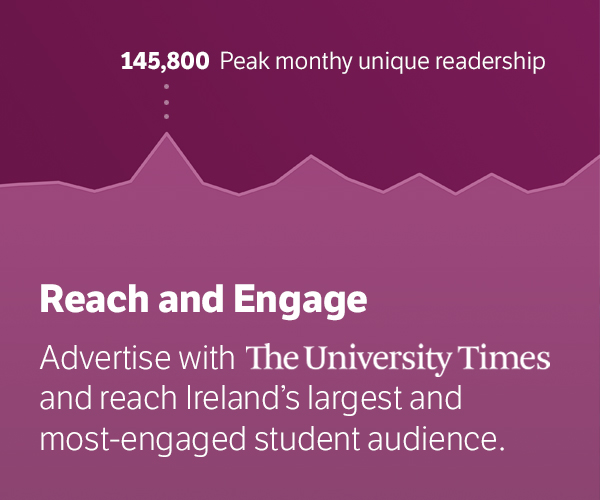 Curiously, among everyone The University Times spoke to, none had any real engagement in student union politics. For some, this may be because their commitment to their political party is too great, or for others simply that the values of TCDSU don't sit comfortably with their own. For instance, speaking to The University Times, Gavin Redford, a member of Ógra Fianna Fáil in Trinity, described his concern that the union was a "bit left" and always saw it as a "closed shop". He points to the TCDSU mandate against fees, a motion at odds with the Ógra Fianna Fail student loan proposal, as another reason for his lack of engagement with the union.
Rather than a clear ideological choice, it seems these young people often find themselves somewhat accidentally involved in a party
So what is it about national politics that attracts these students? The paradoxical answer seems to be local concerns. Speaking to The University Times, Alan Harney, Secretary of Trinity Young Fine Gael and a senior member of the Roscommon councillor Maura Hopkins's election team, emphasises that it was the problems in his own community that pushed him into party politics: "The population is ageing, young people have left the area, and there aren't opportunities to come back to, so that's initially what drove me to get involved in politics."
Despite his parents not being "politically involved", Harney soon found himself at home in Fine Gael when he came to college: "I suppose I walked around in Freshers' Week, and I'd always been tied to Fine Gael, and had an affection for the party."
Indeed, rather than a clear ideological choice, it seems these young people often find themselves somewhat accidentally involved in a party. For Redford at least, ideology was the last thing on his mind when he joined Fianna Fail. "I wasn't particularly married to the party, but as time went one I started appreciating the values the party, and I actually do align myself now with the centrist policies that Fianna Fáil pursue", he says.
This commitment to the party takes many forms, and it seems apt to use a word like "married". For the established campaigners, like Redford and Harney, there is clearly a deep, if slightly disconcerting, affection for their own candidate. As Harney describes the strong "working relationship" he has with Hopkins, and Redford talks about getting emails in the early hours of the morning from his local candidate, Mary Fitzpatrick, who is running in the general election, it's hard not be impressed by their dedication. If these students' relationships with their candidates aren't exactly akin to a marriage, it's certainly much more than just a simple partnership.
These are the students who seem to reject that stereotypical idea that student activists are staunchly left-wing and socially liberal. While Harney rejects the idea that Fine Gael are "a right-wing, conservative party", there does seem a slight incongruency on social issues between Trinity students and the country as whole. For instance, while Harney is quick to argue that Young Fine Gael is a "lot more liberal" than the senior party, he also admits that there is a wide divergence of opinion on social issues like abortion: "There would be a lot of people very far to the right, people quite far to the left, and a lot of people in the middle, so there is great opportunity for debate."
Redford admits that even among the younger people in the party, there is "an element of social conservatism", but argues that "it's a very broad church".
Interestingly over 26 per cent of students, in a poll of 1,007 people conducted by The University Times last week, said they would vote Fine Gael, while 14.3 per cent said they would vote Social Democrats.
This seems to suggest that while a significant proportion of students are happy to support the incumbent government, another sizeable portion are looking for a left-wing alternative.
The Social Democrats have certainly positioned themselves as the party for change when canvassing, or so says David Maher, who studied for a master's in international politics in Trinity, and is also a senior member of the Social Democrats' Glenna Lynch's campaign in Dublin Bay South. Speaking to The University Times, Maher is confident that the Irish people will support the party: "The electorate is transitory, they're younger, more engaged, the huge registration drive for marriage equality will change things."
So what made him go out and campaign? For Maher, it's about social justice on a national level: "We shouldn't have to accept a society that only works for ten or 20 per cent of people."
For him, there is no choice but to change the way we doing politics in Ireland, and the Social Democrats are the best party to change that: "We've set a really low bar in Irish politics for what is good politics, and I really want, in the next 20 years, to raise that bar substantially."
There must be something quite daunting about investing so much time in a party that has existed for less than a year. Maher admits that people might "have reservations around throwing in their lot behind" the party, but argues that "Irish politics is changing", and the Social Democrats can exploit that.
There must be something quite daunting about investing so much time in a party that has existed for less than a year
The party does seem to have hit upon some kind of zeitgeist, at least among students. Even within a year of being created, the party has a branch in each university in Ireland. Maher emphasises not only the importance of the student vote, but also of students getting involved in politics: "Students shouldn't be afraid of turning up and asking for roles and to help. If you're bright, ambitious and willing to work, and reasonably personable, I believe there is always a place for you."
Eileen Smith, Chairperson of the Labour Party in Trinity, was initially drawn into the party through her family's involvement. Speaking to The University Times, she says: "I don't remember a time when we didn't vote Labour." However, it was only when her brother ran for local election that she started canvassing and really immersing herself in the world of national politics. She had caught "the bug".
Like many students, Smith has worked in retail during her time in college. Unlike most students, however, she joined a union upon getting her first job after advice from her family. She explained how this led to her family joining Labour: "A lot of my family would have been in trade. That would have been the most important thing they did and then through that, you would be more inclined to vote Labour and that's kind of how it came about."
Sam Torsney, Chairperson of Trinity Young Greens, had an interesting route to the Green Party. Like many students, he found himself very frustrated with the state of play in Irish politics and decided to find a party that would suit him so he could make a change. Although he was disenchanted with the Green Party and did not vote for them in 2011, he identified with their policies and he had hope for their future. Speaking to The University Times, he says: "I wouldn't have joined if I thought they were perfect. If they're perfect, there's no reason to join. You just vote for them."
As two students greatly invested in the causes that their parties represent, Smith and Torsney share many of the same goals and motivations of other politicised students. Smith's end goal is to be a women's rights activist, and despite her disappointment with the direction the party has been going, she participates in the Labour party because she sees it as one of the most "egalitarian" parties in Ireland. However, she believes that different parties can attract different types of people: "There are parties more for people who are more interested in activism and then there are parties for people who would be very career-focused from an early age."
Torsney was more critical of students who joined political parties for reasons other than the issues they represent: "I can't see any reason why anyone would join Fianna Fáil other than careerism because they don't stand for anything. I just don't understand why anyone would support them."
This attitude does seem to be replicated across students not immediately involved in national politics. It is hard to resist being sceptical about any young person passionately involved in local politics, especially in Ireland where politics is less than exciting. Most of it is consumed with local issues with local people, and there are very few politicians that can easily arouse excitement. It's hard to imagine even the most committed young Fine Gaeler claiming Enda Kenny to be in the same league as Barack Obama or a young Fianna Fáil activist claiming Micheál Martin possesses the same charisma as David Cameron. It's perhaps this reason that there is the perception that students who are already committed to a particular party are careerists.
While distancing himself from any careerist motivations, Maher recognises that there is a very clear career path for most politicians: "If you can be really strategic at 18 to 22, you can do a hell of a lot. It's just it's very hard to be strategic at that age because you're that age, it's an amazing age and there's so much to do, and the world is there for you."
I wouldn't pick out the political parties for people being particularly careerist. I think you'll find careerist people across the whole society spectrum in college
This is perhaps especially so in a new party like the Social Democrats. As Maher identifies, it's very easy to move through the ranks in a small party during an election campaign: "It's battlefield commissions. We see you, you're good, so you go up. It's pure meritocracy."
Defending his motivations for his political involvement, Redford does not think careerism was exclusive to political parties: "I wouldn't pick out the political parties for people being particularly careerist. I think you'll find careerist people across the whole society spectrum in college." While he has no aspirations to become a politician, he does want to stay involved and "work somewhere in the background".
Although Harney himself "definitely" has political aspirations of his own, he rejects that the main reason people joined bigger political parties was to further their careers: "It's very diverse. People have very different reasons for coming to politics."
Explaining the difference between the two major parties, which many students find hard to see, Harney says: "It's a very ideological thing, in terms of prudently managing the economy. I think the economy is a massive thing that separates the two parties at the moment."