UCD Students' Union (UCDSU) is to hold a referendum on reaffiliation with the Union of Students in Ireland (USI) after a student-led petition collected more than 900 signatures, The University Times has learned. In 2013, students in UCD voted to leave USI by a margin of 64.5 per cent.
Students will be asked the following question: "Shall UCDSU affiliate to the Union of Students in Ireland, subject to an increase in the Student Centre Levy of €5 per full-time student and €2.50 per part-time student?"
Last week, a student group led by the national Labour Youth chair and UCD postgraduate student, Grace Williams, finished collecting the signatures. Signatures of more than 3.5 per cent of students are required to bring about such a referendum. The referendum is expected to be officially called later today. The yes campaign, led by Williams, will focus on how USI would give UCDSU a national voice. "The reason that we have called this referendum is to make sure we will have an impact after the general election", Williams told The University Times. She referred to the third-level fees debate, the government higher education funding working group, known as the Cassells group, and the accommodation crisis as issues that UCD students "need to have a national impact" on. She pointed out that this was not USI organising the referendum, or even UCD Students' Union, but a grassroots student group.
ADVERTISEMENT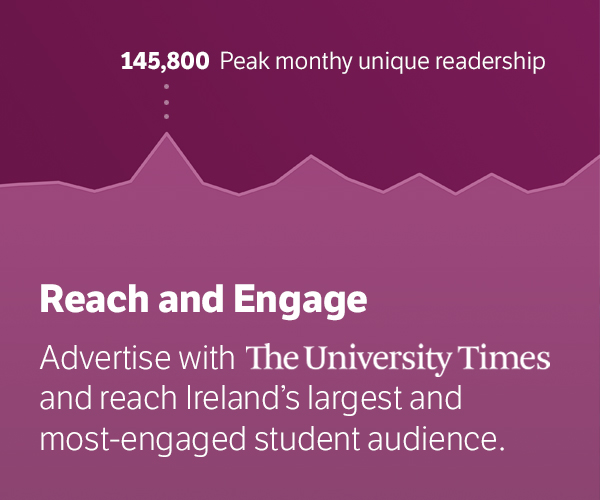 Speaking to The University Times this evening, Kevin Donoghue, the President of USI, said that they would "very much welcome any move from students to re-affiliate" but said he was waiting for specific details. He said that the campaign was "probably a reflection of the work of the national movement" in recent years, and said that the "together we're stronger" message resonates. "We would definitely be stronger with UCD", he said.
In 2012, it was revealed that poor accounting practices had led to €1.4 million in debt for the union. Throughout the 2013 referendum campaign, students who favoured disaffiliation from USI felt that UCD Students' Union should adopt a more local focus, in light of these financial difficulties.
According to a person familiar with the current campaign, who spoke on the condition of anonymity because they were not authorised to speak about details, only current and former UCD students will be permitted to campaign during the referendum, meaning that USI officers, who are typically allowed to campaign on university campuses during similar referendums elsewhere, will take a backseat. Similar rules applied during the 2013 referendum, something then-USI President John Logue said meant that UCD students were "not granted the opportunity to hear the full case for continuing membership of their national union".
Students voted to disaffiliate from USI despite their then-President, Rachel Breslin, and other sabbatical officers' campaign to remain affiliated after UCDSU negotiated reforms for USI. The reforms, which were agreed by Logue and then-USI presidential candidate Joe O'Connor, called for direct elections of the president of USI, a reformed campus structure, strict regulations regarding mandates passed by local unions, a review of the affiliation fee structure, and the employment of a Policy and Political Advisor.
Then-Ents Officer, Eoin Heffernan, played a key role in the "no2usi" campaign, while Paddy Guiney, then-Campaigns and Communications Officer who went on to be USI's Vice-President for Campaigns the following year, was actively involved in the "yes2usi" campaign. Guiney was criticised by UCD's University Observer for campaigning for affiliation during office hours, which went against the rules of the referendum. Speaking to The University Times then, Guiney stated he had taken a period of leave to campaign.
In the same week, DCU Students' Union voted to reaffiliate in a referendum and NUI Maynooth Students' Union voted overwhelmingly in favour of remaining affiliated with the organisation. The vote came one year after Trinity College Dublin Students' Union held a referendum to disaffiliate from the organisation, one which failed to pass.
UCDSU disaffiliated from USI a year after the referendum passed. At USI's National Congress that year, which took place two months after the referendum passed, the UCDSU delegation walked out in protest of the lack of time given to a motion regarding USI's affiliation with anti-austerity groups. Breslin stated at the time to the Observer that the UCDSU delegation's presence was "negatively swaying votes due to an increasingly emotive and hostile atmosphere" and that they felt that they had to leave because they felt unwelcome.
In January 2015, a "Rejoin USI" campaign was launched in UCD by former UCDSU President Míchéal Gallagher and Ciara McConnell, then a final year politics and international relations student. The campaign was launched with a video appealing for volunteers and explaining why the union should re-affiliate. Gallagher and McConnell advocated for re-joining USI in light of the then-upcoming marriage equality referendum and the rising student contribution charge. They argued that UCDSU was in a much stronger position financially than it was when they voted to disaffiliate.