Sinéad Baker, the Editor of The University Times, has appointed Dominic McGrath, the outgoing News Editor, Deputy Editor. McGrath was a staff writer in his first year before being appointed Deputy News Editor, and later News Editor, at the beginning of last year.
Commenting on his appointment, Baker said: "Dominic is one of the most talented and enthusiastic journalists I've worked with within The University Times, and his understanding of what we are trying to achieve and where we need to go as a paper is extremely strong." She continued: "Not only does he have an extremely strong news background, his insight into what other sections need and how they should grow means that I have no doubt he will excel in the position."
Charlotte Ryan, a final-year English student who served as Features Editor this year and Deputy Features Editor the previous year, was appointed Assistant Editor. Speaking about Ryan's appointment, Baker said that working with Ryan over the last three years has been an "absolute pleasure": "There is no one who understands quite what makes for an interesting article as she does. With her instinct and vision, I know that she will be invaluable for the coming year."
ADVERTISEMENT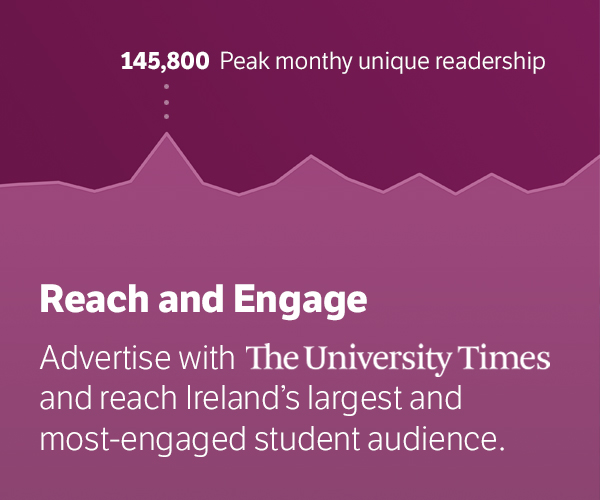 Fourth-year computer engineering student Róisín Power, last year's Deputy Food and Drink Editor, will serve as News Editor this year. Power became heavily involved in news reporting during the coverage of Trinity College Dublin Students' Union (TCDSU) elections, notably breaking the "free cans" story. She will lead a news team that consists of a deputy news editor and three assistant news editors. Speaking about Power's appointment, Baker stated: "Róisín's enthusiasm for and understanding of the purpose of news leaves her in prime position to lead the section at the heart of the paper."
Staff writer and third-year history student Simon Foy will assume the position of Opinion Editor. Commenting on his appointment, Baker said he was "a very talented opinion writer with skill for making nuanced and important points". She went on: "I have no doubt that Simon will excel in leading one of the paper's busiest sections."
Third-year law student Aoife O'Donoghue has been appointed Features Editor. O'Donoghue became a Senior Staff Writer this year and was heavily involved in reporting during the TCDSU elections. Baker commented on O'Donoghue's appointment: "Over the past year Aoife has proven her skill in writing news and engaging with on-the-ground reporting, skills which will only serve to complement her keen ability to write in-depth pieces."
Third-year law and politics student and outgoing Deputy Sports Editor, Dillon Hennessy, will assume the role of Sports Editor. Baker stated that Hennessy "had proven himself a fantastic writer and editor, with a deep understanding of the goals and aims of the Sports Section".
In the second year of the publication, Radius will be edited by final-year English student Gillian Murtagh, who served as Deputy Radius Editor this year.
Third-year law and politics student Christopher McMahon, who was appointed Irish Language Editor in the middle of the academic year, will continue in the role for another year. McMahon also served as Higher Education Editor this year. McMahon will continue to sit on the Editorial Board in his role as Irish Language Editor.
Fourth-year history student Anna Moran, this year's Photo Editor, will continue in the role for another year. She will also take on the role of Special Projects Editor.
Arianna Schardt, an outgoing Assistant Copy Editor and third-year history of art student, will serve as Copy Editor this year in the second year of the role leading a team of four copy editors.
Seasoned columnist at The University Times James Shaw will assume the role of Editor-at-Large. Shaw is the outgoing Deputy Opinion Editor and a fourth-year philosophy and French student.
Thibaut Loiez, an assistant lecturer in the French department, was appointed Illustrations Editor of the newspaper. Loiez contributed heavily to the illustrations of the paper this year, notably the magazine's comic strip.
Aisling Curtis, the outgoing Opinion Editor and 2015 SAAI Journalist of the Year, was appointed Chair of the Editorial Board. She will be charged with directing the production of the two unsigned editorials published by The University Times every week. Also sitting on the board will be the Editor, Deputy Editor, Assistant Editor and Irish Language Editor. Curtis is a neuroscience master's student.
Former College Affairs Editor, final-year PPES student Patrick Lavelle will return to the staff this year as Higher Education Editor in the second year of the role.
The newly created role for Science & Research Correspondent will be filled by final-year Human Health and Disease student Jamie Sugrue, the outgoing deputy Irish Language Editor.
Fourth-year law and business student Aimee Carroll will serve as Social Media Editor for the year.
Darragh Finn, a third-year Management Science and Information Systems Studies (MSISS) student, will serve as Statistics Editor, with primary responsibility for the renowned annual TCDSU election polls.
Second-year year science student Fiona O'Callaghan, who has been active within Q Soc, Trinity's LGBT society as well as TCDSU's LGBT campaigns, will take on the role of LGBT Editor while Brian Donnelly, a final-year European studies student with experience with a multitude of societies including DU Players and French Soc, will serve as Societies Editor.
Outgoing Radius Editor and third-year economics and politics student Carla King-Molina will assume the newly created role of Publicity Co-ordinator for the publication.
In one of the only non-editorial roles of The University Times, fourth-year Business and Economics student Olivia Mastendino will serve as Advertising and Business Director of the publication.
Speaking about the departure of Edmund Heaphy, the Editor of the seventh volume of The University Times, Baker said it was "an absolute honour to work with him over the years": "Without Edmund, we simply would not have The University Times that you see today. He has changed and improved everything from our print edition to our website, massively increasing our staff and our output, and bringing us to a place where we can be nationally competitive." She went on: "Him leaving The University Times will certainly be a loss for us, but the legacy that he has created will continue."
Heaphy joined the staff of The University Times three years ago as Creative Director of the publication during which time he completely redesigned the newspaper, a design which has consistently won international awards. The following year he served as Deputy Editor before being elected Editor of The University Times. Heaphy, despite stepping back from day-to-day involvement, will serve in an advisory capacity as Director for Digital Strategy.
Also leaving The University Times is outgoing Assistant Editor and former Opinion Editor Dan O'Brien. "Dan is far and above one of the best writers and editors that I've ever come across. With a knack for navigating the difficult and for expressing things just right, his insight in tough situations and his ability to move a reader will be sorely missed."
Baker also paid tribute to long-serving staff members who are leaving the paper this year. On Jane Fallon Griffin, the outgoing Editor of The University Times Magazine Baker said: "Throughout her years in the magazine, Jane had a deep understanding of what The University Times Magazine seeks to achieve, and ensured that the magazine stayed true to its roots and unique style. As Magazine Editor, she led the way in keeping content unique and, above all, interesting".
Baker also praised outgoing Sports Editor and seasoned reporter Sarah Ledden: "Sarah has been instrumental in making the Sports section what it always should have been: the place where college and student sport are covered. She has set a lasting legacy for how we cover sport in a way that is important and relevant to our readers."
Former senior staff writer and outgoing Special Projects Editor, Sinéad Loftus, is also leaving the staff. Baker commented on Loftus's year in the newly created role of Special Projects Editor: "As our first-ever Special Projects Editor, Sinéad brought the dedication that made projects, like our coverage of Freshers' Week, the general election and the TCDSU elections, not only possible, but bigger than they had ever been before."
Speaking about outgoing Co-Editor-at-Large Paul Glynn, Baker said: "One of the most reliable and competent writers within The University Times, as Editor-at-Large Paul managed to write faultless pieces that not only summed up a topic, but that a reader would find always engrossing".
Commenting on the departure of Co-Editor-at-Large and former Editor of The University Times supplement, Tom Myatt, from the staff, Baker stated: "As one of The University Times's longest-serving writers, Tom brought an invaluable and unique style to the paper. As Co-Editor-at-Large, he wrote in a way that not only got to the heart of an issue, but would often also make us laugh – a talent that very few have."