Yesterday evening saw Temple Bar Gallery and Studios host Art and Writing I: Imprint, which was organised by journals Paper Visual Art and Gorse. It is the first in a series of three events that will investigate and discuss the convergence of art and writing through a discussion with different artists. Throughout the evening, however, a variety of topics were touched on, including artificial intelligence and the role it plays in art and writing, the emergence of new forms of communication and editing as a form of writing, amongst others.
Attendees gathered in a small studio on the second floor of the gallery's centrally-located building on a cold and rainy evening. They were joined by Christodoulos Makris, Dennis McNulty and Nick Thurston, who all experience an intersection of art and writing in their respective work.
The event opened with McNulty, artist in residence at CONNECT, the Trinity-based Centre for Future Networks and Communications, doing a reading of three texts: a proposal to the arts council, a description of a work on display and an email to someone involved in his show, to a backdrop of various works of art and images. Through his use of visual aids and a reading of pieces of writing involved in the creative process of setting up an exhibition, McNulty was able to bridge art and with writing in his performance, providing an appropropriate introduction to the objective of the evening.
ADVERTISEMENT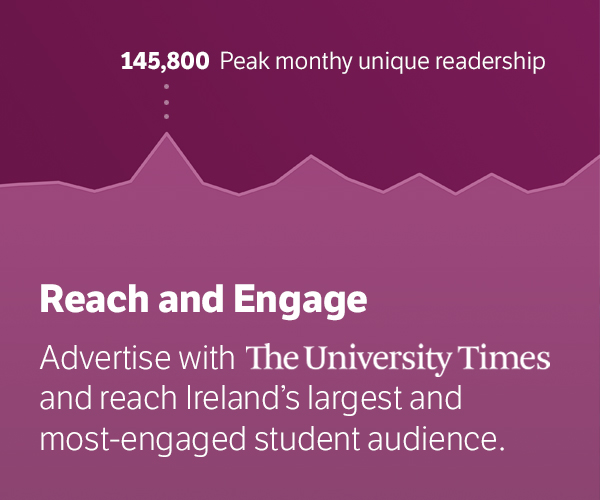 Next, Makris, a Dublin-based and Nicosia-born poet, read a variety of his poetry to the attentive audience. His poetry focused on the media and took an interesting approach. He later explained that he saw "reading as a form of writing" and based much of his poetry on this outlook. In his poetry reading, he tackled issues such as the media, sex, violence and terrorism – all very topical issues. In the Q&A, he explained that Twitter acts as a source of inspiration for his work and that he often writes poetry while looking at his Twitter feed. His last poem in his reading discussed the role of poets in society, closing with the apt line: "I like poets and poetry, but expecting anyone else to care is silly."
Thurston, an academic, poet, nonfiction writer and artist, narrated his way through a variety of different slides and touched on issues such as editorship, the relationship between power and writing and authoriality. He also discussed fanfiction and ghostwriting before delving into artificial intelligence and asking the audience how much language we read is based on software. Like Makris, Thurston mentioned the changing mediascape from writing to reading as the dominant form of creation, highlighting similarities in the work of the two artists.
The individual performances were followed by a Q&A session with Jessica Foley, the host for the evening, giving the artists an opportunity to further explain their work.
The event offered insight into the crossroads of two pertinent tools of expression and left audiences with much to be questioned. The environment was welcoming, with audience members encouraged to ask questions and engage with the artists and hosts. One attendee even entered in a friendly debate with Thurston regarding the direction of language.
The intimate evening was brought to the close after a brief discussion on death and Foley saying: "On the note of death, should we call it a night?", which brought the audience to laughter.
---
The next event will take place on Friday, October 14th, and will host Emma Hall and Joanna Walsh.