With all the pomp of a Presidential Primary, the American Football Showcase has officially arrived in Trinity. As part of the College Football Classic between Georgia Tech and Boston College in the Aviva Stadium on Saturday, six high school teams from Georgia, Florida and New Jersey are here in Dublin to play regular season games on Irish soil. In fact, if were in town today, you could hardly have missed them.
Huge athletes huddle under tiny umbrellas, impossibly perky cheerleaders practice their routines on every available grass verge. It's as if the cast of Friday Night Lights has wandered onto campus and decided to set up shop. Literally, in some cases, as there are concessions selling all manner of Georgia Tech and Boston College memorabilia everywhere you look – including in a variety of new pop-up locations within in Trinity itself. The commercial opportunities presented by an influx of Americans with Irish roots were well and truly seized upon, with Trinity t-shirts and hoodies on sale in the Arts Block that no self-respecting Trinity student would be caught wearing.
Alas, the ones I visited didn't have foam fingers or beer can hats with straws, so one has to wonder how authentic this showcase really is. Minor merchandising shortcomings aside, there's still enough happening to give locals looking to get a bit of study in for supplementals a real case of culture shock. On one occasion, players from Westminster School in Atlanta actually stopped traffic as they disembarked from their bus, decked out in their tracksuits and hulking over the gathered onlookers. Preparation for their arrival has been extensive and the fast food stands, coffee trucks and beer garden set up around Front Square gave off a palpable Trinity Ball vibe. Except that in place of Trinity Orchestra we have the Boston College Brass Band, playing covers of everything from Major Lazer's "Light it Up" to karaoke classic "Sweet Caroline".
ADVERTISEMENT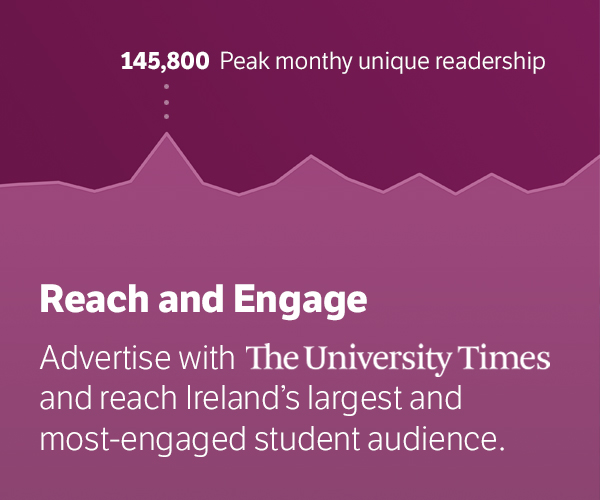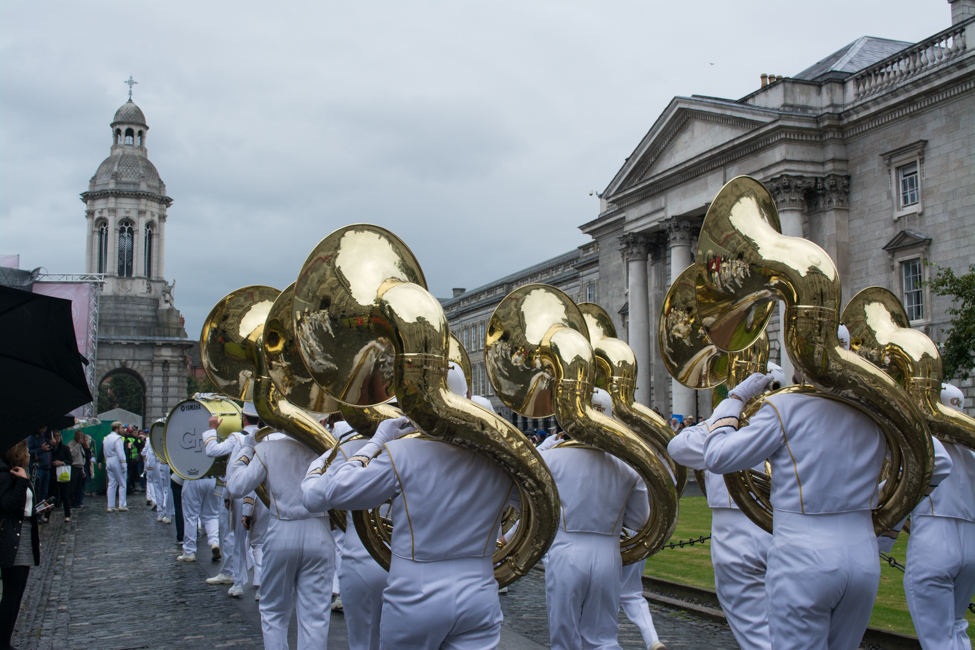 The six high school teams, accompanied by their bands, their cheerleaders and their extensive entourage, paraded down from O'Connell Street into Front Square, where a High School Pep Rally was staged, straight out of every college movie you've ever seen, but on cobblestones. Though I don't have the figures to hand, I can say with some confidence that the extravaganza on display was the first of it's kind for Trinity, and will certainly come as a huge boost to the Trinity's American Football team after their match against an NYPD side.
I spoke on the phone with Patrick Steenberte, President and Founder of Global Football and the man responsible for the high school contingent here in Dublin. He has been providing student athletes with the chance to travel to other countries and experience other cultures since 1996. "What I say, learn in the global classroom and play in the global stadium. Since then I've done 26 games on six continents, and I'm half Irish on my mom's side, so I've done it three times [in Ireland] now." This trip in particular represents the culmination of 18 months of planning and fundraising, and the meticulous level of preparation is evident from the slick transitions from parade to pep rally and the fact that not even the weather can put a dampener on the occasion.
The impression of these American interlopers as extra-terrestrial was furthered when I spoke to some Westminster players sheltering from the drizzle above the Arts Block ramp. After failing to explain to them the concept of a soft day, I asked how they've found Ireland so far. Green and hilly, was the general consensus, with one player remarking how many open fields we have and how different it is to Atlanta, with genuine amazement. I got the feeling he may well collapse if he ever heads down the midlands. They all seemed incredibly cheerful, if a bit cold, and were looking forward to their match in Donnybrook Stadium tomorrow against Community School Naples, Florida. "I'm really looking forward to the parade and seeing all the tourist attractions and having fun here with my teammates," said St Peter's Prep Running Back Adonis McGee, speaking to media representatives for the showcase. "We all got some sleep and it was a smooth flight. We're excited and this is a great opportunity to be out the country and playing football. We have to combine two things, focusing on what we have to do for the game and have fun being in a different country at the same time."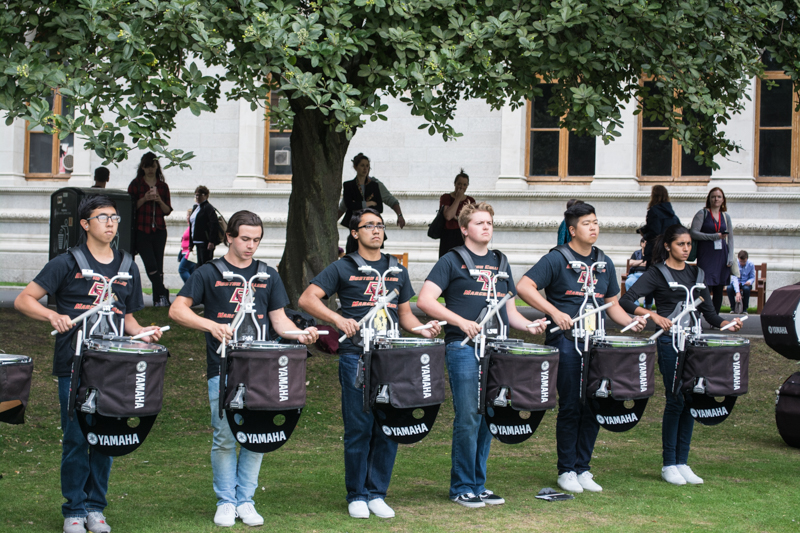 With cheerleaders dancing in the rain in front of the Lecky, and practicing somersaults just inside Front Gate, it's easy to forget that there's American Football to be played. The pageantry, the razzmatazz and the undeniable excitement the showcase has generated are certainly from another world, but spare a thought for the Italian tourist who asked a Boston College Cheerleader for directions to the Book of Kells – and for anyone trying to study in the library.