The College Historical Society (the Hist) and Trinity Vincent de Paul (VDP) teamed up today to pit some of your favourite campus personalities against each other. The event aimed to be an ultimate showdown that would settle some of the most infamous campus rivalries. However, as is the nature of Freshers' Week, things did not go exactly to plan. It changed quickly into a gleeful afternoon of dunking some of the big names on campus into the icy and murky depths of the newly installed tank on Front Square. It cost €2 for three throws, with all the proceeds going to VDP.
The event got off to a slightly slow start. Niamh Carruthers, the Vice-President of Fundraising for the VDP, speaking to The University Times, attributed this to people "crawling out of their beds" after last night's event "Coisir" last night in District 8. However, things began to hot up and crowds soon gathered after people refueled with some crepes and pizza.
First, we saw former Trinity College Dublin Students' Union (TCDSU) President Lynn Ruane battle former Ents Officer Katie Cogan in the gladiator arena in the Graduate Memorial Building (GMB). Ruane defeated Cogan in the gladiator round, which led to Cogan having to face the wrath of the public in the dunking chair. After numerous attempts, Cogan was taken down by a member of library security.
Following this, a clash between Trinity's various political parties took place. First up, a member of Young Fine Gael took to the dunking chair. The Young Fine Gael representative was submerged by a participant in a Social Democrats t-shirt, who walked away looking particularly smug. Up next, Young Fianna Fáil took their chances on the chair. Unsurprisingly, the first person trying to dunk them was a member of their longtime rivals, Young Fine Gael, who was initially unsuccessful. After many attempts however, Young Fine Gael managed to plunge Young Fianna Fáil into the tank of murky doom.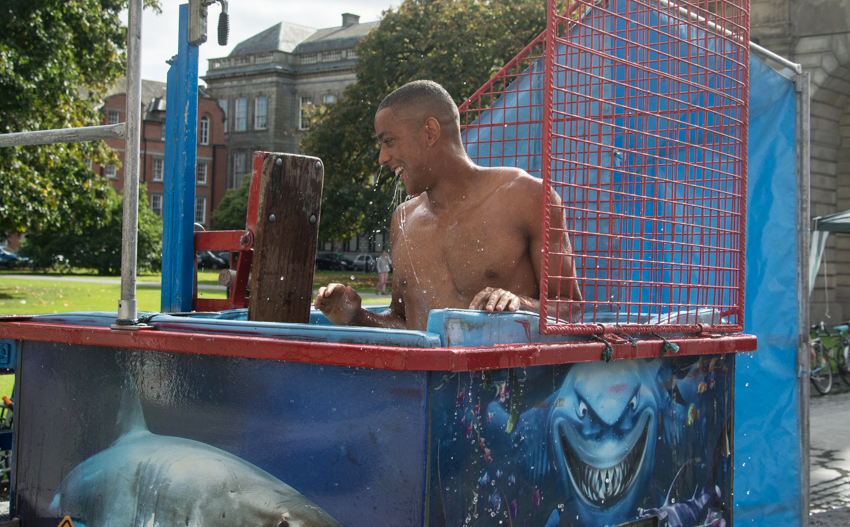 Other notable participants who faced a soggy ending was the former chair of VDP Martha Shackleton, former auditor of the Hist Julia McCarthy, as well as the current auditor, Ronan Mac Giolla Rua.
Next up, TCDSU Ents Officer, Padraic Rowley took on TCDSU Welfare Officer, Aoibhinn Loughlin. Rowley said that he was using the charity event as a way of sorting out "a lot of pent up in-house issues". Loughlin seemed confident, and said that she was doing it for "feminism". While Loughlin may have won the gladiator round, both were dunked by gleeful observers, with Rowley in fencing kit and Loughlin in full medical scrubs.
Later, Editor of The University Times, Sinéad Baker, reluctantly took to the podium. Baker had naively been taking photos at the event, but was instantly coerced to the stand when noticed in the crowd. Unseated by one of her own, Simon Foy, Opinion Editor of The University Times, successfully dunked Baker into the murky water with his third throw.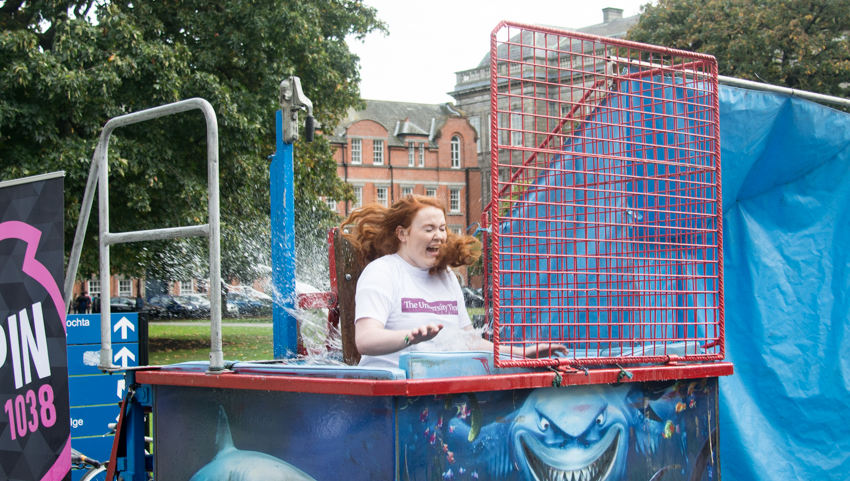 Other participants in the event included Conor Bannon of Trinity GAA and Josh Norton of Trinity Rowing, who brought with them a number of teammates who actively engaged throughout the day.
Raising over €250 for VDP, Niamh Carruthers was delighted with the success of the day. Carruthers highlighted her delight that so many different clubs, societies and sabbatical officers were taking part and supporting the VDP. She emphasised that they are "trying new things, new events or events that haven't been done in a long time".