You might be forgiven in some circles for thinking a band of Booka Brass Band's stature would be one with quite an extensive back catalogue, yet the acclaimed six piece have only just released their first full-length LP. If you have ever set foot in a muddy field in any summer over the past three years, you would be considered wildly ignorant not to have stumbled across Booka Brass Band in some shape or form. Creeping its way up festival line-ups and schedules since early 2013, the band is currently putting the finishing touches on preparation for the live debut of their first effort in slew of gigs across the country this October. The band is comprised of a group of former students, including David Conway, James Doherty, Paul Kiernan, Frailan Moran-Mendes, Jack Marks and Rónán Scarlett. Speaking with The University Times ahead of the tour, Marks, former Trinity law and politics student and current sousaphonist of Booka Brass Band, discusses the release of their new album and progress as a band over the last three years.
Upon clarification, the odd title of the LP, Chilled Milk, makes perfect sense: "We've always been pretty weak about naming songs. It's pretty hard because we don't have lyrics or anything. When we wrote the title track of the album it just had such a strong groove that Rónán [Scarlett, drummer] put down that someone jokingly said it went down smoother than chilled milk. That's where the song title came from, but when we were deciding what track to name the album after Paul [Kiernan, trumpeter] was back at home and found an image that we ended up using for the cover. Basically it's his granddad when he was in the army, cracking jokes with the porters and sitting next to his rifle on a hill with a pint of milk in his hand. That kind of made up our mind on what to call it", Marks recalls in detail.
The EP, that was good, and we're happy with what it was, but the album we think is a real cut above

ADVERTISEMENT
The motive behind waiting to record and produce an album of work was simple: the band wanted to do it right. In a mature response, Marks admits the band may not have been ready for it in their more formative years: "I really feel we are a much stronger band now than when we did the EP and that really shows in the album. The EP, that was good, and we're happy with what it was, but the album we think is a real cut above." However, the band came to a juncture shortly after, where they were afforded both the time and space to embellish their sound beyond satisficing expectations. "We needed the right setting to record", Marks affirms, "when we were recording the EP, we had a three or four-day turnover in the studio to record everything we needed. Yeah, we could edit afterwards, but that was it once we recorded what we did it was done. With the album we worked with a very good producer in Rathmines called Ben Rawlins who has his own studio. We could go in and out day after day. In total we recorded the album over five or six months. It made such a difference in terms of getting what sound you want."
There's so much energy in a live performance, but on the record, we were trying to make it more about the groove, make it sit a lot better
Despite creating the right context to record in terms of maturity and environment, the process itself was never going to be straightforward. Booka Brass Band has been admired for its prowess as a live act but being able to capture the energy and swagger the band plays with onto a physical recording can be a problematic affair. "There's so much energy in a live performance, but on the record, we were trying to make it more about the groove, make it sit a lot better. There's a lot of stuff that we have that if you played it on the record the way you play it live it might sound a bit too brash and overblown." At heart they are much the same songs, just fine tuned and more purposeful. Marks adds: "One of the big challenges in terms of trying to commit the band to a record is that what might work live might not necessarily work on the record. Some grooves and tempos might need to be changed around, and there were different lines that came out on the record because they would suit an album better than would when performed live."
Clearly influenced by the likes of Fela Kuti, Hypnotic Brass Ensemble and The Roots, the result is equal parts afrobeat, hip hop, contemporary listening, blues and jazz wrapped up in pop. It's distinctly unique and yet quite conversely has a lingering universality to it. Chilled Milk could have been produced by anything from an French jazz group to a funk-soul troupe. Marks nods in agreement: "I wouldn't be sorry if that's coming from Frailan, our percussionist, who plays congas and bongos on the record."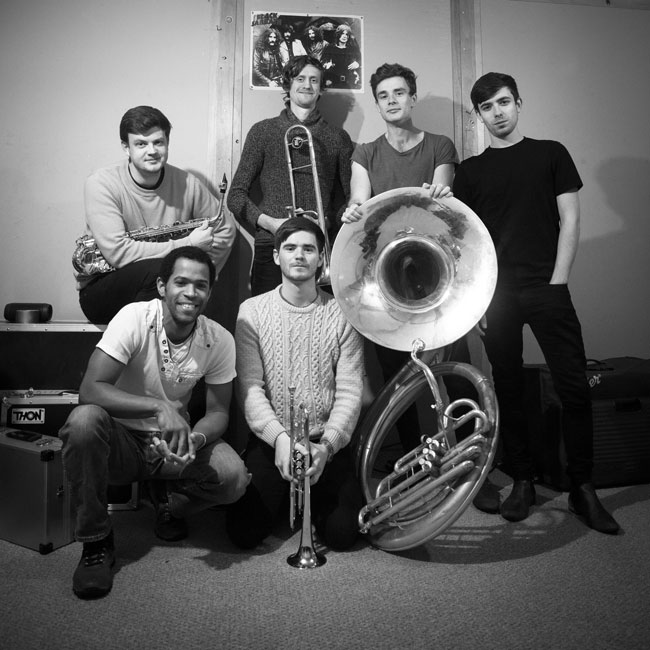 Despite this, he feels that the blend that they've created has exuded through as a combined phenomenon: "There's a lot of different inspirations because there are six of us writing the material, so we all come from different backgrounds. A lot of bass lines that I would be writing would be inspired by stuff Flea would come up with. Rónán, on the other hand, is obsessed by the Police and, in particular, Stewart Copeland."
The band has an ambivalent attitude towards deviating from this sound in future recordings or live performances, according to Marks. The niche it has created for itself comes with both opportunities and limitations, but that's just an inevitability of being in a band, he concedes: "We definitely wouldn't write off including using any instrument on a album or live for that matter. Ultimately, though, it is in the name, and it is what we play. It will always be brass that will feature most prominently on the songs. Yeah, it comes with a degree of limitation, but every band's make up provides it with opportunities and limitations and that goes for people who are in brass bands and people who are in three-piece guitar bass and drum bands. There are some things you can do and some you won't, but you'll at least hope that what makes you, you, makes you do stuff that no one else can do."
It will always be brass that will feature most prominently on the songs. Yeah, it comes with a degree of limitation, but every band's make up provides it with opportunities and limitations
The same applies for the introduction of a vocal accompaniment to their unmistakeable sound. Yes, it would give their sound something to say, but it is definitely "a tricky one" that Marks ponders. On the back of the album release, it seems as if the group feels it wouldn't add much, for now at least: "We're so happy with what our sound is now and really for all the songs we've written so far, it would feel very hamfisted to try include a vocal line over any of the songs that are on the album. Often in live shows we might have a guest vocalist that might come on for one or two songs, and that's good to give the audience something to latch on to in terms of vocals. It's not something we'd consider at the moment, but we don't know down the line if we might consider having either a singer or a rapper." That said, the band is willing to explore other avenues in terms of growing their sound: "Sampling is an interesting one, and we've thought of using electronic drums before, and some of us are beginning to learn to play around with effects on our instruments. This album was a bit dry except for a bit of reverb. Some of us are using octave pedals, chorus pedals, loop pedals, filters and different things to play with the sound. That's definitely somewhere I can see us going over the next year and on any new material we might write."
While Booka Brass Band and its sound has been almost ubiquitous on the Irish music scene these past three years, that may not be the case for much longer. Marks sees the Irish music scene as insular in some ways, despite everything it has given the band thus far. The band's ambition is to move closer to the continent, having wrapped up their studies in Trinity and elsewhere. Citing practicality, the band is still mulling over a potential move to either London or Amsterdam: "If we're based in Europe it would be just so much easier to grind out a fan base." Even though this move won't spell the end of Booka Brass Band, it certainly acts as an incentive to see them before they depart. The band is set to play the Roisin Dubh and Cork Jazz Festival this month, either side of a Vicar Street show on October 14th where they will be joined by Planet Parade. As their sound continues to grow and evolve, the gigs that Booka Brass Band play reflect that. However, at the heart of this development, their love and dedication to their original sound remains, and it is evident that this devotion will form the basis of their work for many more years to come.