At the second husting of this year's Trinity College Dublin Students' Union (TCDSU) elections, hosted by The University Times and Trinity News, candidates were forced to delve further into their policies, and in the case of the contested races, stand out as unique from their opponents, using it as an opportunity to affirm their stance on local and national issues.
The group Students Against Fees asked the candidates, for a second year in a row, to sign a pledge after the hustings, to oppose student fees should they be elected.
The issue of being part of an uncontested race was a common one, with candidates in these races vowing to improve on this next year if they are elected.
ADVERTISEMENT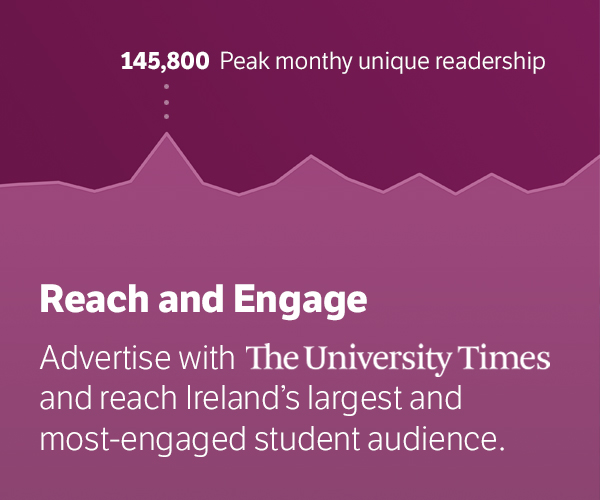 Hosting the event, and putting questions to the candidates were Editor of The University Times, Sinéad Baker, and Editor of Trinity News, Oisín Vince Coulter.
President
The session with the three candidates for the position of TCDSU president proved to be the most heated off the evening's hustings. While proceedings got off to a somewhat laboured start as candidates struggled to adapt their answers to fit within the short time-constraints imposed by Coulter and Baker, candidates emphasised their key campaign themes in answers to questions involving changing one thing about the union and what the union does best, the media hustings took a decidedly more animated turn as candidates began fielding broader questions, often directed at individual candidates.
Baker asked the candidates how they would individually make a difference when addressing the perennial issues of accessibility and involvement with the issues, with Thomas Emmet reverting to one of his key campaign promises of initiating series of town hall meetings to take the "ideas outside of council".
Bryan Mallon, however, criticised the recent "negative decision" to discontinue the hustings held on the steps of the Dining Hall, traditionally the first hustings held in each TCDSU sabbatical officer election. He maintained that the step of taking this hustings into TCDSU's council "closed off" the hustings to students who otherwise would have noticed the Dining Hall hustings and that the new setup resulted in the union "hitting the people who care already".
Kevin Keane addressed the question by saying that the union needs to act as a "facilitator" and move away from a perceived attitude of "transcendence". Keane also touched upon his campaign promises in his response, mentioning his proposed reforms to the union's part-time officers' duties and building movements, before going on to say that the job needs to be more than "making the SU great again".
When asked on a possible lack of specifics in his manifesto, Mallon initially conceded that due to space constraints, certain details had to be dropped. However, he then proceeded to engage with the crowd, asking who had given much thought to cuts to higher grants ahead of wider higher education funding. Turning to his key theme of accessibility, Mallon continue to poll the audience regarding perceptions of Trinity held in certain "country" communities and a perceived fear of attending Trinity among groups. A small group of those in attendance held their hands aloft, which was greeted with a dubious reception by a certain cohort of those in attendance, despite Keane agreeing with his opponent throughout.
Mallon throughout the evening faced questions regarding his membership of Ógra Fianna Fáil. Baker asked him how membership of the political party would affect his presidency, with Mallon offering a passionate assurance to those in attendance that he is not running as Fianna Fáil candidate, but running "as a Bryan Mallon candidate". Later in the evening, Mallon was asked about his membership of a party the speaker characterised as "racist", "anti-traveller" and "anti-asylum", a comment met with an incredulous reaction from the crowd. Mallon reiterated his point that he is not a Fianna Fáil candidate as well as condemning the content of the question as an incredibly "wide-sweeping" characterisation.
With the union mandated to hold a preferendum on Irish reunification after a vote at the most recent meeting of TCDSU's council, the candidates were asked how they stood on the matter and whether it should be put to the student body at all. Emmet cut the tension in the room by admitting that he would not have foreseen himself speaking on such a topic at hustings two days ago. Each candidate then proceeded to agree with each other, stating that while each personally believes in a united Ireland, they would have preferred more time for students to debate and discuss the topic before it being put to a vote.
Again, the candidates appeared to be eager to agree with one another when current TCDSU President Kieran McNulty asked the candidates how they would continue the work being done by the current sabbatical team, with each potential president stating that while good work is being done, there is still more to do, with Keane drawing attention to the influence of the next four-year strategic plan for the union that the next president will have to create.
The candidates were also asked questions on local, national and international affairs, predominantly returning to their manifesto points where possible, specifically on the union involvement, the repeal the eighth movement and the academic boycott of Israel, which all claimed they would support.
Overall, the media hustings marked a sharp turn away from the more polished and prepared speeches given at TCDSU council hustings.
Education
Responding to an audience question about her expression of support for student loans at a meeting of TCDSU's council a number of months ago, the sole candidate for education officer, Alice MacPherson, stated clearly at hustings tonight that she "was wrong" and pledged to "fight" for free, exchequer-funded third level education if elected. Asked about her comments in the context of growing commercialisation of the university sector at present, MacPherson explained that her previous view "came from a place of ignorance" and that she had since "been convinced that I was wrong by prominent roles in finance and government", promising "I stand by the union's new harder stance on [higher education funding]". MacPherson pointed out that, if elected education officer, she would likely deal with case work in the role relating to issues students face with the SUSI grant system, promising to "bring knowledge of the main issues" that arise in case work to the union's campaign on higher education funding.
MacPherson spoke on the importance of improving student understanding and engagement with the union and its structures. She spoke specifically on reforms to the union's council meetings, stating that "we shouldn't be shutting down debate, we should be improving it", with one noteworthy proposal mentioned by MacPherson being to "impose a time limit on officer reports" at council. Asked about whether the proposal for an "academic senate" passed at council last night further complicated the structures of the union, structures that students are largely unaware of already, MacPherson disagreed stating: "Removing academic issues from council is going to promote debate and really allow us tackle issues people care about union doing".
Asked whether there was a perception that only those with experience within the union could run for education officer, MacPherson admitted there was, stating "that perception is something we need to defeat". On the issue of the Trinity Education Project, MacPherson pointed out that student engagement with the project would likely increase next year due to the fact 2017/18 would be the first implementation year and consequently reforms under the programme would "start affecting more people". She spoke of the importance of making sure "any recurring issues" that arise regarding the project are voiced to College. When asked why students should vote for her instead of voting to reopen nominations (RON), in arguably the most light-hearted moment of the night, MacPherson joked that: "RON hasn't put out a very good manifesto." She added on a more serious note that, having an uncontested race is an issue as "we should have the candidates with the best idea", concluding: "I think I am that candidate regardless of who I am or am not against."
Welfare
This year's welfare candidates have left themselves open to accusations of homogeneity, with little appearing to distinguish one campaign from another. This similarity was a key feature of tonight's hustings, with candidates emphasisising their strengths in an attempt to elevate themselves above their competitors.
Coulter began by asking all of the candidates a general question. He asked why the candidates thought that the student body should trust unqualified students, instead of professionals, with their problems. The candidates, gathered nervously on the stage and appeared reluctant to leap in and answer. Their answers revolved largely around the idea that a peer is sometimes easier to talk to than a professional counsellor or therapist, affirming at the same time that a welfare officer has training beyond the level of most students. Laura Grady and Rachel Skelly also pointed out that, even in situations beyond the realms of their expertise, the welfare officer will know where to send students for the help they need.
Individual questions followed, where Coulter cited a number of students who claimed, to Trinity News,that Emma Purser had not attended many peer supporter meetings. Purser launched a stirring defence of her involvement in the service, stressing that, as a final-year student with an involvement in Q-Soc and other societies, she can only do so much. "I go to everything I can", she contended.
Damien McClean was pressed by Baker on the feasibility of his ideas on accommodation. He acknowledged the difficulty of the issue, but underlined the fact that the changes he seeks to make are "not about tearing down kitchens, but small changes". He vowed to "fight" with college maintenance to ensure the changes he seeks to make actually happen.
Skelly fielded questions from Coulter about the priority she places on sex positivity, and whether this could potentially be alienating to certain students who might not fit into her "sex-positive" position. Skelly was at pains to make clear that "I am a very open-minded person". She aims to reach out to all students, coining a "welfare for all" mantra which she hopes will allow all students to "explore your sexuality".
Meabh Cullen's manifesto was examined for a dearth of information on LGBT issues and accommodation. She disputed this, pointing to her stance on accommodation for students registered with the disability service. Cullen then quickly moved on to her ideas for mental health. She discussed in detail her mental health Mondays, a "campus-wide" project to raise awareness of the importance of mental health.
In a similar vein, Grady's lack of mention of other college services was questioned by Baker. Grady argued that "just because they're not on my manifesto doesn't mean they're not important". She reiterated her belief in the importance of counselling in college, claiming that "if someone needs help they shouldn't have to go outside Trinity to get it".
All candidates had now been put under the microscope. They would have been relieved to face a comparatively simple question on how they plan to interact with external services such as Niteline. All candidates were full of praise for Niteline, while making sure to go over their intention to open further the channels of communication between external organisations like Niteline and the union.
The elephant in the room now was the uniformity of the candidates' answers to the majority of the questions. Coulter spoke for many neutrals in the room when he asked the candidates to give the voters a unique reason to vote for them. Cullen identified as an individual attribute her experience with welfare services in college. McClean's argument was simply that "I will do my best with absolutely everything". Grady appeared to undermine Cullen's claim that her experience was a separating factor by jokingly suggesting that "the answer I always give is that I have experience". She tried to convince the audience by insisting that she is extremely approachable. The lack of difference between the candidates was becoming increasingly apparent now as Purser also discussed her experience, combining it with a discussion of the "emotion" she would bring to the role. Rachel Skelly's assertion that "I can get things done" was a detachment from the answers of the other candidates.
A question from the audience on drug policy was the last of the welfare hustings. Purser mentioned her idea on drug testing kits at Trinity Ball, while Cullen's proposed online forum on safe drugs made up the essence of her answer. Grady made the previously unmade point that usage of drugs such as ritalin increases hugely around exam time. It was important, she claimed, to educate students in better coping mechanisms around times of stress. McClean pleaded that it is important to trust students, while also agreeing with Purser's point on the importance of safe drugs. Skelly was last to answer, claiming that drug taking is "a part of our culture". Her priority, she said, would be to make students feel like they could come and talk to the Welfare Team about their drug-taking.
Communications & Marketing
Baker opened questions for the sole communications & marketing officer candidate, Úna Harty, with a question on her manifesto and the apparent lack of focus on the issues of transparency and accountability. Harty outlined a number of features of her manifesto which she stated indirectly show her feelings and plans towards transparency, pointing at the planned class rep polling system and her proposed work with college services to use digital screens with infographics showing clearly where student's money is being spent.
Coulter followed with a question on sponsorship and "cosying up to large corporations", to which Harty pointed to her policy on securing ethical sponsorship for the union. She acknowledged that ethics can often be a "grey area" and "subjective", but also that the union does need the financial support and is therefore not opposed in principle to working with big commercial bodies. Pushing for clarity on ethics, Coulter asked where is the line lies, given that many companies which do support the TCDSU, such as KPMG, deal with clients with investments in fossil fuels or arms, for example. Harty says that it would depend on the union's stance on those issues. An audience member pointed out, however, that many companies that support the union and that many potential sponsors are involved someway with fossil fuels. Harty said she would like to shift focus from those companies towards those will want to attract students to their brand now in the hope that students will maintain use of those brands upon leaving university, specifically she mentions more lifestyle orientated companies such as the Irish Times, Tesco and Supervalu.
Sponsorship is important for the union, especially given that the union ran a deficit last year, despite the fact that there was, for the first time, a dedicated Communications & Marketing Officer. Harty proposes the implementation of a three-tier sponsorship template, aimed at large, medium and small companies, which would be available to companies interested in sponsoring the union.
A big focus of Harty's manifesto is on modernisation. Coulter pointed out that the union does already use many of these modern platforms and that students still do not engage fully with them. Harty said that clarity will be an important feature of her communications work, that her screens and emails will be primarily graphic based, and that the use of short text based video content with the union branding will be key in fostering more engaged students.
Harty pointed out that Instagram, as it stands, is primarily used to run competitions and that Snapchat is used mostly by Trinity Ents. She envisages a more frequent and personable use of these media to give students an insight into what sabbatical officers actually do, all the while making them more approachable.
The final audience question was on whether or not Harty would support the increasingly popular student movement for justice in Palestine. Without any frills, Harty replied with a simple "yes".
Entertainments
Sole candidate for the position of Entertainments Officer, Jonah Craig, took to the front of the lecture hall and looked comfortable as he answered questions on thinking outside the box, non-alcoholic events and spoke about the importance of planning to the entertainments officer.
Baker asked the first question, stating that "outside of the box thinking" was indeed key to the role of an Entertainments Officer but asked Craig to specify just what ideas he has. In response, Craig detailed his previous experience in Trinity Ents and how that can work to his benefit: "I have seen the work of three different ents officers and can pull ideas from all these figures."
Craig also explained that his manifesto idea of running Trinity Ents workshops was a great way to think outside the box and breakdown the barriers of entertainments, addressing the accessibility of Trinity Ents, saying: "It's a great way to put people in touch with Trinity Ents and makes us much more approachable. Especially pushing towards first years because I think they are some of the people on campus with the most creative and innovative ideas."
When asked by Coulter how he could change the culture of Trinity Ents and create regular and successful non-alcoholic events, Craig responded with the idea of dancing, DJing and other monthly introductory workshops as feasible non-alcoholic events. Craig also listed the battle-of-the-bands style comedy festival, mentioned in his manifesto, as an alternative to the typical club nights. When further pressed by Coulter to name one 100 per cent alcohol free event, Craig did not name any other events besides his proposed workshops.
In response to questions on MCD's summer concert series to be held on Trinity's campus, Craig stated his belief that "we should be focusing on getting students perhaps discounts", as "they are using our campus and it's definitely open to negotiation with them".
Following a question on the feasibility of a planned event for over 1,700 students in Fitzwilliam Square, Craig stated that "planning is key" when deciding whether such large and potentially risky events should go ahead. Craig further emphasised the importance of planning before he finished, explaining that he believed the whole year of events from Freshers' week to Rag week should be planned in advance "especially over summer as you are essentially being paid to plan."
Editor of The University Times
Opening the evening, Dominic McGrath, sole candidate for the Editor of The University Times race, was asked to address the perceived "internal process" for selection of editor of The University Times, a role which has now been uncontested for three years. McGrath said this is an "unfair perception", noting that the role of The University Times editor has only been an independent position for the past three years that and the role of education officer is traditionally uncontested as well.
McGrath went on to say that the editor being uncontested was problematic – an issue also raised by MacPhearson – but that "we made efforts to encourage people to run". He went on to say he would like to see races contested in the future so to "display the talent we have".
McGrath highlighted the power which being an elected representative gives to the role. He said "the fact that you can turn to the Provost and say '1000's elected me to do this job' is such a great thing".
Baker, current editor of The University Times, then raised the issue of finances, highlighting the union's current financial position. Baker noted that the one presidential candidate has suggested reducing the papers print budget and the editor's summer accommodation has already been cut. Responding, Mcgrath said: "Nobody setup The University Times to make a profit, very few newspapers do" but he argued that The University Times has been making efforts to make money, saying this year's advertising target was €20,000 and that hopefully this would be increased next year.
In addressing funding and budgetary queries McGrath summed up his answer to this question saying "The University Times is great value for money, over a million people read us last month. It's a shame if we're cut further, we do great work and we've borne the brunt."
McGrath's didn't escape a question on his manifesto, with his promise to include podcasts and video content next year being addressed. This has been promised both by previous editor candidates and communications & marketing candidates. McGrath said that while "it hasn't been successful in the past, the time has come that people see it as an important part of journalism".
When questions were opened to the audience an attendee questioned McGrath claiming "sexist" and "misogynistic" articles had been published by the The University Times. McGrath said that there is a fine line but that he thinks The University Times has gotten the balance right. McGrath finished: "I think if something is well written, and considered and supported by fact, it should be printed."
---
Ciarán Molloy, Patrick Lavelle, Jamie Sugrue, Jake O'Donnell, Morgan Clarke and Brónagh Kennedy contributed reporting to this piece.