Last night, the cavern space of Filmbase in Temple Bar was illuminated by a skillfully selected lineup of Dublin's young talent. The first event of Litfest – a celebration of all things literary – organised by Trinity Literary Society (Lit Soc) was aptly named "The Author's Tale", and acted as a prelude for the week's upcoming events. Trinity poet Chris Joyce took to the spotlight – or rather, the dimmed for the sake of ambiance light – and welcomed everyone with his dry, crowd-pleasing humour. He promised that the night would showcase "incredible acts – myself included". He also gave credit to the poetry zine created by Saul Delmore Philbin Bowman, which received further publicity from the speakers throughout the night.
To ease the speakers in, Joyce read one of his own poems, "Hazy" and then introduced the first performer, Amyrose Forder. Armed with a dainty embroidered notebook, she read a number of poems which focused on teenage relationships. In a touching poem dedicated to her best friend, she reads: "Go forth and conquer, you are ready for this battle".
The next speaker was poet extraordinaire, Caoimhe Donnelly, whose stage presence echoed throughout the room. Her first poem questioned gender tropes, "Who decided that oceans were feminine?", one of her responses is "The sea is an entity beyond the control of men". In a similarly charged poem, "Winter Wear", she energetically reclaims autonomy over her body and identity by rejecting concealment through suffocating imagery of clothes. Ciara O'Siorain provides a gentle interlude between the poets, as she takes to the stage to perform two of her original songs, "Bad Doctor" and "Dangerous World". She has a sweet and modest presence, as she jokes about using her unsold albums from years ago as coasters at home. Her warm, soulful voice fills and reverberates the room.
ADVERTISEMENT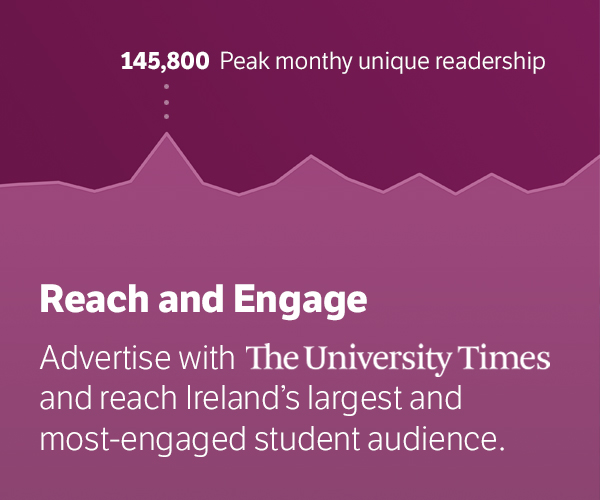 Following a short break, Joyce recites his poem, "I am a perfect slam poet", taking a jab at the pretentiousness of such events and reducing the audience to giggles with lines such as "offering an alternative to an alternative" and "make a spectacle of the mundane". Following this, he introduces local idolised poet, Niall Donnelly. The relatively tranquil tone of the night so far changes once Donnelly comes on stage: he howls his poems out while stamping his feet as if emulating a keyboard warrior who only communicates in capital locks. Highlights include a kazoo poem about geckos, in which Donnelly toots the kazoo in between bold artistic statements and "Pretentious Cunt" in which he savagely satirizes those whose morals are determined by social media presence and reception rather than genuine principles. What's better than fighting social injustices? People seeing that you are fighting social injustices. Biting lines include "Did I mention that I am better than you?" and the chanting of "Make my presence known." Donnelly's high powered performance is awe-inspiring, and raises the bar for the rest of the evening.
Alicia Byrne Keane follows, an intensely talented poet who will be hosting a poetry workshop later on in the week for Litfest. She opens with poetry dealing with the theme of adolescence which speaks to those who don't quite fit in. A theme which is explored further in the brutal recollection of her experience of studying for a Masters in England, where "geographically and emotionally I wasn't in a nice space". This poem explores the separation and desolation that arises from cultural differences: "Why is everyone named Tilly or Germaine?" "Everyone around me seems to have totally found themselves", concluding that she is "so done with one-man-up-ship games." She finishes with a pitifully hilarious poem about a recent date which involved taxidermy. This lightens the mood, and demonstrates how varied Byrne Keane's poetic range is.
To continue with the balance between poetry and other art forms, prose artist, Fergus Tremar Menendez, follows and reads a number of short story extracts. In the delightfully subversive "Grim", Tremar Menendez provides a different spin on the typical student accommodation conundrum and Jenny's student nightmare is in the form of The Grim Reaper, her new roommate. The radical quality to the story plays out nicely and ends with the pair reconciled and drinking beer together on a Dublin rooftop at sunset. His next story "Renoir's Dream" has much more depth, and was written in a whole day as a type of automatic writing exercise. In this story, the painter exerts himself to find the new colour of life, that would "completely change the perception of the world", and yearns to express this until his death bed when he is trying to paint frantically in the hospital: "The secret of the colour of life died with him that day."
Following this, Joyce opened the stage to audience members. A number of poets took to the stage and their recitals confirmed that the talent in the room was not simply limited to the scheduled performers, and that thanks to the inclusive platform of Trinity Literary Society, there is always room for new, up-and-coming flair.
To bring the night to a close, Chris read more of his own poems, including the forceful "I Speak of Women", dedicated to the thousands of women repressed in Ireland because of the 8th amendment. Harrowing lines include "nails of judgement driven into their wounds", "stitched with a shame that should not be theirs", and "dissected in dusty discussions." The recital of this particular poem was in anticipation of the event, "The Noise Upstairs", a night dedicated to Trinity Strike for Repeal, which will be taking place on February 28th in Chaplin's Bar, Lit Soc's usual haunt. This, along with the array of events organised for Litfest, cement Trinity Literary Society's place as one of Trinity's most radical and welcoming student societies.