As we enter the beginning of the Trinity College Dublin Students' Union (TCDSU) elections, societies around campus have a selection of events happening to distract you from the overwhelming politics that will hijack Trinity.
The week begins with the Society for International Affairs (SOFIA) welcoming the Turkish Ambassador, Levent Murat Burhan. He will be discussing Turkey's role in international affairs, focusing on last year's coup and their continued requests to join the EU, as well as their involvement in the Syrian conflict and ongoing refugee crisis, making for an informative evening. This evening will also see DU Classical Society and DU Archaeological Society presenting performances of Aristophanes' Frogs, the story of Dionysus, the god of wine and drama, who travels to the underworld with his slave Xanthia to resurrect Euripides. Performances will be held this evening and tomorrow evening, with free entry and doors closing at 7pm.
Tuesday will see many societies either embrace or shun the romantic atmosphere of Valentine's Day. DU Alternative Music Society (DUAMS) will be screening Nick and Norah's Infinite Playlist in the Global Room at 7pm. QSoc and Metaphysical Society (Metafizz) will host a debate, "This House would End Gender", in the Joly Theatre at 7.30pm. The Dublin University Philosophical Society (the Phil) will host their Valentine's Ball, calling for creative black tie and promising an evening of love and lust. Trinity Ents will collaborate with The Piranha in the Button Factory for their Election Special. As according to the Piranha, this this race doesn't seem to have enough scandal, the evening will provide you with an outlet to exercise your political mind.
ADVERTISEMENT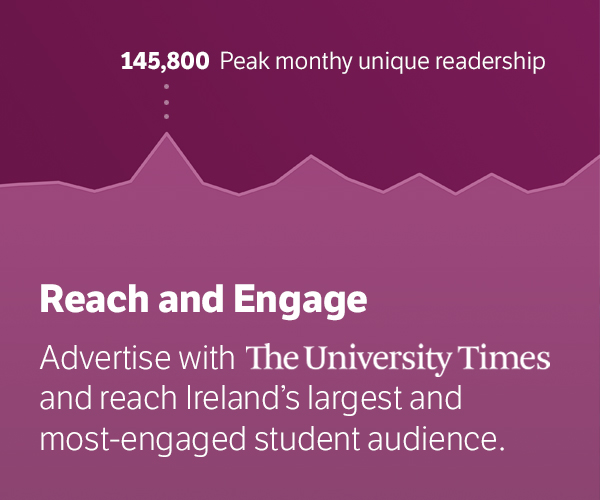 DU Gender Equality (DUGES) will host a panel discussing sexism in politics on Wednesday at 7pm, with Annie Hoey, Alex White and Lisa Keenan speaking at the event. This panel is being held in the light of an undoubtedly harrowing time for women in politics and will discuss how imperative it is to highlight underrepresentation in our parliament. The College Historical Society (the Hist) will also host their annual R&L Debate, a debate run entirely by freshers. The motion being put to the floor is "This House Would Ban Memes", an essential issue to be discussed.
Thursday will see Dublin University Physics Society (PhySoc) welcome Prof Emeritus Michael Fry from Trinity's School of Maths to discuss the quantum vacuum. The talk will touch on the origin of mass, cause of spontaneous decay of atomic and nuclear states and the expansion of the universe. Thursday will also see a more astute argument being heard, as the Phil will host the Trinity vs Yale Students' Economic Review (SER) debate, "This House believe that Globalisation is Doomed to Fail".
The annual Engineering Ball will be held on Friday with a carnival theme and will see the Ballsbridge Hotel transformed into a tent with performers, live jazz and photobooths. Also on Friday is the extended deadline for Dublin University Photography Association's (DUPA) showcase, so whether you're a photographer or not, everyone is encouraged to apply.