DU Film Society is currently hosting its inaugural film festival this week, the DU Film Festival (DUFF). With speakers, screenings and showings ranging from every genre, this week hopes to encourage and engage student filmmakers from around the country. Aside from this pioneering festival, DU Film are constantly active on campus and provide a sanctuary for students of film. In keeping with this, the festival is overwhelmingly student-based, their tagline being "by students, for students".
The aim of the week, outlined by festival organiser, Susannah Hunt, is to "foster relationships between Irish student filmmakers". Commenting on the undoubtedly small number of film students in the country, Hunt explains that "it makes sense to give people a platform to make those contacts early on so they can collaborate in the future".
Punctuating the event is a set of guest speakers, lecturing on different aspects of film. Tuesday saw Mick Hannigan address the festival. Flanagan used to programme short films for the Cork Film Festival and has extensive involvement in running film festivals. The programmers of the Fastnet Film Festival spoke on Wednesday on how to make a good student film. This festival is one of the more prestigious in Ireland, with Hunt commenting that "they're really well known for being a great festival". These speakers were present to help further students' knowledge of the festival circuit and to introduce them to presenting their work. The emphasis on short film is noticeable throughout the festival, with Hunt noting "short film in Ireland is an up-and-coming thing". They are important initial steps for student filmmakers to make, as people "use shorts as a calling card before they go on to make their features". Guest lecturers spoke of different areas of the industry and how they can break into and succeed at such a contested profession.
ADVERTISEMENT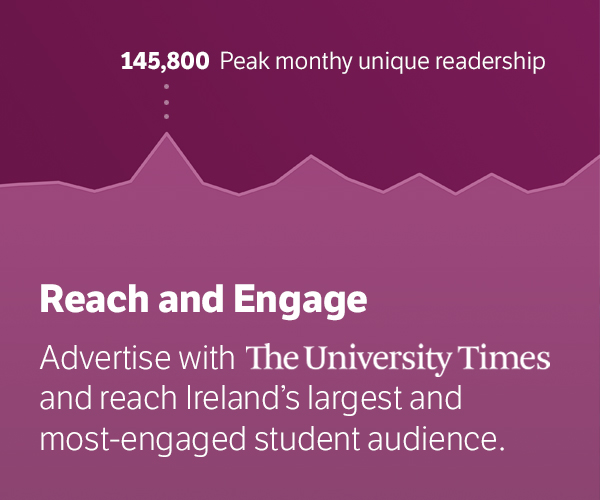 Their second day of screenings was held in Chaplin's bar, tucked away in the first floor. Secluded from the rest of the pub, it provided the perfect atmosphere for an intimate screening of some of the student shorts submitted to the festival. The films shown ranged from documentaries to drama, each uniquely poignant. There's something to be said about a four minute documentary on darkroom photography, where it isn't something you think you'd enjoy but when you're sitting there watching it, you become enamored. It could be how impressive it is that a student, a peer, has made something so impressive. The same could be said for each short as they each offered a different approach to film, yet ran seamlessly as a fluid screening.
Finishing up as most film festivals do, DUFF is holding an awards ceremony tomorrow to close the week. The shorts screened throughout the festival are up for nomination, giving an extra layer of excitement to the event. Categories include Best Picture, Actor, Director and Cinematography as well as others.
Beyond the festival, DU Film is continuously working throughout the year, mainly presenting screenings and seasons of films like "Northern Lights". Most recently, they held cinematic collaborations, like the "Spaghetti Western" screening with the Italian Society. The society does a lot to help film students gain insight into the infamously tough industry, having just held the "Film Network" event recently. The supportive nature of the society is evident through this, and Hunt explains that "usually you're on your own, so it's good that we can help students" when it comes to networking in the film industry. They make up for a lack of support when students eventually leave college and begin careers by encouraging collaboration and networking. The Film Network conference illustrates this goal of the society, where speakers come to provide a "comprehensive understanding of how they can get involved in the industry on a professional level".
However, DU Film can also be a relaxed way to get involved in film and it doesn't always have to be career driven. Back in December, they held "A Very Throwback Christmas" to revel in eighties nostalgia. They also hold a weekly Video Cafe, a low key for people to get accustomed to the society and learn more about their work. While also actively engaging with film students to encourage careers in the industry, DU Film also function to admire and appreciate film on a level many students can relate.
This year has also seen a record number of submissions to the society for screening, with about one film per week on average being produced. Hunt explains that this isn't usually difficult, as the society's committee is essentially a "set crew" and there is always someone to help out with different aspects of filmmaking. However, they also run bootcamps throughout the year to train new members in production, editing, directing, whatever it may be. "This is a great way for people to get involved", says Hunt, and for students to learn valuable transferable skills.
It's pretty evident that DU Film do a lot to provide a support for film students in Trinity, and through this festival that support spreads to young filmmakers all over Ireland. The society almost functions a small union for film students and actively tries to prepare them for life in the industry. The festival is heavily geared towards students who want to make film rather than students who just appreciate it. While the screenings are undeniably enthralling, the festival is, essentially, for students who want to make a start at a career in film. This goal is clear and well defined by the festival's organisation and achieves it with ease. The informative talks by experienced members of the industry coupled with fine examples of students' filmmaking talent mark the way for a potentially innovative recurring festival and an end to the society's calendar.