There is a reason why the Olympic Games are hailed as one of the greatest spectacles of professional sport. Occurring once every four years, they are unique in their tradition and grandeur, and as a phenomenon, they are fascinating and awe inspiring to watch. Seeing records smashed and history made stirs a belief in all of us that we too could do the impossible.
With the extensive coverage a Games' can receive, many people are exposed to sports they previously knew nothing about. In fact, irrespective of how unknown it may be any sport an Irish athlete participates in is guaranteed significant attention at home. With such a wide exposure to all manner of disciplines the debate over what "legacy" will be left behind in the wake of a Games always surfaces: "Will less popular sports gather more of a media following now? Will people take up a sport they previously never considered? Will a new generation of athletes be inspired?"
Cade Ryan, one of this year's Trinity Sports Scholars, is evidence that the Games really can kick start a sporting career. Sitting down with The University Times in a busy, bustling Buttery, Ryan recounted the first moment he realised he seriously wanted to pursue canoe/kayak slalom as a sport. "I was 12 when the Beijing Olympics were happening, and I remember watching Eoin Rheinisch compete in the event. It was the first time an Irish person had done so well, and Eoin only narrowly missed out on an Olympic Medal. His performance was super impressive and it gave me a massive drive to pursue canoeing. It was inspiring because I think it was the first time I felt that it didn't matter if you were from Ireland, you could still compete on the biggest stage at the highest level."
ADVERTISEMENT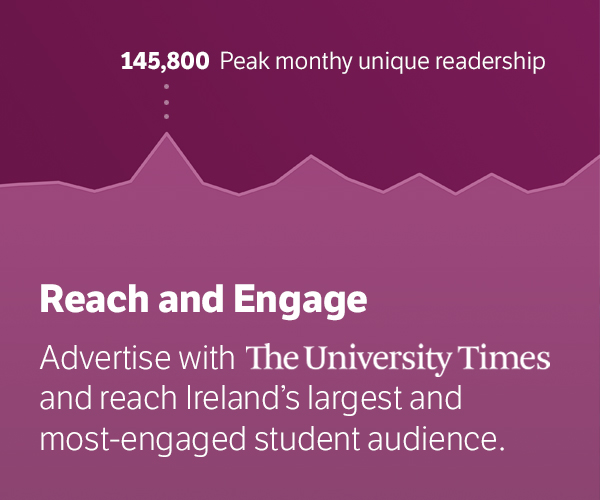 Ryan attributes a lot to events such as the Olympics, and giants of the sport like Rheinisch. Yet he also acknowledges the influence his family had in encouraging him to pursue Canoeing so seriously. "I came from a family that were very active generally. There was always an atmosphere to go out and exercise in a casual way. It was always fun, I always enjoyed it and there was never any pressure." Such an atmosphere enabled Ryan to try many different sports whilst he was growing up, but there was always one area he could ever escape, and that was the water. "From the beginning I was always really into water sports, especially swimming for a long time, but as I got more involved in it I found it focused too heavily on physicality and I wanted something much more diverse."
Something that sets elite athletes apart from all others is their ability to think critically and analytically about a sport, and spending time with Ryan it is clear he's a methodical thinker
With Ryan's father having been a keen kayaker it seemed a natural fit. Yet choosing one sport to settle on when there were so many he enjoyed was not an easy decision to make. Something that sets elite athletes apart from all others is their ability to think critically and analytically about a sport, and spending time with Ryan it is clear he's a methodical thinker. Balanced and reasoned in all circumstances. Showing maturity beyond his years at the age of 12, Ryan chose canoe/kayak slalom for an incredibly nuanced reason: balance.
"Canoe slalom was fun, and I loved the training, but that wasn't what clinched it for me. The big reason I was drawn to it was because of the delicate balance between physicality and technicality. Some people are drawn to sports that are really physical and powerful like rugby, or sports that are really technical like figure skating, but what I loved about canoe slalom is that it was a perfect mixture of the two."
Talking about the fine balance between power and skill Ryan pointed out this is why he loves the sport so much: it is always evolving. "The opportunity to invent a new way of doing things or improving a way that already exists", is always there and isn't dependent purely on physicality or technicality. A mixture of the two is what produces the best result. Some sports in the modern era are guilty of depending too heavily on physicality to invoke change, that the best way to advance is to get bigger, stronger and bulkier. As Ryan points out, this isn't the way with canoeing. "It isn't just physical, yes you have to be strong to be able to pull against the water but technical skill is also hugely more important, and the balance of the two is crucial."
Talking about his sport in depth, Ryan's passion is infectious. He sees canoeing not just as a sport, but as a form of art, flexible and fluid. "There isn't any limitation or confines on how to do anything, and that's what makes it so exciting. You can always take things that one step further. It's a beautiful thing to be able to build on what has gone before you, or to change it completely. You get to stand on the shoulders of giants."
Standing on the shoulders of giants is something Cade Ryan has done his whole career. From his father, who as his first coach nurtured his love and passion for the water, to Rheinisch, who took Ryan under his wing when he first made the Irish Squad at only 14. As Ryan bashfully admits, Rheinisch is an idol of his, so much so that to this day his signed Olympic jersey hangs proudly in his room at home. Having the right influences at the right time as a young elite athlete is fundamentally important, and in this respect Ryan acknowledges just how fortunate he has been.
Being awarded a Sports Scholarship this year has only facilitated this further. Discussing how his training programme has his evolved career Ryan adorns Ross Hamilton with credit. "My training has changed massively this year, and it's thanks to Ross Hamilton who wrote me a great programme. In the past, all the gym work I was doing was on a borrowed programme, and I never had a coach to oversee me. Now I have a high quality gym on campus and a programme written specifically for me with everything I need to keep pushing myself further." Before the scholarship and the influence of Hamilton, Ryan admits he largely "trained himself" alongside his fellow Irish team mate Sam Curtis but lacked a consistent professional influence to oversee his development. The scholarship has now "changed all of that" allowing him "to do much more physical workouts" rather than just circuit training he did on his own. The influence of Hamilton has allowed Ryan to perfect the physical and technical side of his skill, achieving the all importance balance that is fundamental to the sport.
There isn't any limitation or confines on how to do anything, and that's what makes it so exciting. You can always take things that one step further
However balance in other areas of Ryan's life is not so easy to achieve. With his weekly training schedule split between 6-8 physical sessions on the water and 3-4 strength and conditioning sessions in the gym, finding time for college can be a struggle. But as Ryan points out, having competed at a national level from the age of 14, he's "built up good time management skills", and the scholarship only facilitates his development of these, allowing him to pursue his two passions in a way that works perfectly for him.
However, every so often a change of scenery is necessary to refresh and regroup. Having started so young and featured on the Irish squad every year since he was 14, Ryan decided the summer of 2016 was a good time to take a break. "2015 was the last time I did a full summer of racing, and the last race I competed in was the 2015 London World Championships, which were doubled as Olympic qualifiers. I was really happy how I performed, in fact I think it was my best race of the summer. I was a lot closer to making it to the Olympics than I expected to be, but not making them was obviously disappointing." Facing into a 2016 that would be "scarce for racing" with most competitions moved to make way for the Olympics, Ryan decided the perfect moment had arrived to "take some time out and regroup".
Asked whether this had anything to do with the individual nature of his sport, Ryan agreed. "Everyone struggles to maintain motivation when you don't have a team around you all the time. Maintaining consistency and camaraderie yourself requires real drive. A good starting point for this would be enjoying the sport. But that isn't enough to drive you all the way to the top. Motivation is a mental aspect of this sport, and just like your body it needs training", but it also needs rest.
It is a good thing that taking time away from competitive racing hasn't done anything to dull Ryan's passion. In fact it has refocused and re-energised his determination to go all the way, with his "biggest long term goal to qualify for the 2020 Tokyo Olympics". And so this story may complete itself back where it all began: the Olympic Games. If everything goes to plan Cade Ryan may be the next Rheinisch, inspiring a new generation to build on the shoulders of their forefathers.
Cade Ryan has a mission. To not settle until the job is done. To not "be the best there is currently, but the best there has ever been".
"As Jimmy Connors, the tennis star, once said: "95% of people love to win, 5% of people hate to lose…I am that 5%."