The return to campus this week coincides with the undoubtedly anticipated International Women's Week. With a lot going on to help ignite the feminist in you, societies are also brewing up a variety of events to ease you back into academic life. DU Film Society is hosting their annual film festival, and with events from speed networking to short film screenings, there is something for every film fan.
Monday will see the College Historical Society (the Hist) hosting Sarah Koenig, the American journalist and radio presenter who is best known for her podcast, Serial. She will be receiving the Gold Medal for Outstanding Contribution to Discourse in the Graduates Memorial Building (GMB) at 3.30pm. Later, Nemesis, Trinity's new feminist journal, which features creative writing, photography and artwork, will be launched in the Global Room. In keeping with International Women's Week, DU Dance and Dublin University Gender Equality Society (DUGES) play host to the first of their events for this week, a burlesque workshop. Wear your most dazzling attire if you're attending, and you might be one of the lucky few who receives a complimentary cocktail.
DUGES and the Society for International Affairs (Sofia) will collaborate on Tuesday to host a panel discussion on reproductive rights around the world. With this topic having never been more relevant, especially on the eve of the Strike 4 Repeal, this talk will feature speakers Sinead Kennedy and Brynne Gilmore, guaranteeing an insightful evening. Similarly, Trinity's Law Society (LawSoc) will present a discussion on feminism in Ireland. This talk, which includes a Q&A session, will outline what modern feminism means and how our attitude as a society has been moulded around this concept. The first event of Trinity College Dublin Students' Union's (TCDSU) "Women in STEM" campaign will take place on Tuesday evening, with talks from four female speakers working in maths and physics. With free entry, refreshments and a chance to pick these speakers' brains, the first night of this important campaign is not to be missed.
ADVERTISEMENT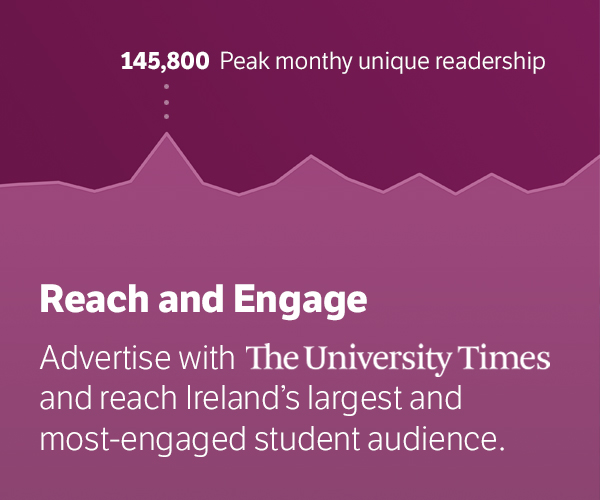 Wednesday will see one of the main events of International Women's Week taking place, with numerous students expected to take part in Strike 4 Repeal. That evening, DU History play host to Prof Marianne Elliott, an Irish historian whose work has received considerable praise. She has also received an Order of the British Empire (OBE) for her work in the Northern Ireland peace process. She will address the society in the Swift Theatre at 7pm.
DUGES will present a panel discussion on gender and climate change with Trinity's Environmental Society on Thursday at midday. Being such a broad topic, various aspects of both gender and climate change will be addressed, such as how men and women in vulnerable communities are affected by climate change in different ways. Branching out from the week's overarching theme, the University Philosophical Society (the Phil) will hold their Honorary Members Debate, "This House Believes Comedy's Sole Purpose is Laughter". Trinity's Chapel Choir will be hosting a special service for those who donated their bodies to medicine and the evening always proves to be solemn and beautiful, while also serving as an important act of gratitude.
Friday will see one of DUGES' final events for International Women's Week, The Vagina Monologues by Eve Ensler in collaboration with the Graduate Students' Union (GSU). This episodic play touches on many significant themes like love, sex and female empowerment. The cast is college-based, and donations will be taken for the Saoirse Women's Refuge in Tallaght. Doors are at 7.30pm in the Freemason's Hall, offering a suitable end to a meaningful week.