Accessibility, much like inclusion and diversity, is a word that gets thrown around a lot in colleges across the country. After covering the race for welfare officer in Trinity College Dublin Students' Union (TCDSU) elections this year, I thought I knew everything there was to know about accessibility on campus. I wrote about candidates wanting to introduce more elevators, increasing the accommodation available to students registered with the disability service and opening more easy-access bathrooms that didn't require a key. While understanding the importance of these issues, I didn't appreciate the true value of them until today.
After taking part in the 24-hour wheelchair challenge organised by Disability & I, a charity set up by Trinity students Niamh Herbert and Laura Beston, to raise awareness of the obstacles facing those who use wheelchairs in Trinity, I realise that I knew very little about accessibility. The challenge was organised to coincide with Disability Awareness Day, the first of its kind run by TCDSU. The importance of automatic doors, the impractical elevators installed on campus and the frustration of Front Square's famous cobblestones are just a few of the everyday realities that suddenly became key to me being able to get from A to B.
Prior to today, I had thought a lot about how I was going to fare. I had considered whether I would be able to wheel myself around all day. The short journey from the Graduates Memorial Building (GMB) to the Arts Block this morning after picking up my chair was enough to confirm my fears it was going to be a long and difficult day. The cobbles mean that you have to follow the path laid out by the paving stones which is often a longer and more convoluted way of getting to your destination. Front Square is also slightly slanted meaning that, heading in certain directions, you are going uphill which only further adds to the struggle.
ADVERTISEMENT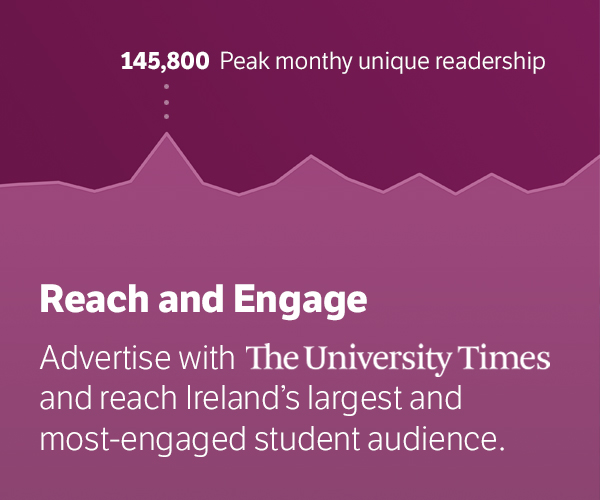 I felt isolated and reluctant to get involved in anything as simple as going for a cup of coffee
Reaching the Arts Block, I decided to not attempt the ramp up to the building. I instead chose to head down and use the elevator located on the middle floor. What I thought would be an easier experience turned out to be just as complicated. While the door into the Arts Block is automatic, something I never realised the importance of, the door of the actual elevator required you to manually open it. After struggling for several minutes to back up while also pulling the door open, a kind stranger offered to hold the door so I could wheel myself in. Once reaching the next floor, I was again faced with the problem of holding the door open enough so I could get out and once again it was only that a passerby stopped to help that I was able to get out.
The elevators in the library worked in the exact same way and, as a result, I avoided the library all day. Unless I had someone with me, I didn't want to be left waiting on the help of people passing by. Once in the library, navigating my way around the shelves and chairs was near impossible. I had to ask a stranger to move a chair away from a desk so I could eventually get down to some work.
While many of my friends found the novelty of me being in a wheelchair entertaining, I found it draining. I was frustrated at not being able to do things for myself. I felt like people saw the chair first and then me. While helping me out of one lecture, my friend remarked that people parted "like the red sea" when they saw me coming and it was true. Glances my direction were longer and more pointed. I couldn't attend my weekly meetings for this paper as, like many societies and the students' union, their offices were located in House Six, an entirely inaccessible building. I felt isolated and reluctant to get involved in anything as simple as going for a cup of coffee.
I also saw that Trinity is a community ready to engage with issues like accessibility
Today, after so far spending 12 of my allotted 24 hours in a wheelchair, I can say that I most certainly knew nothing about accessibility. I didn't know how hard it is to wheel yourself up a ramp when your arms are sore just from getting from one side of the Arts Block to the other. I didn't know that it is nearly impossible to use the elevators, designed to help make campus more accessible, without the assistance of an able-bodied person. I didn't know that I would feel so frustrated by not being able to get from A to B at my usual pace.
While I experienced many difficulties today, I also saw that Trinity is a community ready to engage with issues like accessibility. People were incredibly helpful. Doors were held open, and anytime I struggled there was someone there to lend a hand. Many people I knew questioned why I was in a wheelchair and were horrified when I explained my experiences. On the Facebook page set up for the other people taking part in the challenge there were reports of various buildings and members of staff such as those in the Pav, the Buttery and the Long Room being helpful and accommodating.
It's hard to put into words how I felt today. While I will be happy to hand my chair back tomorrow morning, I am also aware that not everyone is afforded this opportunity. Making college more accessible means making students feel less isolated. It means making their day easier and is also the most basic level of support we should be providing. A beautiful campus is a privilege, but being able to get from one point to another is a right. Let's not deny students that.