Yesterday evening saw TEDx Trinity College Dublin host their very first event, or first edition as they put it. The evening's theme was "Place Your Bets" and featured 10 distinguished speakers, ranging from professors to senators. This broad-ranging subject matter was chosen to "inspire us all to question and think about the way we make decisions". Seeing as life can sometimes seem like a "gamble", the theme was aptly chosen to explore and discuss the different trajectories our "bets" in life have the ability to take us.
Trinity Biomedical Sciences Institute's (TBSI) Tercentenary Theatre was transformed to reflect the familiar look of the well-known TED Talks, with the room lit up in red lights and attentive heads filling each seat. The President of the society, Henri Delahye, gave a quick overview of the history of TED talks, emphasising how it fosters a global community in which to spread ideas. After a year and a half of intense work to acquire licensing from TED and accreditation from the Central Societies Comittee (CSC), they hope to challenge the status quo on campus.
Grace Harris, the host of the Bank of Irleand-sponsored evening, introduced the first speaker, Prof Richard Layte, a sociologist who lectures at Trinity. Having lectured many members of the TEDx committee, Layte is cited as being one of the main inspirations for setting up this society. His talk focused on giving an insight into reasons for the rise of nationalism and populism in recent years. Emphasising the "lack of certainty" in today's world due to the banking crisis and austerity, Layte reasoned that this is one of the main reasons for the rise in populism. He called this rise a "nostalgia for a long-lost past that might not have ever existed".
ADVERTISEMENT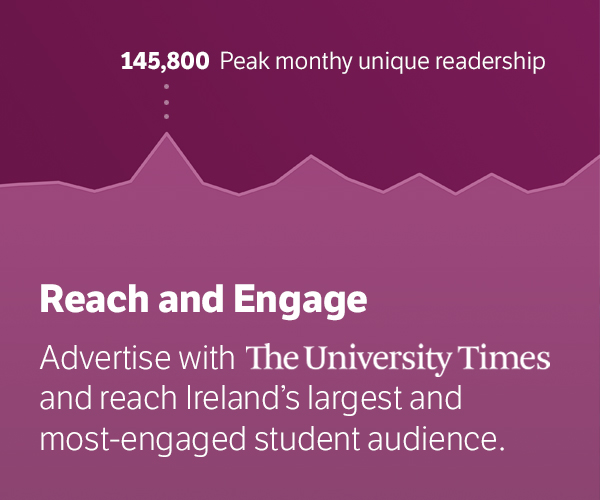 Next was Prof Ruth Byrne, a professor in cognitive science. Byrne is a former Vice-Provost with over 100 publications published in the Annual Review of Psychology, and her speech focused on the importance of imagination on the human mind. She explained that our ability to imagine alternative realities give rise to our moral and legal judgements and helps us to reason. It helps us prepare for the future by imagining how things could have been. Her closing note was "use your imagination. It's more useful than you may think".
Senator David Norris was next to take to the stage, a man who barely needed an introduction and injected a unique humour to the evening. His speech gave a timeline of his work as a gay rights advocate and Ireland's first openly gay senator. Following this impressive introduction, Norris presented himself as a "whorey 73-year-old fairy" and went on to comprehensively explain the discrimination against the LGBT community in Ireland. He stated that throughout the campaign to decriminalise homosexuality, they declared "we are Irish, we are gay, and we are are looking for our rights".
Prof Ian Robertson, a well-known neuroscientist and founder of Trinity's Institute of Neuroscience, came on to discuss how to achieve that sweet spot between too much and too little stress. He explained how excitement and stress can have the same symptoms but that the differentiating factor is the context in which we experience these symptoms. He said: "The human brain is the most complex entity in the known universe, capable of creating its own context." He maintains that you can make your brain perform like an orchestra with "symphonic performance". After an breathing exercise, he concluded that "by simply breathing, you can pull your brain into the space of optimal performance".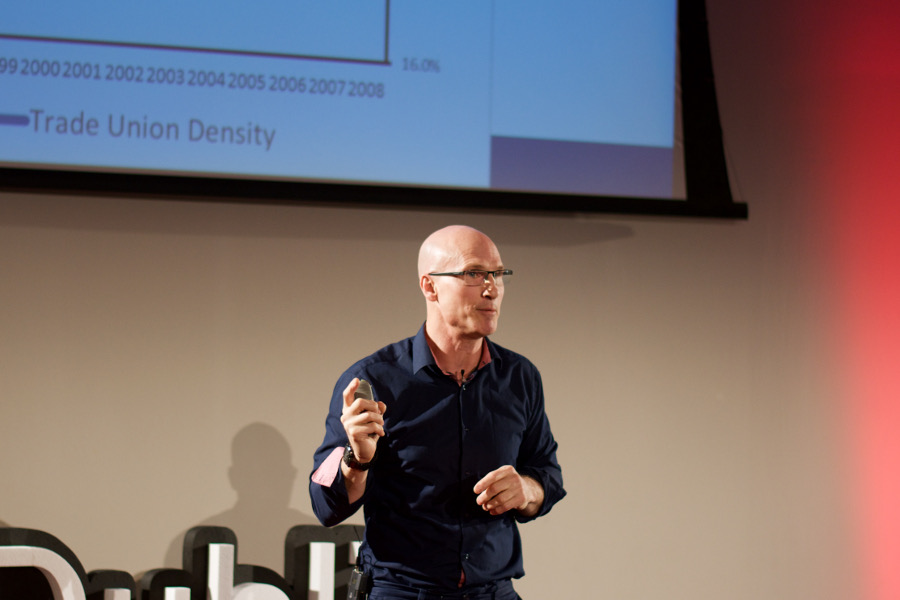 The next speaker was current student Alex Gogarty, the first winner of TEDx's Student Speaker Competition. His talk focused on his personal story and his push to try to destigmatise mental illness. Having suffered from depression since age 15, he initially put it down to angst, but "you're not supposed to know you're being angsty" and then to alcohol, even when those excuses didn't make sense. "Everything should've been great", he said about his first year in college. He said he had this perverse pride in no one knowing what he was going through. "I didn't want to be suffering from something I couldn't control", he said, explaining his reasons for not telling anyone. At the end of his address, he included links to the Student Counselling Service and insisted everyone took down the details so that no one felt pressured not to.
Ioustina Martin, another current student, spoke on creating your own future, with her talk more like a motivational speech. Placing emphasis on every word, her main points included "if you wish to be successful, study success". While not many would explicitly argue for an outlook on life that focuses so much on social climbing, Martin definitely promoted this in her speech. She consistently referenced her "mentors", and her speech could be summed up as "carpe diem".
Associate Professor in Information Systems Prof Frank Bannister gave a talk on the possible future applications of rapidly developing technologies. He began with a brief synopsis of 1984 by George Orwell. He spoke of the benefits of the future of technology but putting it into the context of exam correction and motorists. The sequencing of the human genome is a prime example of technology's potential. He explained that we don't have the infrastructure, but we do have the technology for these advancements. To conclude, he stated: "Get aware of possibilities, don't leave them to the bureaucrats, get involved in the decision making of this, let us not walk eyes wide shut into a digital world."
CEO and co-founder of Genesis Mining, Marco Streng, who the audience learned never planned on owning his own company, spoke of his journey so far and the more technical aspects of bitcoin. He marvelled at the rise of bitcoin's value, articulating how the currency works. "You can send money to a coffee farmer in Africa without the intermediary banks taking a cut in this transaction." Hoping to inspire future entrepreneurs, he maintains "you can reach it in our modern world".
Another past student and National Student Entrepreneur of the Year, Ben Butler, highlighted what he has learned along the way and the challenges he has met. He argued that the notion of having a "good" or "bad" day isn't as intrinsic as you would think. He equated Aesop's fable of the hare and the tortoise to how our brains work, emphasising how important routine is and gave relevant and helpful advice on how to improve one's productivity. Listening to him revel in the possibilities of being a young professional was infectious and made his speech one of the most memorable of the evening.
Finally, against a backdrop of images of emaciated prisoners, Ed Vulliamy gave his talk. A well-known journalist and author, Vulliamy worked in Bosnia during the 1990s and uncovered a series of concentration camps. His talk was titled "Human Endurance in the Face and Aftermath of Disaster". He said that those who were sent to cover it had no idea what they were in for and cited the macabre intimacy between the prisoners and their captors as jarring and unexpected. Discussing the "reckoning" that was promised to the survivors and bereaved, Vulliamy commented that they didn't share the view that they had received it. The word "reckoning" was significant for him, explaining "it's the harshest word in the English language". His ardently impassioned speech concluded with a musing on the lives of the survivors after the war, stating that "survival is not a good thing to have in common".
At the close of an undoubtedly successful inaugural evening for TEDx Trinity College Dublin, which was filmed by One Productions, the committee promised even more exciting events in the upcoming year. Considering the impressive line up of distinguished speakers for their maiden event, it's safe to say they'll maintain momentum and truly present ideas worth spreading.