On a balmy Monday evening, Trinity's women's rugby team (DUFC) welcomed former Trinity alumna and prop Ailis Egan, her fellow prop Lindsey Peat, and scrum-half Ailsa Hughes to the Pav, for a panel discussion chaired by ex-Ireland captain Fiona Coughlan. The event was well-timed ahead of the Women's Rugby World Cup, to be hosted in University College Dublin (UCD) and Belfast this year. With the trophy enjoying pride of place between them, the three teammates revelled in the question and answer format, and thanks to some masterful prompting from Coughlan, the chemistry they enjoy created an instant rapport with the audience.
Those in attendance were treated to keen analysis, quick-fire wit and anecdotes about breakfast that speak to long hours spent training together and an enviable team spirit. Coughlan, herself no stranger to team-building, extracted some of the best quotes of the evening with a word-association game.
What comes to mind when they hear the word Trinity? "Bavaria" fired back Egan, who presumably wasn't referring to the German province. Hughes saw the theme and ran with it, offering "Pav" for her part. Feminism? "Ailis burning her bra" chirped Peat, to the delight of the crowd.
ADVERTISEMENT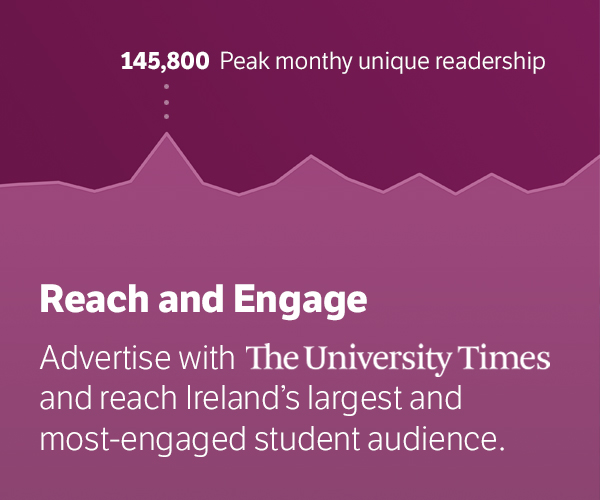 Totally at ease, the trio produced some fascinating insights into the future of the women's game both at home and abroad. With England's Women's team professional since January and the French set to follow after the World Cup, much of the discussion revolved around the possibility of that happening here. On England, Egan noted the obvious benefits of a professional element: "They look more comfortable playing together, there are less mistakes… even if we could go pro in June, July and August, it would be a big help."
That said, none of the panelists see the sport going pro anytime soon. They acknowledge the financial realities, and Coughlan noted the relatively small size of the player base here compared to abroad. Other challenges were highlighted following a question from the audience about player numbers, with Peat admitting that "the drop-off [in players] at teenage level is huge", a sentiment echoed by both Egan and Coughlan.
For the most part though the tone was uplifting, especially when the women were asked about their favourite match. Hughes recalled this season's Leinster-Ulster match, where she scored her first try for the club, an occasion she had been "working toward for three years". In a nod to this Ireland side's willingness to fight for one another, both Peat and Egan chose this year's Six Nation's clash against France, where a depleted Ireland squad secured a heroic victory. Coughlan drew a cheer for the story of how her Ireland squad faced down New Zealand's haka. "I'm not being disrespectful to the haka…but at the end of the day it's just a dance." Ireland won that day too.
Many of those in attendance were members of DUFC's Women's panel, seeking inspiration ahead of their season-defining colours showdown against UCD. Fortunately, inspiration was in plentiful supply. Peat rallied the room with her own unique blend of wit and wisdom: "Be Braveheart. Wear tape. You're going out to war for Trinity."
Proceedings wrapped up with DUFC Women's Captain Niamh Byrne presenting each of the panellists with Trinity jerseys as a token of gratitude and then numerous photo shoots erupted as audience members jostled for position next to the trophy and their idols.
Maybe, ahead of that Colours match, it is only right Egan should have the final word: "Train hard, enjoy what you're doing. If you're afraid to make a mistake, you're playing within yourself." If DUFC can channel the team spirit the Ireland squad embody, they will be giving themselves the best possible chance of success.