I remember lying on my bed last summer, scrolling through my Facebook newsfeed and stumbling across a video entitled "Irish Lad on J1 chats up American Girl". I was about halfway through my two-month stint in Chicago, so I thought I'd have a look and see if it was of any use. After a few chuckles to myself, I started going back through the clips of sketches by a three-man comedy group called Foil Arms and Hog. I recognised the three lads from a few other videos I had seen over the last year or two, as well as from a couple of sketches on David McSavage's wonderful show The Savage Eye. The content and style of the sketches varied across the board, from observational humour based on everyday aspects of Irish life to surreal, silly comedy, hitting satire and character-based sketches along the way. Overall, I was impressed not only by how funny so many of the sketches were, but also the sheer volume – the group release a new video every Thursday on their YouTube channel and Facebook page. Seven months and many more videos later, I sat down with Seán Finegan (Foil), Conor McKenna (Arms) and Seán Flanagan (Hog) having just taken in a wonderfully funny performance of their latest show "Doomdah" – a title referencing the group's signature sign-off line at the end of each of their videos – in Dundrum's the Mill Theatre. We speak about the past, present and future of Foil Arms and Hog, the differences they see performing in front of crowds in Ireland, the UK and further afield and difficulties in writing original material that is not just about "share-ability".
Often referred to as Ireland's largest sketch comedy troupe, their videos have tackled everything from Tinder culture to US immigration, regularly embracing uniquely Irish experiences from the Leaving Certificate to Catholic schools, from Ryanair to how everyone hates Dublin. Until recently, "#Hashtag" was one of their best-known videos. Representing an unashamed embrace of the silly, the characters speak to each like particularly pathetic Twitter users – "Just went out with Niamh, you know, #mynewhotgirlfriend" "Oh the old ball and chain, eh? #itshouldhavebeenme #bitterness #keepittogehternow" – before taking a turn for the meta and, frankly, bizarre, when the characters realise what they're doing and awkwardly cut camera angles between scenes – "#badediting" – and repeats of earlier hashtags – "#callback".
In the current political climate, more recent takes on international affairs have proven popular on social media, whether it's their take on trying to find somewhere to go on holiday while "The World is F**ked" – "Saudi Arabia?" "Don't take your girlfriend"… "Russia?" Don't take your boyfriend" … "China? Don't take your dog" – or trying to navigate the US immigration process – "The United States is governed by two major parties. Can you name them?" "The gun lobby and Big Tobacco."
ADVERTISEMENT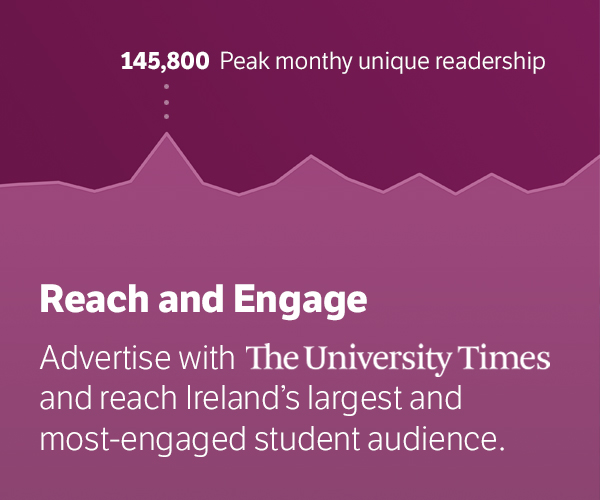 The three of them don't feel that they should focus too much on delving into political satire as "there's somebody who is far more informed" on the issues than themselves
Attempting to balance staying creatively honest while maintaining an online presence through so-called "shareable" videos is a tricky endeavor, according to McKenna, and can be a dangerous one too. The "lanky guy" of the group described it as "maybe like a bit of deal with the devil" when trying to attract new fans through these viral videos, but noted that they "definitely wouldn't be writing sketches to get hits: As soon as you start doing that, the material will stink." Finegan touched upon this "line between selling out and doing your kooky stuff", noting that they sometimes feel that once they put out a "shareable video", they feel that they will have "earned" the chance to do one of their more creative and "kookier" sketches. While the group has done the "odd foray" into the political realm, according to McKenna, the three of them don't feel that they should focus too much on delving into political satire as "there's somebody who is far more informed" on the issues than themselves and while there are lots of "really good people" covering politics online, "there's not that many people doing silly sketches like we're doing, really". Indeed, Flanagan admits that his own favourite video is probably "Bookshop", where the best book chef in the country quits working after a customer complains that his book has "gone off".
When releasing a brand new video every week, one can imagine that coming up with fresh material so regularly can be extremely difficult. McKenna half-jokingly refers to the constant need to release new content as "a never-ending nightmare". They note that it becomes especially difficult to keep this up while they are touring as, for example, the group had six shows the week we spoke. As the group is "so desperate for ideas", according to Finegan, they will sometimes run with whatever idea they think is "even remotely funny". With over 50 new and original sketches released online every year, Foil Arms and Hog are pulling off an impressive feat, with many of their videos receiving millions of views across their various online outlets. While Flanagan refers to this process as a "heroin craving" that won't be going away anytime soon, they view it as hugely beneficial overall. "It's been brilliant for us. It's what in the last couple of years sold most of our tickets, if not all of our tickets. And we're touring really well now – but it's all down to the videos getting us out there", says Finegan, adding: "But yeah, it's tough!"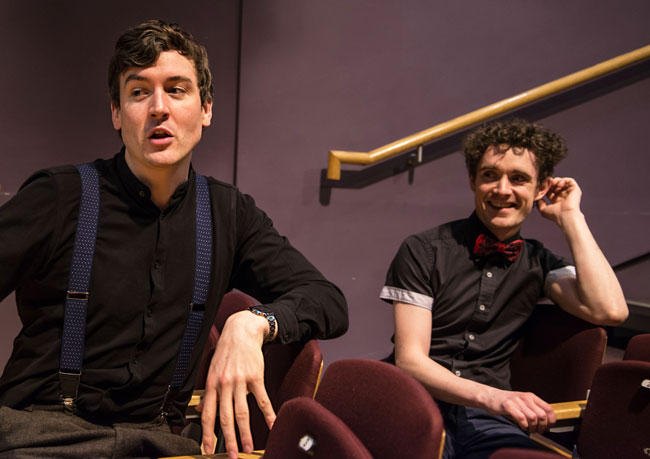 Sitting in the now-empty seats of the Mill Theatre, the three guys are clearly still coming down from a uproarious show which had healthy servings of crowd interaction, improvisation and musical moments. Calling people up to the stage and repeatedly calling back their first interaction with Matt, an architect from Belfast, the show proved that rather than simply being a group with good comedic timing and an ability to rote learn, the group thrive off improvisation, and each other – a sense that never faded during our conversation, which was peppered with inside jokes, random tangents and unexpected accents. Clearing the stage after the show, their manager, James White, notes that the three of them are making great use of their degrees, in engineering, architecture and genetics.
Despite growing up near each other in Rathfarnham, the three only met in college, when studying in University College Dublin (UCD), where they also met White. They are quick to emphasise that they began their journey in UCD's drama society, "not Trinity", with Finegan asking if I know "all those annoying Players people in Trinity" before admitting that they were the "annoying equivalent in UCD". Not wishing to miss another chance of Trinity-bashing a mere 30 seconds into the interview, Flanagan notes that they were in UCD, "so it was a little sounder, obviously". Finegan says that the three of them "gravitated towards the funny plays" and came together as a result. The first play that all three were involved in together was a Father Ted play which, according to Flanigan, was obviously a "funny play" before taking a pop at McKenna: "So we all started going 'hmm interesting, we could do with a lanky guy in our group – he's got nothing else going for him!'"
Father Ted was and remains one of the group's key influences, with McKenna noting that "it's probably the biggest one that we have in common". "After that, it kind of spirals kind of, a little bit in another direction. There's various crossovers, but not as much as you would imagine – we all have our own tastes and stuff", remarks Flanagan. The work of the Marx Brothers (which McKenna noted to me was "before your time") is a strong inspiration for Finegan and McKenna as well, with the influence of vaudeville-style comedy evident throughout their performance. However, Finegan mentions that each of them like "totally different stuff", which he feels is very beneficial to the group's writing as "we all come at it with three different styles". For McKenna, this leads to a variety of different sketches for live shows, which results in "a remarkably even split" in terms of the proportion of sketches included that were created by the three of them, resulting in a situation that is "all like Lennon and McCartney, you know". McKenna also points out that all three of them would have contributed to each sketch, but the initial idea will have come from just one. "But if you take any show that we do", he adds, "it's nearly evenly split between the three people."
The night's crowd was blatantly enthusiastic about the performance, which saw, via a process of elimination, the tallest members of the crowd identified and those seated behind them offered cushions – replacement cushions, after audience members made off with them at a previous show, prompting a rushed trip to IKEA. The conversation moves onto what differences they have noticed among crowds in the various towns, regions and countries that they have performed in over the years. After Finegan notes that he thinks that Irish and Scottish crowds are "quite similar", Flanagan quickly moves on to speak about the different "considerations" when playing in front of a crowd in London. While Flanagan understandably points out that Foil Arms and Hog would not have any "caustic" material in any of their shows, he stresses that London crowds are "a lot more racially sensitive", for example. He says that "any mention of a minority" causes the caucasian members of the audience to look over to the minorities in the crowd, who "themselves would be laughing away", to look for "permission" to laugh at the joke, quickly killing the moment. Flanagan holds that this is down to the crowd being "on tenterhooks" and being "besotted with white guilt", which leads to such members of the audience "looking inward" and "thinking about themselves" by seeking such approval from minorities to laugh at an inoffensive joke, rather than looking outward and judging the material on its context and intentions.
The more rural, the wilder the gig, because the crowds are so much more "pumped for it
Finegan moves the conversation away from what is obviously a hot topic for Flanagan, observing that crowds in larger cities, in general, "tend to be spoiled for the amount of stuff that they can go and see", before Flanagan impersonates one such "spoiled" patron who comes in, sits down and says "make me laugh" because they could have gone to, in McKenna's words, "literally a hundred other things" that night. Conversely, Finegan says that in more rural parts of the UK and Ireland where there would not be a huge number of live shows on a regular basis, the crowds can be fantastic as "they're dying to see a show", with McKenna adding that he believes that "the more rural, the wilder the gig" because the crowds are so much more "pumped for it". However, McKenna also suggests that the opposite can be true too, with it really coming down to the crowd itself. As there are smaller, more tightly-knit communities in rural towns, McKenna says that people might hold back at gigs due to "not wanting to embarrass themselves" in front of the community.
Building from this point, Finegan and Flanagan say that the same can be said for crowds of college students, particularly first years, with Finegan describing gigging to first-year students as a "nightmare". According to the two of them, students often will not engage at all with them when they try to interact with the audience, a core element of their performances, refusing to "do anything", "say anything" or "shout out". Flanagan referred to such unwillingness to engage "first-day-itus", where each student is "completely insecure" and terrified to make fools of themselves lest they carry it for the rest of their college lives. The conversation takes a marked turn away from the fairly eloquent analysis of various crowd-types at this point as McKenna points out that such college gigs can suddenly become something of a "bear-pit" when someone is actually made a fool out of. Each of the three performers suddenly start pulling their best neanderthal impressions of students at these kind of "bear-pit" gigs: "He mentioned a person's jacket! Huh huh huh!"; "He looked at somebody in particular that's not me!"; "Ah! Uh! Testosterone!"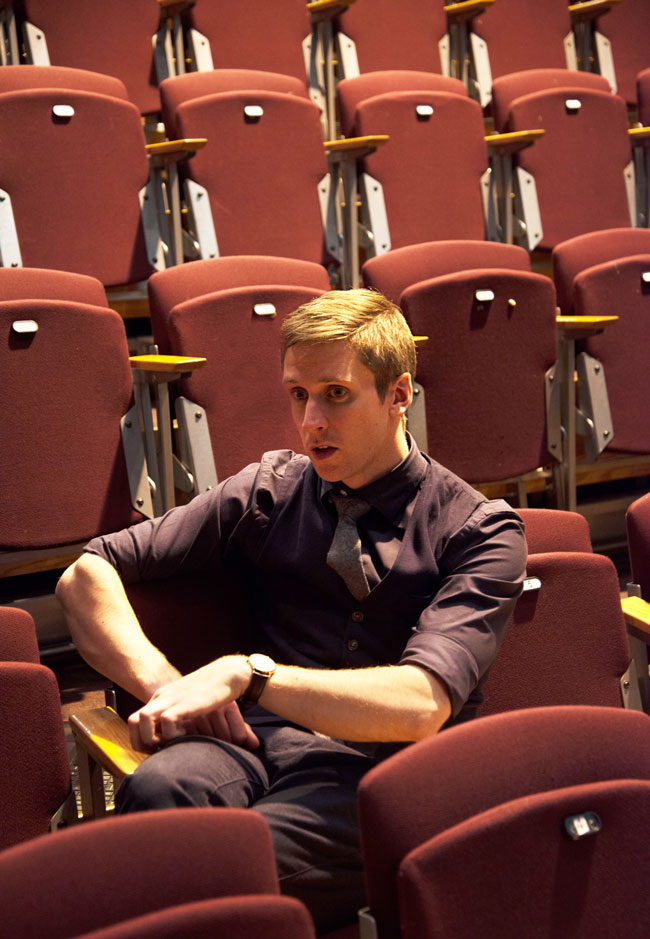 As the noise gradually subsides, we move onto talking about shows they have done in the US, with a suspiciously Jamaican-sounding American accent thrown in, followed by a story of a gig in Hawaii falling through due to the organiser having a brain-haemorrhage and his benefit-gig then falling on the same night, which Flanagan sarcastically describes as "inconvenient". I would think so. The subject then changes to how the trio have been received over the years as their public recognition has grown. McKenna remarks that their performances in the first four or five years of their career were difficult, particularly at the beginning of gigs. However, he sees their early obscurity as beneficial as it forces "you to tighten up your material and make sure you've got enough jokes". Finegan uses the example of the incredible reaction that stand-up comic Dara O'Briain receives at the start of his gigs with the often lukewarm receptions they got and sometimes continue to get from crowds that do not know them. He then brings up what has become a running joke for the group: random people, "usually lads", coming up to them at the end of shows and saying "Ah, I'll tell you now, when I saw the three of you's come on stage I was like 'Aw man this is gonna be shite'. But eh, it was actually alright. Yeah, me mot really enjoyed it".
"I think they assume it's going to be shit. And in fairness, I probably would too", adds McKenna.
The Dublin comedy circuit has generally been held to be fairly healthy and prosperous, However Finegan and McKenna reveal that the group is not "hugely familiar" with it anymore as they have "kind of fallen out of it a little bit, unfortunately". The three performers seem a little disappointed about this turn of events, with Finegan saying that they used to be in the stand-up circuit "big-time", doing small gigs around Dublin and the rest of Ireland, getting to know the rest of the comics along the way. But now, due to primarily doing solo shows and touring around the UK and Ireland, Foil Arms and Hog have "fallen out of touch" with the stand-up scene. As a result, the three of them really appreciate the chances to perform at festivals such as the Vodafone Comedy Festival, the Kilkenny Arts Festival and the Galway Arts Festival as these events give the three of them a chance "to see some of the people that you wouldn't normally get to gig with".
Their Fringe slot must contain brand new material that needs to be good but, as McKenna notes, "it's never new and all good, it can't be. It's impossible"
Of course, the standout festival for comedy performers in this part of the world is the annual Edinburgh Festival Fringe. Foil Arms and Hog will return for their ninth appearance at the festival this August to debut their new show "Oink", but it seems that the zeal and spark of performing at the Edinburgh Fringe has been lost over the years. Flanagan compares it to the Leaving Certificate examinations for comedians, citing a quote from Irish comedian Andrew Maxwell who calls the festival "an exam for clowns". McKenna puts this down to having "very discerning audiences" in attendance and the performances only lasting a maximum of 55 minutes. As well as this, their slot must contain brand new material that needs to be good but, as McKenna notes, "it's never new and all good, it can't be. It's impossible". Building on the school-theme like true improvisors, Flanagan moves on, saying that their "school year" begins in Edinburgh, with a new show that is then taken on tour for most of the following year, before having to create another new show and debuting it at Edinburgh once more. While this schedule sounds gruelling, especially launching each new show at the most critically sensitive festival, it lights a fire under the group to keep working every year and produce new sketches. As Finegan states: "You just book it and you're like 'now that it's booked and paid for, we have to write a new show"', so that's the reason why we write a new hour of material every year".
With the "Doomdah" tour adding extra dates and selling out shows, as well as their online videos receiving more and more coverage, it seems that the future looks bright for Foil Arms and Hog. Of course, the down-to-earth trio don't see it quite the same way: "Yeah, it can only go downhill from here" "Yeah, downhill probably, I would say." McKenna, after a quick glance around the room to note myself, our photographer and their manager, quips: "Only three people turned up for our show tonight!"
Finegan also adds that "we always said if it all came crashing down around us, Hog is the loose canon" that could ruin everything. As Hog, Flanagan doesn't shy away from his apparent reputation as the controversial one of the group, particularly after his earlier comments about London crowds and "white guilt". "Yeah, I'll say the thing that everyone goes 'Oh woah! No!' and then it'll be taken out of context again and then it'll be worse", he remarks before McKenna adds that it will definitely come down to grainy footage on a mobile phone so "you'll be totally screwed".
As I begin to wrap up and thank the three guys for meeting with me, I remember to ask one final question which had been bugging me since I stumbled across that video while in Chicago: where did the names Foil Arms and Hog come from? No sooner had the words left my lips when Finegan and McKenna simultaneously shout "your turn" at Flanagan who then takes a moment to think over the obviously pre-rehearsed story they must have given countless times in the past. Early in their career, they collectively realised that Finegan was playing the "straight-man" in nearly all of their sketches, a role technically called "the comedy foil", which led to his stage name. McKenna, described by Flanagan and Finegan as a "tall, long arms, long legs dude" with "the tiniest torso I've ever seen", had trouble in their early days found it difficult to stand still when he would play the straight-character, becoming "all arms and legs", which eventually boiled down to "Arms". Lastly, Flanagan was deemed to be getting "all the best parts" and so was "hogging the limelight" and since "Foil Arms and Limelight" was a little too long, Foil Arms and Hog was born.
Thanking the three of them for their time during a week where they perform six live shows, our encounter ends as it began: with mockery. Rather than bashing Trinity, Finegan and Flanagan just wouldn't let McKenna's "tiny torso" go this time. As we went our separate ways, I could still hear the three of them making various jokes about specially-designed clothes and measurements against the "European average" torso length. Having been touring together for a decade, it was wonderful to see that the three UCD graduates are clearly still very close friends who enjoy nothing more than taking the piss out of whatever and whoever crosses their paths. As their careers seem to be going from strength to strength, this quality will surely only serve them well going forward with their uniquely silly brand of sketch comedy.